The Celebrity Collector

Dolly Parton Has Her
Own Memorabilia Museum
When Dolly Parton was a child, her parents couldn't afford to buy her a coat for winter. Her mother was given a box of rags, and from it, she sewed together a coat for Dolly. As she did so, she told her daughter the story of Joseph from the Bible and his coat of many colors and how Jacob gave a coat of many colors to his favorite son, Joseph.
Dolly later recorded that she couldn't wait to wear her coat of many colors, but when she did, her classmates at school made fun of her for being poor.
Dolly Parton's coat of many colors can be seen today-along with thousands of personal items from her life and career-in the Chasing Rainbows Museum in Dollywood in Pigeon Forge, Tn.
In addition to being a world-famous singer, songwriter, actress and author, Dolly Parton is also a collector. From the time she was a little girl growing up in Locust Ridge, Tennessee to a dirt-poor family with 12 children, Dolly has kept mementos and collected memorabilia from all aspects of her life. As her star has risen, so has her collection. Today, it fills a museum.
In addition to the glamour memorabilia-the Grammies, the gowns from all her movies, the scripts, posters, guitars, etc.-Dolly has also collected evidence of her humble beginnings. The medical bag belonging to the doctor who delivered her, Dr. Robert F. Thomas, is on display. Dr. Thomas was paid a sack of corn for his service by Dolly's parents, Lee and Avie Lee Parton. The sack of cornmeal is one of the few things you won't find in the museum.
Another prized possession from her childhood in the museum has its own glass case-the Coat of Many Colors. This coat made of rags holds not only a bittersweet memory for Dolly, but it also resulted in one of her most touching songs. In the background behind the case is a wall-sized photo of children pointing and laughing. Dolly later translated that experience into a hit song and a children's book of the same name.
Other remembrances of her childhood in the museum include a tin cup given to her by a first grade teacher, original notes she kept in elementary school and the organ from her childhood church.
Dolly's indigent childhood served as a great motivator to her. Her uncle, Bill Owens, bought her a guitar when she was very young, and she learned to play it and sing so well that he was able to book her on a TV variety show in Knoxville by the age of ten. At 13, she recorded her first song, "Puppy Love," which she co-wrote with her uncle, and she made her first appearance on the Grand Ole Opry.
The day after Dolly graduated from high school she moved to Nashville, and in 1967 after successfully writing a couple of top ten songs with her uncle (that were recorded by another artist), Dolly received the phone call that launched her career. She was called to join the "Porter Wagoner Show" and become his singing partner. There, she became famous for her eye-catching outfits, her lovely singing voice and her song-writing ability.
To this day, Dolly writes songs every day. Over the years, she wrote songs on whatever was at hand when inspiration struck-on the backs of envelopes, scraps of paper, receipts and even the top of a shoebox. Many of these are in the museum, including the lyrics to "Coat of Many Colors" and "Light of a Clear Blue Morning". The largest collection is in a case holding the lyrics to more than a dozen songs.
Dolly Parton has sold more than 100 million records worldwide, won eight CMA awards, seven Grammies, and taken 22 songs to the No. 1 spot. All of her awards are in the museum. Her "I Will Always Love You," which she wrote to end her career with Porter Wagoner in a kind way and strike out on her own, has been No. 1 three times-twice for Dolly and once for Whitney Houston. It was also chosen as the No. 1 country music love song by Country Music Television (CMT). After leaving Porter Wagoner in 1974, she went on to win CMA's Female Vocalist of the Year award in 1975 and 1976. Then in 1978, she was named Entertainer of the Year.
Hollywood also called Dolly, and in her first movie, "9 to 5" with Jane Fonda and Lily Tomlin, she received an Academy Award nomination for Best Supporting Actress. She did not win, but that didn't hamper her movie career. She has acted with Burt Reynolds in "The Best Little Whorehouse in Texas," Sylvester Stallone in "Rhinestone," James Woods in "Straight Talk," and of course, with Sally Field, Shirley MacLaine, Julia Roberts and Daryl Hannah in "Steel Magnolias."
In 1986, Dolly joined with the owners of Silver Dollar City to transform it into Dollywood. The 125-acre park offers more than 30 rides and attractions, a variety of music including country, bluegrass, gospel and mountain music, a dozen authentic East Tennessee craftsmen and women, and the Chasing Rainbows Museum.
Dolly never forgot her heritage or the people who have helped her, and creating Dollywood was one way she has given back to the people of rural Tennessee by providing jobs and preserving the culture. Dollywood ranks in the top 50 theme parks worldwide, and it is Tennessee's top commercial attraction with 2.2 million people visiting each year. (The Smoky Mountains National Park is the only other tourist attraction in Tennessee that brings in more visitors.)
If your travel plans include a trip to Dollywood in the future, check out Dolly Parton's collection in the museum. And if you are there on January 19th, you can wish her a happy (59th) birthday.
But before you go, take this quick tour.
A Taste of the Chasing Rainbows Museum
As you enter the museum, you wander down a hallway filled with pictures of Dolly, friends, family and famous people. You then ascend stairs and enter the "attic of Dolly's house." It is full of every conceivable piece of memorabilia.
"Dolly" enters (via video in a rear screen projection) and points out a few things, like old exercise equipment and a rug that used to be in her house. Then doors open, and there is a replica of the cabin Dolly lived in. The Coat of Many Colors is there.
In the schoolhouse, you can hear some lessons on headphones and see Dolly's graduation picture, her band uniform photo and more. On the right is a depiction of Cas Walker's office, the man who gave Dolly her start. You can hear her first single, "Puppy Love," and hear portions of the old "Cas Walker Farm and Home show".
In the "Porter Wagoner Show" area, and you can walk up to a green screen display and "sing with Dolly."
2005
Dolly keeps everything, and when you're famous, it's all collectible.
Memorabilia from her movie career.
Dolly's guitars and songs she's written ­ she writes songs every day.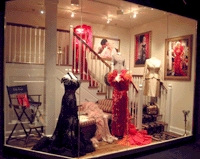 The gowns and dresses Dolly wore in "Best Little Whorehouse,"
"9 to 5," etc.
The Coat of Many Colors ­
notice the photo behind it.