Most people over 55 recall with nostalgia the Dixie Cup ice cream picture lids that appeared all over America from 1930 to 1954. Those colorful circles of yesteryear are also fondly remembered because of the delicious ice cream contained in those daintily covered cups.
Dixie lids are most often associated with Hollywood and cowboy movie stars. The unquestioned popularity of these lids insured their uninterrupted annual appearance from 1933 until the end. The standard number of lids produced yearly was 24, and they came mainly in two sizes: 2.25" and 2.75". Each year, a new crop of stars appeared in a different background color. Stars who were repeated from a previous year were in a different pose.
The very first Dixie lids illustrated circus animals and performers in full color associated with the Dixie circus radio stories of 1930, and they lasted for two years. The next group of lids appearing in 1932 was termed, "The Nature Series," and featured dogs, birds, fish, and butterflies. In 1931, a special set of U.S. president lids was produced exclusively for the Philadelphia Dairy Products Company, probably to promote their high quality brand of ice cream under the Aristocrat label and to offer an educational aspect to the kids.
Soon, it became obvious to the Dixie management that new subjects were needed to keep kids interested. They then decided to use movie stars, so they approached the biggest studio at that time, Metro-Goldwyn-Mayer. Remarkably, MGM granted Dixie permission to use the images of 24 stars at no cost. This coup gave Dixie a virtual monopoly in the small portion ice cream retail trade for nearly a quarter century. The 24 stars in the 1933 series were: John Barrymore (2), Lionel Barrymore (4), Wallace Beery (2), Jackie Cooper (3), Joan Crawford (3), Marion Davies (3), Marie Dressler (2), Jimmy Durante (3), Madge Evans (3), Clark Gable (4), Greta Garbo (2), William Haines (1), Jean Harlow (4), Helen Hayes (3), Phillip Holmes (3), Walter Huston (2), Myrna Loy (4), Robert Montgomery (4), Dickie Moore (1), Conrad Nagel (1), Ramon Novarro (3), Maureen O'Sullivan (2), Norma Shearer (2), and Lewis Stone (3). The illustrations on these lids were printed in black and white with the words "Who Plays In." The numbers in parentheses represent the different movie titles listed with each star. Other Hollywood studios were involved from 1934 on.
Surprisingly, no ice cream lid ever carried a reference to two of the most popular films in history, Gone With The Wind and The Wizard of Oz. Also, Shirley Temple never appeared on Dixie lids.
The first cowboy to appear was in the 1934 series, and it was the profile of Ken Maynard. However, the king of the cowboy lids was Roy Rogers. His likeness appeared 12 times. Roy's record was matched by western star Wild Bill Elliott, but Bill appeared sometimes in duo with other cowboys. Roy was the solo champion.
Hollywood's leading repeaters were Bing Crosby (11), Johnny Mack Brown (10), and for actresses, Ginger Rogers (6), and Betty Grable (6).
Also in 1934, the "Mystery Lid" issue appeared. These lids had the face of a movie star blanked out, challenging the consumer to solve the unknown silhouette. To find the answer, you had to buy more Dixie ice cream cups.
Despite a few insertions of some radio stars in 1936 and some athletes in both 1937 and 1938, the usual 24-movie-star format remained unchanged until 1941. In that year, the first of four war supplemental issues appeared entitled, "Defend America." "America's Fighting Forces" followed in 1942, and both sets illustrated tanks, planes, warships, and other military hardware. The first combat scenes were featured in 1943 as "America Attacks," and finally, another action-packed set of 24, "United Nations Attacks," closed out the war theme.
The next group of supplemental Dixie lids were 24 baseball portraits, issued in 1952 and 1953. Some television stars lids were introduced into the Hollywood movie star series during these years, but the total remained at 24.
In the final year, 1954, only 18 movie and TV lids were issued, but they were in 3D, full color, and styled in left and right action poses. These were used in stereo card viewers for the 3D effect. Two lids were needed for each star, so actually 36 lids were produced. The 18 baseball lids that year were also in 3D-action pose format, but they were a dull brownish in color tone.
As to value, a common lid in excellent condition is worth about $2-$3. A vintage, rare, or popular lid, such as those of Lucy and Desi, John Wayne, or Hopalong Cassidy, may bring between $25 and up, depending on the quality and vintage. All of the 1952 baseball series are rare and their value approaches $100 in excellent condition. This was the first year they were issued, and they came out late in the year because of the difficulty in dealing with 16 different ball clubs that lacked publicity departments and adequate photos.
Although Dixie (which is now owned by James River Co.) dominated the cup ice cream trade with their patented picture program, competitors also put out lids with pictures. The Kalix Cup Co. produced two sizes of "Our Gang" lids in the 1930s with Spanky, Alfalfa, and the rest. Skippy lids appeared about the same time, but these had drawings on the top and the underside was blank.
The Lily Tulip Company (now owned by Fort Howard Corp., Green Bay, WI) produced pictures on the underside of their lids by the ingenious use of a double fold lid. This allowed them to circumvent the Dixie patent, which only covered the thin paper preventing contact between the picture and the ice cream. One of the folded lid's four sides was blank. It faced the ice cream so no paper was needed. During the late '30s or early '40s, Lily issued a series of 26 novel lids--Famous American Shrines--featuring American landmarks, such as the Statue of Liberty, the Alamo, Independence Hall, Plymouth Rock, and the home of Betsy Ross. Each lid gave a brief description of the landmark and could be folded into a 3D stand up.
Sadly, 1954 was the final year of the ice cream picture lids, and to this day, a blank underside remains on all ice cream cups.
2000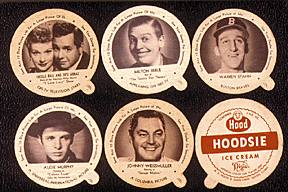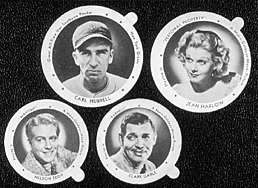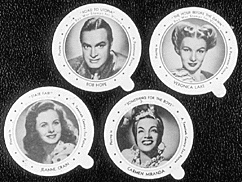 Steve Leone is a member of the Ice Screamers. This club for collectors of anything related to ice cream can be found on the web at www.icescreamers.com. If you would like a more complete story on Dixie lids, you can receive all 15 issues to date of Steve's Dixieland Newsletter by sending $22 + $3 S/H to :
94 Pond St., Salem, NH 03079-4346. Steve would also be happy to try to answer any questions you may have.