Disney's Most Magical Treasures
Nothing Hollywood has created matches the collectible allure of Walt Disney's magical universe and its colorful residents. From 1928's Plane Crazy featuring Mickey Mouse to Princess Anna of 2013's Frozen, Walt Disney and his successors have created not only a multinational media corporation but perhaps the largest universe of entertainment memorabilia.
For decades, theme parks and retailers have sold millions of Disney pins, dolls, toys, watches, mugs, plates and figurines. But truly unique Disney pieces – such as original art, movie posters and animation cels – stand atop the Disneyana summit, commanding top prices from collectors worldwide.
"There aren't many Disneyana items that reach those super high prices these days," notes David Tosh, comics and animation art specialist at Heritage Auctions. "It has to be something extremely well-known and historic. Having said that, there still remains a healthy market for high-grade Disney comic books from the early 1940s. And the better Carl Barks' paintings still have plenty of appeal, especially those featuring his most famous creation, Uncle Scrooge. It comes down to two things when dealing in vintage Disney material – quality and condition."
Another factor in Disneyana's popularity – its never-ending supply of fans – won't fade anytime soon. "Certainly, no one is in a better position of creating collectors than Disney," says Tom Tumbusch, editor of Tomart's Disneyana Update magazine. "They are still producing popular movies, and they run 60 million people through their theme parks every year. The happiness and magic associated with Disney characters will touch hearts for a long time to come."
The following lots represent some of the top prices realized at Heritage Auctions for Disney items sold at auction within the past eight years.
ILLUSTRATION ART
The Sport of Tycoons by Carl Barks
Auction Price: $262,900
Other than Walt Disney himself, no artist is more closely identified with Disney's classic characters than Carl Barks (1901-2000). As a top Disney artist, Barks produced nearly 500 comic book stories and created Scrooge McDuck, Gladstone Gander, Gyro Gearloose, the Beagle Boys and Magica De Spell, among others. These works routinely command well over $100,000. His The Sport of Tycoons original painting, an iconic scene completed in 1974, was sold at a November 2011 Heritage auction.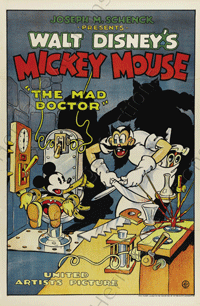 MOVIE POSTER
The Mad Doctor featuring Mickey Mouse
Auction Price: $138,000
In this 1933 animated short, Mickey Mouse sets out to save Pluto, who's been kidnapped by a mad doctor who wants to use him for an experimental transplant. The film (United Artists) was especially intense for its time, with some theaters refusing to show it because it was considered too scary for children. This one sheet was offered in very fine/near mint condition when sold at auction in March 2006. It's among the highest-quality examples known.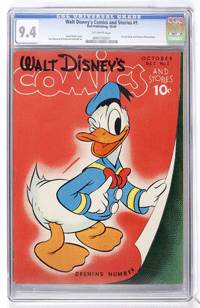 COMIC BOOK
Walt Disney's Comics and Stories featuring Donald Duck
Auction Price: $116,512
The first issue of Walt Disney's Comics and Stories (Dell, 1940) is the "…definitive funny animal anthology comic after which all others were modeled," notes Overstreet Comic Book Price Guide. It was the first regularly published Disney comic book, and it remains the best-selling comic series of all time, peaking in the early 1950s with nearly four million copies an issue. This example, the only copy of any issue from #1 to #15 to be graded above 9.0, was auctioned in November 2008.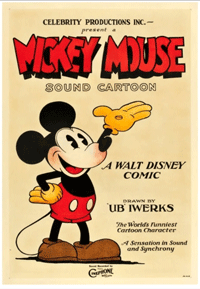 MOVIE POSTER
Mickey Mouse Stock Poster
Auction Price: $101,575
Celebrity Productions distributed every Mickey Mouse short for about 13 months beginning in 1928. As a low-budget distributor, it's believed Celebrity never printed individual posters for films such as Plane Crazy and The Gallopin' Gaucho, instead using the same theater poster for all Disney shorts. As such, this 1928 poster represents the first appearance of Mickey Mouse on a one sheet and could date from the release of Steamboat Willie. This example is the only known Celebrity Productions Mickey poster. It sold in November 2012.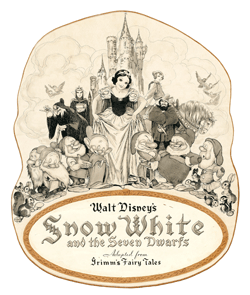 PROMOTIONAL ART
Snow White and the Seven Dwarfs by Gustaf Tenggren
Auction Price: $59,750
In 1936, children's book artist Gustaf Tenggren (1896-1970) was hired by Walt Disney Company to work as the stylist on Snow White and the Seven Dwarfs, the first American feature-length animated film. He created the distinctive, Old World look that Disney sought for his breakthrough animated feature, with his drawings perfectly capturing the major characteristics of each of the dwarfs, as well as the resonant, timeless beauty of Snow White. This original promotional art, from 1937, was used for the movie poster, promotional flyers, children's books, as well as studio stationary used during production of the film. It was sold in February 2011.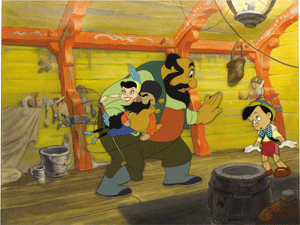 ANIMATION ART
Pinocchio featuring Stromboli and little wooden boy
Auction Price: $33,460
After the phenomenal success of Snow White and the Seven Dwarfs, Walt Disney opened a new studio in Burbank and began work on his second feature, Pinocchio. The 1940 film won two Academy Awards: Best Original Score and Best Original Song for When You Wish upon a Star. A multi-layered, hand-inked and hand-painted cel from the production, with original watercolor background, was sold in August 2007.
MEMORABILIA
Walt Disney's Passport
Auction Price: $28,680
Walt Disney autographs are rare and actively pursued by Disneyana fans. An autograph on such a personal item makes this piece especially valuable. This U.S. passport is dated Aug. 19, 1965, and was issued to the legendary animator shortly after the success of Mary Poppins in 1964 and 16 months before his death in 1966. Disney signed the passport twice in blue ink as "Walter E. Disney," including along the edge of his smiling photo. It sold in April 2007.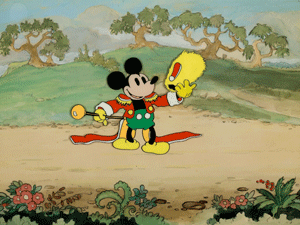 ANIMATION ART
Parade of Award Nominees by Walt Disney Studios
Auction Price: $11,352
For the 1932 Academy of Motion Picture Arts & Sciences ceremony, Walt Disney Studios produced a "Parade of Award Nominees" short to highlight the Academy Award nominees that year. Mickey led the parade, which included several other Disney characters as well as cartoon caricatures of the Best Actor and Actress nominees. This original animation cel and background from the short was sold at a February 2011 auction.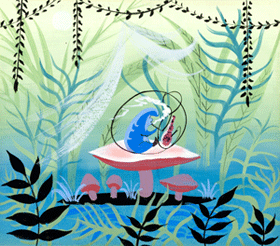 ORIGINAL CONCEPT ART
Alice in Wonderland by Mary Blair
Auction Price: $9,560
Mary Blair (1911-1978) first joined the Walt Disney Studios in 1940, drawing concept art for films such as Peter Pan, Song of the South and Cinderella. In the early 1950s, she was working on concepts for Alice in Wonderland, completing this painting of the hookah-smoking Caterpillar. This unique tempera on heavy board was auctioned by Heritage in February 2013. Blair was honored as a Disney Legend in 1991.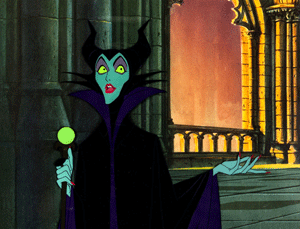 ANIMATION ART
Maleficent by Marc Davis
Auction Price: $3,585
One of Disney's darkest villains, Maleficent, returns to the screen in a new live action film, starring Angelina Jolie, scheduled for release this year. The original "Mistress of All Evil" appeared in 1959's Sleeping Beauty. This original hand-inked, hand-painted production cel set-up is by Marc Davis (1913-2000), who designed characters for Disney movies and theme park rides. It was sold at a November 2013 Heritage auction.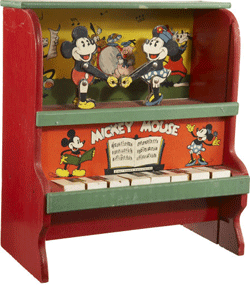 TOY
Mickey Mouse Piano by Marks Brothers
Auction Price: $2,270
Mickey Mouse's fast climb to the top of American pop culture meant the quick appearance of officially licensed toys and games. Among the first was this Mickey Mouse Piano with figures that dance when the keys are struck. Still with its original box, this still-working toy manufactured by Marks Brothers in the 1930s was sold in November 2008.
Mickey Milestone
1935 ANIMATED FILM SHORT
Just seven years after his creation, Mickey Mouse was a full-fledged hit for Walt Disney.
In 1935, Disney released eight Mickey Mouse animated shorts, among them Mickey's Service Station, which was the final black-and-white Mickey short produced by the studio.
Mickey's Service Station, 1935
Walt Disney Studios
Original Master Set-up
Estimate: $100,000-$200,000
"It was also the first 'Fab Three' short, which included Mickey, Donald Duck and Goofy," says Jim Lentz, Heritage Auctions' director of animation art.
A one-of-a-kind, hand-inked, hand-painted master set-up from that 1935 seven-minute animated film is featured in Heritage's summer animation art auction. It's expected to realize at least $100,000. "This is an extremely rare piece," Lentz says, "the only black-and-white cel of Goofy known to exist in private hands."
Hailing from a private collection, the master set-up is comprised of two pieces: a production nitrate cel showing Mickey, Goofy and Peg-Leg Pete's souped-up roadster, and hand-painted master background. "No restoration has been done on these pieces," Lentz says. "It's 100 percent original, all-original paint and ink lines, and both pieces have their original production numbers."
Noted Disney animation expert and authenticator Peter Merolo calls cels and backgrounds from the same Disney shorts "…the most desirable gems of Disney animation collecting." He points out that black-and-white cels are rare because the material, nitrate, is fragile. In addition, the studio often washed down cels and reused them. "So it's extremely rare to have both a cel and a background from the same film," Merolo says. "Probably fewer than two dozen [sets] are known to exist from Mickey shorts."
Directed by Ben Sharpsteen (1895-1980), the short included work by Disney legends Milton Kahl (1909-1987), Art Babbitt (1907-1992), Jack Kinney (1909-1992), Bill Tytla (1904-1968), Eric Larson (1905-1988), Ferdinand Horvath (1891-1973) and Wolfgang Reitherman (1909-1985). It featured the voices of Walt Disney (1901-1966) as Mickey, Clarence "Ducky" Nash (1904-1985) as Donald Duck and Vance "Pinto" Colvig (1892-1967) as Goofy.
Similar cels have sold in the six figures. A set-up from the 1934 black-and-white short Orphan's Benefit sold for $450,000 in 1989, while original animation from 1933's The Pet Store, featuring Beppo the Gorilla and Minnie Mouse, realized $225,000 in 2006.
BOOK
Mickey Mouse Book by Bibo & Lang
Auction Price: $4,481
Originally published in 1931 by Bibo & Lang, the Mickey Mouse Book was Disney's first licensed publication. The first printing sold out. Before going back to press, the publisher revised the book by removing the words "kill him" from song lyrics about a villain. This copy is not from the first printing but still commanded a notable price for the book. It was sold at a May 2008 auction.
COMIC BOOK
Four Color featuring Donald Duck
Auction Price: $31,070
With the story "Donald Duck Finds Pirate Gold," this copy of Four Color #9 (Dell, 1942) represents artist Carl Barks' first Donald Duck comic. Known by fans as "The Good Duck Artist," Barks (1901-2000) would go on to create Duckburg and many of its inhabitants, including Scrooge McDuck. This copy, graded CGC NM 9.4 (with only one graded higher), was sold in November 2008.
COMIC STRIP ART
Mickey Mouse by Ub Iwerks
Auction Price: $74,750
The first Mickey Mouse cartoon, Plane Crazy, was completed in 1928, entirely drawn by Ub Iwerks (1901-1971), who was credited with co-creating the character with Walt Disney. Two years later – after the subsequent release of Steamboat Willie – Iwerks was penciling the Mickey Mouse newspaper comic strip for King Features. Win Smith inked the strip while Disney handled the scripts. The 15th strip from the original "Lost on a Desert Island" storyline, dated Jan. 29, 1930, was sold in January 2006.
-----------------------------
Heritage Auctions' Animation Art Signature Auction 7103 is June 20-21, 2014. For details, contact Jim Lentz at 214-409-1991 or JimL@HA.com.
Hector Cantu is editor of The Intelligent Collector magazine and co-editor of Collectible Movie Posters (Whitman Publishing).
Reprinted with permission from The Intelligent Collector.