Decorating with One Style of Art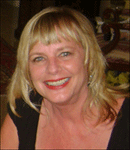 By Wendy Keenan
Posted July 2010
Wall pictures are an underestimated home interior design accessory. This is probably because most people do not know what to do with their pictures in order to get the maximum effect in a room.
Before you hang your pictures, make sure you plan what you want to get out of that room. Decide on the function, style and color of the room first before you buy your artwork. By doing this, you are in a much better position to buy the right type of art to fit in with the theme and color accent of your room. Do not be afraid to choose one particular style or artist to use throughout your home.
Devoting your walls to a specific style of art or a particular artist creates an overall theme, and it carries the look and style throughout your home. Years ago, I discovered that I am a fan of Impressionist artwork and enjoy artists who have created paintings of women of all eras. You may enjoy nautical art, traditional art or contemporary art. My point is that if you enjoy it, use it.
Create a statement by allowing your colors and textures to draw the eye. By using colorful and similar art throughout the house, and you will accomplish a wonderful flow. Place the largest and boldest art piece as a focal point and then build around it.
Remember, the first rule of interior design is to surround yourself with the things you love.
----------
Wendy Keenan is the owner of Circa Style Antiques and Interiors, 770-317-7479.