The Celebrity Collector

Bryan Cranston collects baseball (and Dodgers) memorabilia
By Ken Hall
The early 1960s was a good time to be a baseball fan in general, a Los Angeles Dodgers fan in particular. "Da Bums" had recently relocated from Brooklyn, N.Y., leaving behind an army of brokenhearted fans but bringing with them some of the brightest stars of the day: Don Drysdale, Sandy Koufax, Maury Wills, Tommy and Willie Davis, Wally Moon, Johnny Roseboro and many others.
It was an especially good time being a kid in the Los Angeles area, collecting the baseball cards of these great players. It was the golden age of baseball, coupled with the golden age of card collecting (Topps being the only game in town, for the most part). So when young Bryan Cranston, who plays the quirky father on TV's "Malcolm in the Middle," collected cards, it was with a passion.
"I had all my cards divided up into teams, neatly arranged in file boxes in my room," Cranston recalled from his home in Sherman Oaks, Calif., where he now lives with his wife, Robin, and 11-year-old daughter, Taylor. "I also had cloth pennants for every team that I'd gotten by redeeming Bazooka Joe bubble gum comics. Each one was protected by cellophane and hung on the wall."
So obsessive was Cranston that he arranged the pennants according to league and division, and in such a way that they could be swapped around to reflect that day's standings. "If one team passed another because of who'd won or lost the day before, I switched the pennants around," he said. "I actually punched grommets into the pennants and screwed cup-hooks into the wall."
If he had doubles of a card, one would most likely wind up clothespinned to the spokes of Cranston's bicycle, to give it that requisite motorcycle sound. In short, Bryan Cranston was living large as a fresh-faced kid growing up in Los Angeles (Hollywood, actually), collecting cards and bleeding Dodger blue. Unfortunately, most of what he'd amassed as a boy became lost over time.
Cranston's enthusiasm for the game never waned, however, and since becoming an adult he's gradually built a modest collection of baseball memorabilia. Most of it is kept and displayed in the game room of his home. One item from his youth is a Dodger doll, with real cloth pants. "He's wearing what looks like lipstick and rouge," Cranston said. "I'm not quite sure what that's all about."
One of his prized possessions is an Atlanta Braves jersey with the signatures of nine members of baseball's 500 Home Run Club (players who hit that many homers over the course of their careers, to include legends Mickey Mantle and Willie Mays). "I bought it at a charity auction," Cranston said, "one that I had donated items for. But when I saw that shirt, I became a buyer, too."
The jersey is encased in a shadow box frame that hangs in the game room. "Since the auction, five more players have joined the 500 club," Cranston said (Barry Bonds, Eddie Murray, Mark McGwire, Sammy Sosa and Rafael Palmiero). "I'd like to put a latch on the frame so I can take the jersey out when a signature opportunity comes up. Then I can just pop the shirt back into the frame."
For his 40th birthday, wife Robin threw a surprise party for Bryan at Dodger Stadium. No players were there, but friends and family showered the actor with gifts, many of them baseball-related: a Cal Ripken-signed ball and rookie card, some early pictures of Maury Wills, second-year cards of Sandy Koufax and Don Drysdale and some other things. "They're all in my display case," he said.
One item that isn't in the case is a ball signed by "Mr. October," Reggie Jackson. Cranston explains: "We had him as a guest on the show. I just asked him, 'Hey, Reggie, can you sign a ball for me?' He was happy to oblige. I keep it in my dressing room. It brings back some not-so-fond memories of that '77 Series, when Reggie homered three times in one game against my Dodgers."
Bryan Cranston was born March 7, 1956, in Hollywood. He got his first acting gig at age eight when his father, himself an actor and semi-regular on "The Donna Reed Show" and "My Three Sons," cast young Bryan in a public service ad he produced for the United Way. "I played a kid who gets hit by a car retrieving a baseball," he said with a laugh. "They had to put me in a full body cast."
That noteworthy credit notwithstanding, Cranston enrolled at Valley College in Van Nuys, Calif., with the idea of becoming a policeman. His degree, in fact, was in police science. But he took some dramatic arts courses, too, and found the thespian life appealing. "The girls were cuter, the work was more interesting, the hours were better -- it was a very appealing package," he reflected.
So much so that, upon graduation, Cranston didn't jump directly into police work. "That was always the plan, and I think I would've made a good cop, but I was really confused. My brother and I decided to take a motorcycle trip across the country to explore America and discover ourselves." An epiphany occurred when the pair encountered a rainstorm on the Blue Ridge Parkway in Virginia.
"We pulled into a picnic area to weather the storm," Cranston said, "and pitched our little tent to spend the night. The rain was relentless and we ended up spending the next six days there, living on bullion cubes and dried noodle soup. I had plenty of time to read a book of plays I'd brought along. That's pretty much all I did, in fact, was read that book. It made me realize I loved acting."
After two years of motorcycling around, Cranston eventually landed in Daytona Beach, Fla., where he acted, produced and directed community theater. He performed in popular plays like "Barefoot in the Park," "A Funny Thing Happened on the Way to the Forum," "Damn Yankees" and "Night of the Iguana." His first television appearance was a part on the program CHiPs, in 1982.
Cranston's first major role was on the daytime drama "Loving," in which he played Douglas Donovan. He left after the 1984 season and continued making guest appearances on other TV shows. In 1986, while filming an episode of "Airwolf" (with Jan-Michael Vincent and Ernest Borgnine), he met the actress who became his wife, Robin Dearden (she was also guest-starring).
Over the years, Cranston has acted in over 50 TV television programs, in shows like "Seinfeld" (as Dr. Tim Whatley, "the newly Jewish dentist"), "The King of Queens," "Murder, She Wrote" and "L.A. Law." He made the leap from working actor to famous personality as the delightfully ineffectual father on "Malcolm," a role that's earned him Emmy and Golden Globe nominations.
His film career has been nearly as prolific, with 39 credits on his resume. Twice he's worked with Tom Hanks, in "That Thing You Do!" (1996) and "Saving Private Ryan" (1998; he played the war department colonel who dispatches the unusual mission). He worked with Hanks a third time, in fact, playing astronaut Buzz Aldrin in the Emmy-winning mini-series "From the Earth to the Moon" (1998).
About ten years ago, Cranston presented Robin with an unusual birthday gift: a screenplay he'd written called "Last Chance." The subtle romance chronicles one woman's journey through self-awareness. Robin was flabbergasted. "When do we start shooting?" she asked him, more as a joke than a question. But the two ended up collaborating on the project, each one playing a major role.
"Last Chance" marks Cranston's writer/directorial film debut. It was screened at major film festivals and took top honors at several. The movie is available for rental at video stores. Another project written and produced by Cranston is a DVD program called "KidSmartz," which provides parents and schools with information on how to prevent child abductions and other childhood hazards.
You may purchase a copy of "KidSmartz" or "Last Chance" by visiting Bryan Cranston at his website, http://www.bryancranston.com/.
2004
Cranston plays the delightfully quirky and ineffectual father on the FOX hit, "Malcolm in the Middle."
This Braves' jersey has been signed by eleven members of baseball's elite "500 Home Run Club."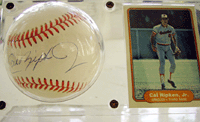 Cal Ripken, Jr., signed ball and card. Cranston got these for his 40th birthday -- at Dodger Stadium!
One of the few Dodgers items still around from Bryan's youth is this cloth doll. Is he wearing lipstick?
Baseball fans still argue over who was the better player: Duke Snider, Willie Mays or Mickey Mantle.
Second-year card of Dodgers' pitching ace Don Drysdale. He was one of Bryan's boyhood heroes.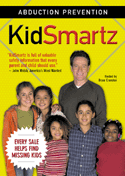 Bryan wrote and produced "KidSmartz," a DVD that explains how to guard against child abductions.
What young boy growing up in Southern California in the 1960s didn't have Sandy Koufax's card?
The signatures of Carl Erskine and Ralph Branca -- both Brooklyn Dodgers -- are visible on this ball.