The Prizes of Cracker Jack

By Larry White
Posted October 2011
". . . Buy me some peanuts and Cracker Jack I don't care if I ever get back. . "
Those lyrics by Jack Norworth, first published in 1908, summarize the love of the game and the relation of Cracker Jack to baseball, to the great American sport, and to mainstream America in general. Much has been written on how Cracker Jack got its name and became synonymous with America's pastime, but little on "The Prize Inside," that mystery in the box. To understand the prize, you first have to understand the product.
Cracker Jack had its beginnings back in the 1869 when F.W. Rueckheim left Hamburg, Germany, for Chicago to work for his uncle on a farm about 14 miles south in what is now Washington Heights. But farm life did not appeal to Mr. Rueckheim, and when the Chicago fire occurred, he moved into town and helped clear the debris from the conflagration. He later joined an older man whose popcorn business had been destroyed in the fire. The business began with a molasses kettle and one hand popcorn popper; nevertheless, it prospered, but not the relationship.
In a year, Mr. Rueckheim bought out his partner and sent for his brother Louis to join him. The firm of F.W. Rueckheim & Bro. came into existence. Louis devoted himself to the manufacturing aspect of the business while Frederick handled the marketing of their products. Louis mastered the art of candy making and perfected a process of coating each kernel separately.
The product remained a part of the Rueckheim & Bro. Confectionary line known as Reliable Confections until 1896 when a salesman, enjoying a handful of the product, exclaimed "That's a Cracker Jack!" "Cracker Jack" was a popular term in those days being used by several other sources including books, nut crackers, and the public in general. It came from "cracker" meaning a boisterous or loud sailor, and "Jack" a term used to describe a British sailor or short for "Union Jack". Thus the combination was like "Pow" or "Bam" of today and meant to describe something with pizzazz. The name stuck, and soon "Cracker Jack" began appearing on labels of the product.
In 1899, H.G Eckstein, an old friend, joined the company and later perfected the waxed sealed package. This revolutionized the marketing and distribution of Cracker Jack as it could not be distributed widely without losing its flavor. In recognition of this achievement and after a reorganization in 1902, the company became Rueckheim Bros. & Eckstein. Later on, because of the popularity of the product, the name was changed to The Cracker Jack Company. The brand and name was owned by the Cracker Jack Company until 1963 when it was sold to the Borden Company. Borden owned the Cracker Jack division until 1997 when Recot, a division of Pepsico, acquired the Cracker Jack brand, its present day owner.
So what of the prizes? How did they come into the Cracker Jack?
Anticipation. Excitement. Eagerness to open.
I can remember all the tricks of the trade. Being from a frugal family, we were not allowed to dump the Cracker Jack, even into a bowl, to get to the prize. However, that did not prevent us from opening the box from the bottom, cutting a slot in the side, or pushing the sides in to expand the box—in short anything to expose the prize prior to eating the contents. Once exposed, it was a matter of delicately fishing out the prize from its popcorn cave.
So what was the result? Sure Cracker Jack was fun to eat, but only after one had the prize in their sticky little hands. And for the prize? Collectible, tradeable, disappointment, elation, intrigue, amazement, the whole gamut of emotions rested on a small prize.
I am sure my experience was not too different from early buyers. Over the years, and those years go from the early 1900s to present day for the prizes, Cracker Jack has packaged billions of prizes that range in the hundreds of thousands in uniqueness.
But such was not always the case. Early on, there were no prizes in Cracker Jack as they were made "on the spot" at fairs and trade expos. Concentration was on making the product, on keeping a certain level of consistency and quality, and in perfecting the taste. As sales and volume increased, so did the competition, and many brands mimicked the Cracker Jack name and packaging. To increase sales and differentiate the product from other knock-offs, some prizes were handed out with a purchase of a box. This was random and up to the seller to distribute. Probably, this did not sit well with the buyer who may, or may not, get a prize. Later prizes were randomly placed in boxes, but it was not until 1912 that there was a prize in every package.
So what were the first prizes? Despite claims to knowing or having the first prize, there are no records to indicate what it was. However, there are some early prizes that are marked "Reliable Confections," or unmarked paper dolls that are later marked "Happy Dollies," then later F.W. Reuckheim". Cracker Jack bought marked and unmarked prizes that may or may not have been exclusive to them. More than likely to supplement their marked prizes, Cracker Jack purchased overruns from vendors who supplied items to game producers, and manufacturers like Cosmo Mfg. Co. probably approached Cracker Jack with their wares. Prizes were American-made as well as German and Japanese.
Riddle cards, paper dolls, and little booklets were among the first marked prizes. The best recognized are the so-called pretty lady pins. There are 26 different celluloid-on-metal pinbacks of them; these not only are found with the Cracker Jack insert, but with cigarette advertising as well.
As Cracker Jack distribution and demand grew, the diversity of prizes expanded as well. There would be special prizes, some that cost more than the value of the popcorn and peanuts, as well as the mundane. There could be as many as several hundred different prizes in circulation at any time. Due to the popularity of baseball, Cracker Jack's natural link to the game and the proliferation of tobacco baseball cards, The Cracker Jack Company distributed a series of baseball cards in 1914. This set of 144 was available in the box only, so many of the cards bear the molasses stain as well as some edge wear. The following year, Cracker Jack increased the set to 176 and the cards were available in the box as well as for a send-away of five cents and a Sailor Jack logo. Today, the 1914 set is one of the most desired series of baseball cards, an entire set going for about $250,000.
The country enjoyed the roaring '20s and Cracker Jack prizes reflected the prosperity with palm puzzles, paint books, Sailor Jack at the circus books, metal clickers, and many other prizes including a paper hat that came folded to 2 by 3.5 inches to fit into the box that unfolded to 8 by 14 inches. It was a great time for the country, Cracker Jack, and the proliferation of prizes. It was soon to change.
The Depression was difficult on the country, and the prizes reflected a temporary escape. There were tin-litho vehicles, pinbacks of movie stars, baseball players and famous Americans, books, games and Mystery Club coins of the presidents. It took a while for the country to recover and for Cracker Jack to develop different prizes; unfortunately, the world was headed for another calamity.
World War II saw many restrictions; those on sugar and metal strained the creativity of prize makers. Scrap metal discs were bought from the Ball Company (makers of the Ball Mason jars) and made into Daffy Dollars, and paper prizes abounded with a war theme. Airplane cards were particularly popular and used to watch for unfriendly aircraft.
After the war, the country enjoyed prosperity, and Cracker Jack followed. The 1950s saw the proliferation of the new material, plastic, and Cracker Jack abounded with plastic, from 2-dimensional figures to 3-dimensional dogs, alphabet fobs, tools, trains, tops, and more.
Due to Food and Drug Administration requirements, manufacturing costs of prizes and pressures to reduce manufacturing costs, the prizes have undergone a drastic transition from metal and wood toys to small plastic toys to entirely paper prizes. To further complicate prize selection and production, there were size constraints put on the prizes, and they had to be a certain size and not present a choking hazard. Prizes from the 1980s to present are mostly paper to facilitate a higher insertion rate into the package. The newer prizes, due partially to their newness, are not as collectible as the pre-1980 prizes.
Collecting those pre-1980 toys can be fun and still rather inexpensive, most from 10 cents to under $10 each. One can still burn one's fingertip with a plastic magnifying glass from the '50s and '60s, have a good read with a Handy Andy book, learn new tricks with a miniature yo-yo, or play a game of put-and-take. My remembrance of Cracker Jack was from the early '50s, and I can recall a clear plastic lantern, the inevitable magnifying glass, and a disappointing dimpled or stippled swan charm.
Many years later and having none of my childhood prizes, my wife and I were celebrating our anniversary by pouring over the finds from a doll auction of doll and dollhouse miniature-related items. I came across many metal prizes some with pill-like inserts, others without the inserts but with some empty pill-like capsules. I soon found out that these were early Cracker Jack pot-metal and celluloid prizes from the 1920s. Later, I went to many a doll auction to be rewarded by finding that the early Cracker Jack prizes were the perfect size for small dolls and dollhouse miniature house furnishings.
Finding the earlier prizes can be challenging as not many prizes were marked and the paper prizes often do not survive. The tin litho and metal prizes can sometimes be found at toy shows; many of the prizes are small enough to be accessories to dolls and dollhouses. Paper and ephemera shows are great sources for the early and sometimes later paper prizes.
There are several sources for identifying Cracker Jack prizes such as books, websites and blogs, and collectors should familiarize themselves with these sources as not all items touted as Cracker Jack prizes are authentic. The "not a Cracker Jack" prize is typically sold as Cracker Jack through ignorance rather than intent to fraud. Many small items like trinkets, gumball or vending machine toys, penny toys and the like are advertised as "Cracker Jack" but are not.
-------------------
Larry White is the author of Cracker Jack® Toys and Cracker Jack®: The Unauthorized Guide to Advertising Collectibles.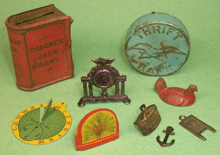 Tin-litho prizes, including a Cracker Jack bank, a thrift bank and a sundial.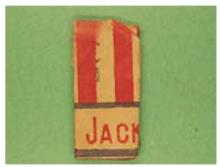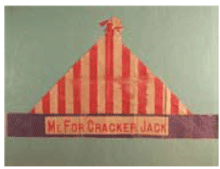 A paper hat that unfolded to 8 x 14 in., $250.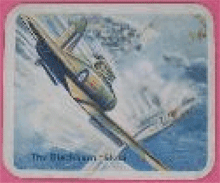 Airplane identification card of a British Skua, $17.50.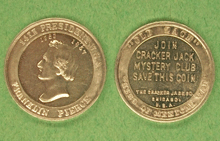 Mystery Club coins of the presidents, $10.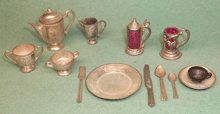 A metal place setting. These items can be found at doll shows and auctions.