Cowan's Corner
Santa Claus, A Jolly Old Collectible
By Wes Cowan and Andrew Richmond
Although Christmas has been celebrated for centuries, Christmas as we know it is not quite so ancient. For example, the ever-present decorated tree dates back, at least in America, only about 170 years. Pennsylvania artist John Lewis Krimmel sketched the interior of a Pennsylvania German household at Christmas about 1817 and on the tabletop is a small, decorated tree.
Santa Claus, that plump, jolly, old elf in the red suit and beard, is also a relatively recent innovation. Well, at least the red suit and beard is. The original St. Nick lived in the 4th century in what is today Turkey. However, the popular image of him has evolved over the past 200 years, with significant help from authors Washington Irving and C. Clement Moore, and illustrators Thomas Nast and Haddon Sunblom who created a version for Coca Cola in 1931.
Today, Santa is just as omnipresent as we tell our children ­ his face begins to appear every year as soon as Halloween decorations come down. As a result, Kris Kringle has become a very popular collectible.
Santa items come in all shapes, sizes, materials and prices ­ from mass-produced, plastic novelties to hand-made folk sculptures, and from a few bucks to thousands of dollars. Earlier Santas tend to be the most valuable. For example, 19th-century candy containers, nodders and even masks, often made from papier-mâché, can be worth upwards of $1,000.
For the more modest budget, 20th-century Santa collectibles can be just as fun to seek out. Celluloid, and later plastic, became the primary material used in making holiday items featuring good ol' St. Nick. But if you want early Santas but don't have a big bank account, there are still great Santas bargains to be found. Victorian postcards with Santa Claus can often be purchased for less than $50. If Santa is wearing a suit in a color other than red, expect to pay one hundred dollars or more.
As always, the important thing to remember is to buy the best quality you can afford. By doing so, you can help ensure that your collection will hold its value, or even increase. And keep searching ­ in the antique world, every day is Christmas!
---

Cowan's Auctions, Inc. (www.cowanauctions.com ) in Cincinnati, OH, specializes in the sale of historic Americana, European and American furniture, decorative arts, and American Indian arts. An internationally recognized expert in historic Americana, Wes Cowan stars in the PBS TV series History Detectives and is a featured appraiser on Antiques Roadshow. He can be reached via email at info@historicamericana.com. Andrew Richmond heads Cowan's Furniture and Decorative Arts department. He can be reached at info@historicamericana.com.
This nodder features a papier-mâché Santa riding a felt-covered donkey, ca. 1900, $2,000+. (Courtesy, James D. Julia, Inc. Auctioneers, Fairfield, ME.)
German papier-mâché St. Nick candy container; it brought nearly $3,700 at auction. (Courtesy, James D. Julia, Inc. Auctioneers, Fairfield, ME.)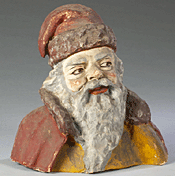 This early Santa mask of papier-mâché dates to the early 20th c. Though estimated at $300-$500, it brought $1,840. (Courtesy, Cowan's Auctions, Inc.)