Cowan's Corner
Southwestern American Indian Jewelry ­ A Stylish Investment
By Wes Cowan and Danica Farnand
If you have ever been to Santa Fe, it is hard not to notice, or even buy, a piece of American Indian jewelry. Whether a sexy concha belt, a delicately stamped bracelet, or a necklace strung with turquoise, southwestern Indian silversmithing and jewelry is beautiful and distinctive. However, the jewelry has not always been what we see under the veranda of the Palace of the Governor.
Silver work is a relatively new craft to the American Indians. Traveling Mexican artisans, known as plateros, taught their trade to the Navajo in the 1850s. Early Navajo silver work was made with very heavy silver hammered from U.S. and Mexican coins, candlesticks, and teakettles. Despite a lack of proper silversmith tools, the craft was quickly perfected. As symbols of family wealth, jewelry was worn extensively, doubling as collateral at trading posts. It wasn't until 1890 that shells and turquoise were introduced as design elements.
With the emergence of western railroads, the dynamics of the craft changed. The Fred Harvey Company, as it "civilized" the southwest, enticed American tourists to visit. As part of the business, Navajo and Pueblo silversmiths (as well as other craftsmen) were hired to create souvenirs. The Harvey Company supplied the artisans with sheet silver and pre-cut turquoise. Because of the quantity of trinkets needed and the type of material supplied, the quality of the jewelry diminished. During the early part of the 20th century, the west boomed and increased the demand for cheaper souvenirs. The Harvey Company replaced American Indian artisans with machines, stamping the necklaces and bracelets with arrows, thunderbirds and lightning, and selling the pieces as authentic Indian art.
Thirty years later, the Federal Government formed the Indian Arts and Crafts Board and prohibited misrepresentation of Indian art. At this time, the Board also attempted to increase interest and sales of the arts by exhibiting at San Francisco's 1939 Golden Gate International Exposition, exposing the American public to the artisans and their work. Today, a person of an established tribe must make items labeled "American Indian".
From "baroque-style" squash-blossom necklaces to hip-hugging concha belts, Navajo and Puebloan jewelry has changed throughout the decades to suit the tastes and fashions of America. Contemporary artist Dan Simplicio (1917-1969, Zuni) popularized nugget-style jewelry. Using chunks of polished turquoise, he carefully set them into stamped silver and enhanced the designs with fine pieces of coral branches. He was also one of the first at Zuni to work with gold. His bold uses of design and innovative techniques have made him one of the most desired and respected of Zuni silversmiths. Simplicio's work can be seen at the Heard Museum in Phoenix, the Minneapolis Institute of Arts, Minneapolis, and Ohio University.
The Hopi artist Charles Loloma (1921-1991) is another craftsperson whose work is widely recognized for its beauty. His groundbreaking style has bridged traditional with modern; creating bracelets and pendants using mosaic inlay and sand-cast techniques. Loloma studied under the famous Hopi artist Fred Kabotie and assisted in the painting of a series of murals at the 1939 Golden Gate International Exposition. He began to make jewelry in 1955, when he experimented with turquoise, coral, shell, pearls, ebony, vermillion wood and ironwood. By the 1970s, his work proliferated, and he began to exhibit at contemporary art museums and shows around the world. After his death in 1991, the Southwestern Association of Indian Arts honored Loloma with the Lifetime Achievement Award for Indian Affairs.
Newest trends in the collecting market center on quality jewelry made from 1950-1970. The current exhibit at the Wheelwright Museum in Santa Fe displays more than 400 pieces of Charles Loloma's work. Inlaid bracelets of his have sold at auction for over $20,000. Preston Monongye's work, (1927-1987, Navajo) was recently exhibited at the American Museum of Natural History in New York City and sells at similar prices. The slight deviation from traditional forms and the exquisite handling of material is what intrigues collectors.
Tips for Buying Genuine American Indian Jewelry and Crafts
American Indian arts and crafts are sold through many outlets, including tourist stores, gift shops and art galleries. Here are some tips from the Federal Trade Commission and the Indian Arts and Crafts Board to help you shop wisely:
1. Buy from an established dealer who will give you a written guarantee or written verification of authenticity. Ask if your item comes with a certification tag. While not all authentic Indian arts and crafts carry this tag, those that do are certified by the Department of the Interior (DOI) to be genuine.
2. Get a receipt that includes information about the value of your purchase and any verbal representations by the salesperson. For example, if the salesperson tells you that the piece of jewelry you are buying is sterling silver and natural turquoise and was handmade by an American Indian artisan, make sure this information is documented on your receipt.
3. Before buying American Indian arts and crafts at powwows, annual fairs, juried competitions, and other events, check the event requirements for information about the authenticity of the products for sale. Many events list their requirements in newspaper ads, promotional flyers and printed programs. If the event organizers don't say anything about the authenticity of the American Indian arts and crafts for sale, get written verification for any item you buy that is sold as authentic.
Identifying Authentic American Indian Jewelry
It's not always easy to spot a counterfeit item, but price, materials, appearance, and the seller's guarantee of authenticity may help.
Price:
Today, a collector can find an assortment of jewelry to suit his or her taste. Popular items, such as concha belts, turquoise rings, and inlaid pins can be found in a variety of styles and prices. Although Indians make and sell inexpensive souvenir-type items, authentic high-quality Indian jewelry can be expensive.

Type of materials:
Most Indian artisans use sterling silver complemented with opaque stones, such as coral, onyx, shell, turquoise, lapis lazuli, or carnelian.
Appearance:
Well-crafted jewelry has no wavering lines or lopsided designs. If a design is stamped into silver-the most common metal used-the image should be clear. Images on imitations often are blurred. High-quality pieces use stones that are well cut and uniform in size, and fit snugly into their settings. The stones on imitations may be poorly cut, leaving a large amount of metal-colored glue visible between the stone and the metal. Look for the artist's "hallmark" stamped on the jewelry. Many Indian artists use a hallmark, such as a symbol or a signature, to identify their work.
Guarantee of authenticity:
A reputable dealer will give you a written guarantee.
---

Cowan's Auctions, Inc. (www.cowanauctions.com ) in Cincinnati, OH, specializes in the sale of historic Americana, European and American furniture, decorative arts, and American Indian arts. An internationally recognized expert in historic Americana, Wes Cowan stars in the PBS TV series History Detectives and is a featured appraiser on Antiques Roadshow. He can be reached via email at info@historicamericana.com.
This Navajo Concha Belt
with classic period design features leather strap lacing through the opening in the center of each concha. It recently sold for $1,265.
This lot of three Navajo Fred Harvey-style bracelets fetched $632 at auction.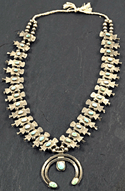 Navajo squash blossom necklace, ca. 1930, features a silver naja with three turquoise stones hanging from two rows of silver beads with 30 blossoms, each with a turquoise stone. Hand-made 20" necklace is strung on cotton string; realized $575.
A signed Hopi bracelet with bold overlay design consisting of three identical swirling and stepped motifs.
Signed Zuni and Navajo bracelets and turquoise bear claw necklace, includes a beautifully crafted Zuni split shank bracelet decorated with a Rainbow god, tortoise shell stockings and tips on feathers, marked on back "E.A. Zuni," width 1.6"; a bold Navajo bracelet with a large turquoise, signed "3H" in a stylized hogan with smoke drifting upward, width 1.6"; and a Pueblo necklace with jet (?), turquoise, pipestone, and shell beads, ornaments of hand-made silver claws set with turquoise, length 17.5"; price realized, $431.25.
This Pueblo Depression-Era necklace and bola includes a necklace made to resemble a squash blossom necklace with central thunderbird and eight tabs mounted on 78 record and decorated with gypsum, red plastic, and crushed turquoise, length 25" x bird height 2.25"; and a black leather bola with similar thunderbird fashioned from same depression materials and with silver tips. Bird drilled to hang as pendant, height of bird 1.75"; $632.50.

All photos courtesy of Cowan's Auctions, Inc., Cincinnati, OH