Cowan's Corner
Sticks with Stones Can Break Your Bank
By Wes Cowan
Whether used as a symbol of status or simply for support, canes and walking sticks have been part of the human experience since the day we began to walk upright. Today, canes are most commonly seen at the hands of the infirmed, aged or the occasional hiker. In previous centuries, they were considered a fashionable necessity for any proper gentleman.
The height of canes' popularity came during the last half of the 19th century and the beginning of the 20th century, although they were also an integral piece of fashion in 18th century Europe. A collector can most effectively tell the age of the cane by looking at the tip. The tip is the part that would have touched the ground.
Many tips have a small metal ring called a ferrule, which is designed to protect the shaft of the cane from mud and from splintering from repeated contact with the ground. The earliest canes of the 18th and early 19th century generally have long, tapering ferrules that were often made of brass. Gradually, as streets became paved in the mid 19th century, the long brass ferrule gave way to a shorter one made of iron. Early canes also tend to have had a wrist strap near the grip end of the stick.
The handle of the stick is the most important aspect to many collectors because it is here that the cane exhibits its artistry. From hand-carved natural wood to elaborately-carved elephant ivory, the potpourri of handle types is astounding. Decorative heads of carved ivory are especially appealing to collectors. They range from simple to complex designs, most often depicting the heads of animals and human figures. Most of these were carved in Europe and Japan.
Even though one-of-a-kind handles are highly desirable, some of the most impressive sticks are those whose shafts are the most important element. Gadget canes are sticks that actually do something other than serve for support. These are collectible favorites. "Nip" sticks conceal a glass insert in the shaft designed for storing alcohol, and a gambler's cane might conceal a pair of dice. The shaft of the sword cane conceals a slender blade that can be withdrawn in time of danger. Other gadget canes might contain guns or even miniature violins.
Many canes were made in England and Japan and exported around the world, particularly to America. However, a distinctive type of a purely American cane is one that arose first in the gold regions of California and incorporated polished pieces of quartz bearing flecks of the precious metal. These are highly prized by collectors, especially gold quartz canes with presentation inscriptions. They can command thousands of dollars on the market.
My personal favorite class is those canes carved by American folk artists. Reflecting personal themes and whims of the carver, these sticks are compelling examples of the genius of untrained artists.
Collectible canes can be purchased at all price points, from a few dollars for a simple "crook" cane, to tens of thousands for rare jeweled examples. They're also fun to display, whether as a wall mounting or simply in an umbrella stand by the door.
---

About the author: Wes Cowan is founder and owner of Cowan's Auctions, Inc. in Cincinnati, Ohio. An internationally recognized expert in historic Americana, Wes stars in the PBS television series History Detectives and is a featured appraiser on Antiques Roadshow. He can be reached via email at info@cowans.com.
American Folk Art cane
sold for $1,000.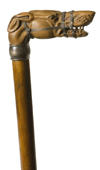 Tiffany figural cane, $1,300.
Tiffany gambler's cane, $3,750.
American or British scrimshaw cane, $2,300.