Cowan's Corner
Audubon Reproductions Have Collectors Crying Fowl
By Wes Cowan and Mimi Morgan
Some consider John James Audubon's greatest contribution to American art not what he painted, but rather how he painted his subjects. He brilliantly depicted life-size birds and mammals in their natural habitats engaged in everyday activities such as nesting, courting, hunting, fighting, feeding, resting and preening. It was a dramatic break from the static and scientific wildlife portrayals that had been the European tradition for centuries. Immense popularity and widespread reproduction make Audubon's prints some of the most recognizable nature works to this day.
Born on April 26, 1785 in Santo Domingo, Audubon was lovingly raised by his step-mother at the family estate in France. In 1803, he was sent to America to manage his father's estate outside Philadelphia and to avoid conscription in Napoleon Bonaparte's army. Audubon wandered the countryside, hunting and collecting bird specimens. He conducted the first known bird-banding experiment in North America and invented the technique of arranging birds in life-like poses suspended by wires.
While working as a taxidermist in Cincinnati, Audubon resolved to put his talents for drawing and knowledge of bird life to use by embarking on a project to draw every species of American bird and publish the results. The epic undertaking became known as the Birds of North America. It took 11 years to publish the entire set of 435 plates (1828-1838). No more than 200 editions were printed, and only two complete unbound sets exist today.
Audubon also published a smaller octavo-sized version of the Birds of North America, as well as an imperial folio-size and smaller octavo edition of the Viviparous Quadrupeds of North America. He died on January 27, 1851 in New York City. The text of the Quadruped collection was not published until 1854.
In collecting Audubon prints, it is important to realize that they are among the most reproduced works of art on the marketplace today. Collectors should have some basic facts in hand before purchasing.
A major difference from the original plate size probably indicates a reproduction or trimmed original print. For example, a full original untrimmed plate from the Havell Edition of Birds of North America measures about 39.5 x 28.5 inches and is printed on watermarked paper with the year of the paper's production. Presence of either a "J. WHATMAN" or "J. WHATMAN TURKEY MILL" watermark is a guarantee of the print's authenticity. There are a number of resources to help authenticate Audubon prints.
Value will vary depending on the popularity of the bird or mammal, condition, rarity, provenance and fluctuations in the market place. Havell and Bien Edition bird prints along with Imperial Folio Quadrupeds fetch higher numbers than the smaller Royal Octavo birds and mammal prints. A Royal Octavo Cardinal Grosbeak will sell for more than a lesser songbird, and an Imperial Folio Grizzly Bear will bring more than a common rodent.
Condition is paramount in purchasing an original Audubon. Trimming prints to fit in smaller frames can reduce the value by as much 40% to 50%. It was not uncommon 50 years ago to glue the print to some sort of backing. This can also greatly reduce the value of the piece. Other condition issues such as acid burn, tears, toning or foxing may require the services of a professional conservator.
Whenever possible, purchase from a reputable auction house, print gallery or dealer who specializes in Audubons and similar works. They can provide authentication and will fully disclose all condition issues.
---

About the author: Wes Cowan is founder and owner of Cowan's Auctions, Inc. in Cincinnati, Ohio. An internationally recognized expert in historic Americana, Wes stars in the PBS television series History Detectives and is a featured appraiser on Antiques Roadshow. He can be reached via email at info@cowans.com. Article research by Mimi Morgan.
"Grizzly Bear" from Imperial Folio Quadrupeds, sold for $7,000 in February 2006.
"Gray Fox" from complete first
edition, 3-volume set Royal Octavo Quadrupeds of North America; estimated at $6,000-$8,000.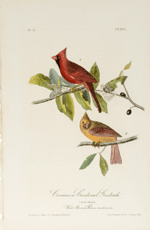 "Cardinal Grosbeak" from 1st edition Royal Octavo Birds of America Edition, sold for $1,200 in October 2006.
Havell Edition "White Breasted-Black Capped Nuthatch," estimated at $800-$1,200.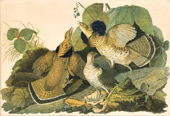 Bien Edition "Ruffed Grouse" sold for $4,500 in October 2007.