Cowan's Corner
Gothic Style: Revival or Survival?
By Wes Cowan

Gothic style conjures images of extreme costume—black draping coats or gowns, spiky ornaments, blackened eyes a la the Adams Family—but Gothic and the style enjoy a much richer, deeper, longer and more sophisticated history than its connotation among young adults going for dark shock value.
Gothic, or the French style, as it was known initially in the 12th century, was ecclesiastical architecture and pertained to the form and structure of medieval churches. Its predecessor, Roman architecture, was noted for the Roman arch—a half circle supported by columns at either end. Gothic arches were pointed, and in churches, buttressed to keep them stable. The whole idea—remember this is church architecture—was creating a tribute to the Creator, so the successor to Roman architecture went with height and heavenly light—vaulted arches, stained glass windows, ennobling height—all designed to inspire adulation.
In the 15th and 16th centuries, characteristics of the Gothic architecture were manifested in the decorative arts (furniture, metalwork, textiles and ceramics), and there was an enormous vocabulary of ornament from which to choose. The lancet arch, which appears to be praying hands, is most prolific. Tracery, or the support structure for Gothic glass windows, is often used as a design background, rather, a structure imperative. Trefoils or quatrefoils, carved piercings or openings for light, are another. Crockets, or the stylized emulation of flowers or leaves, used to decorate spires, is yet another.
Gothic elements were not limited to churches in succeeding centuries, but found their way into domestic architecture and the smallest objects of domestic life, such as frames, boxes and tableware, which can be collected today. The 18th-century English writer Horace Walpole romanticized the look of all things Gothic with his celebrated home Strawberry Hill, near London, long before his Victorian counterparts revived it, yet again, in the 19th century. The Victorians crossed the Atlantic with carpenter gothic, a residential architecture enjoyed in New England, the South and throughout the Midwest.
In the Gothic style, ornament can be complex and heavy, or it can be one overriding feature of the object. Most often found are Gothic style side chairs, which are great examples of the verticality of the style and lighting through carved openings. Smaller, more esoteric objects of the style, such as wall sconces, shelf clocks and silver tablewares can be found at reasonable prices.
| | |
| --- | --- |
| | This pair of 19th-century Gothic sconces, a harkening back to medieval gargoyles with light emanating from lancet arches, is estimated to bring $800-$1,000 in Cowan's February 20 auction. |
In the 20th and 21st centuries, the Gothic style survives both in ecclesiastical and domestic architecture and in the decorative arts—its vocabulary subdued, its charms unabated. For interested collectors, the pursuit is in finding the ornamental vocabulary in both new and antique objects.
The Gothic is a survival style and doesn't require horror movie staging or blackened eyes and dark clothing to appreciate its charms. It is a style that lends itself to being combined with the Rococo or Chinoiserie. It doesn't have to be historically correct, and in fact, most pieces today have little historical reference. In furniture, the Gothic style sometimes requires a certain ceiling height, but in small objects, all that is necessary is an appreciation and understanding of the vocabulary.
---

About the author: Wes Cowan is founder and owner of Cowan's Auctions, Inc. in Cincinnati, Ohio. An internationally-recognized expert in historic Americana, Wes stars in the PBS television series History Detectives and is a featured appraiser on Antiques Roadshow. He can be reached via email at info@cowans.com. Research by Diane Wachs.
This shelf clock, made by Terry & Andrews, is an example of single feature, the lancet arch. It sold for $330 in Cowan's April 2007 Auction.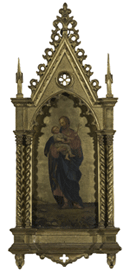 A 19th-century Italian Icon in a gilt-carved and gessoed frame, estimated at $2,000-$3,000.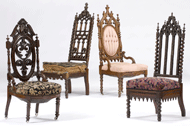 A group of American Gothic-revival side chairs, circa 1840-1860, estimated to bring $400-$600 in Cowan's Feb. 20 Fine and Decorative Art Auction.