Cowan's Corner
Tourist Tokens Can Bring in Big Coin
By Wes Cowan

If you have ever travelled to Florence, Venice or Rome, then you must have noticed a charming street side artist or two, painting wonderful watercolors of the Ponte Vecchio or Piazza San Marco. You likely got whisked away by the sunny day and succumbed to a seemingly outrageous price for one of these little gems. As it turns out, these "mementos" from only a century ago are very desirable in today's market.
For several centuries now, collectors have been drawn to the "Italian School" of art. This comes long after the Renaissance masters Michelangelo and Raphael graced churches and cathedrals with their masterpieces and after Caravaggio and Bernini changed the perception of art with twisting, climactic compositions.
In the market of antiques and fine art, we refer to a new "Italian School" of painting as turn-of-thecentury watercolors and oil paintings with subjects of everyday life. The majority of these artists remain obscure. In most cases, scarce biographical information can be found. Some attended fine art schools, and others have no documented background. We do know that from approximately 1880-1920, there was an enormous output of works by these Italian artists.
Several noticeable trends are consistent in the paintings of our Italian School friends. Subject matter is typically that of daily life: men drinking, flirtatious scenes, discreet conversations, a shepherd or shepherdess. They were selling their paintings, in many cases, to foreigners who were enamored with Italian culture, just as we would buy a painting from a street artist in Italy today.
Italian School artists liked to sign their works in a similar manner, using an expressive, cursive form. These paintings were usually dated and also included the artist's town of origin, such as "Roma" or "Firenze". Anyone who has watched an Italian soccer game is certainly familiar with Italians' sense of regional pride. The paintings were typically executed in watercolor, a less expensive medium and one that afforded faster and higher production.
Today, an Italian School painting is very desirable and can garner hefty prices at auction or galleries. Oil paintings are considered a loftier medium than watercolor because they rarely appear on the market. Orientalist subject matter seems to pique collectors' more than any other subject matter. Italian School paintings consistently sell in the low thousands, while oils and Orientalist works can command upwards of five figures.
Many of these paintings are surfacing all over the world because they were purchased by the average tourist a century ago and brought back to all corners of the world.
---

About the author: Wes Cowan is founder and owner of Cowan's Auctions, Inc. in Cincinnati, Ohio. An internationally recognized expert in historic Americana, Wes stars in the PBS television series History Detectives and is a featured appraiser on Antiques Roadshow. He can be reached via email at info@cowans.com. Research by Graydon Sikes .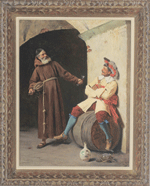 An oil painting by Arnaldo Tamburini that is estimated to sell for $2,000- $3,000.
This Orientalist scene by Maria Marinetti sold for $10,500.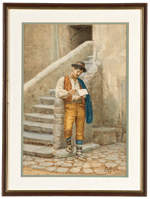 R. Moretti, an unknown Italian School artist, $900.