Cowan's Corner
Art Glass Lamps: 100 Years of Elegant Lighting
By Wes Cowan
A century ago, people who wanted to buy fine American-made electric lighting fixtures were presented with a bewildering array of choices.
The premier company was Tiffany Studios, with a showroom at the corner of Madison Avenue and 45th Street in New York City and workshops in Corona, New York. From 1893, when Louis Comfort Tiffany sent two hanging fixtures to the Chicago World's Fair, Tiffany Studios set the standard in innovative design and unsurpassed quality. More than 500 designs for lamp bases and lampshades were produced by Tiffany Studios. These included student lamps with Tiffany favrile shades, ornate mosaic glass lamps, favrile lamps, table lamps with ornate bronze bases, floor lamps and hanging chandeliers for every decor.
Tiffany Studios' lamps were the finest lighting products available, and were expensive, even in 1906. According to the October 1, 1906, price list, an 18-light drop cluster pond lily lamp would cost $125, while a smaller 7-light pond lily lamp was priced at $80. Considering that in 1906 the average hourly wage was about 17 1/2 cents, purchase of a Tiffany lamp was not a casual investment.
Another popular American lamp manufacturer was The Pairpoint Company of New Bedford, Masassachusetts. The company started as an offshoot of the Mount Washington Glass Company, already well known for their Royal Flemish, Crown Milano and Burmese art glass. In 1907, the company received a patent for the production of three-dimensional shades, today known as "puffies". These lamps, primarily floral and fruit motifs, were ornate, extremely feminine and complimented most decors. Pairpoint's more than 100 lamps, available on more than 350 bases, were sold at the finest department stores across the country. Today, the name Pairpoint is most often linked with the wonderfully innovative "Pairpoint Puffy" lamp.
By 1906, The Handel Company of Meriden, Connecticut., had been in business for 21 years and was advertising regularly in popular magazines. They produced lamp globes, fine painted porcelain, electric and gas table lamps, smoking articles and holiday novelties. Handel is most famous for their 18-inch, obverse-painted and inside (reverse) painted lampshades, which exemplified a change from leaded portable lamps to a less expensive but elegant lamp that coordinated well with Arts and Crafts, art nouveau and art deco furnishings.
Handel used bases from various American potteries such as Rookwood, Grueby and Hampshire. Glass blanks, purchased primarily from the Rodefer Brothers Glassworks of Bellaire, Ohio, were decorated with original designs by Handel artists and matched with an appropriate white metal base finished with one of several colored patinas. Decorations fell into many categories ­ flowers, birds, readily recognized American landscapes such as Yosemite and the Connecticut River Valley, and simple geometric borders. All were aggressively marketed to upscale jewelry and department stores across the United States.
As with most businesses that catered to the upper middle class, the gradual change in the economic climate and the onset of the Great Depression ended the production of many of these beautiful lighting devices, treasured by today's collectors.
---

About the author: Wes Cowan is founder and owner of Cowan's Auctions, Inc. in Cincinnati, Ohio. An internationally recognized expert in historic Ameri-cana, Wes stars in the PBS television series History Detectives and is a featured appraiser on Antiques Road-show. He can be reached via email at info@cowanauctions.com. Article research by Mimi Morgan.
This very rare Tiffany Moorish Chandelier with pulled feather and lily lights fetched $59,800.
This Handel Reverse Painted Floral #7032 on Rookwood base brought $10,350.
This Tiffany Studios geometric leaded glass table lamp sold for $17,825.
Handel Pairpoint Puffy Apple Tree Shade on Tree Trunk base,
estimated to sell for $7,000-$9,000.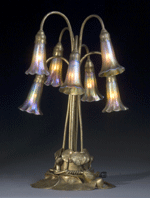 This Tiffany Seven-Light Lily lamp with gold dore base is one of the most innovative styles of the Tiffany lamps. It recently sold for $21,850.