Country Store Cures
By Robert Reed
Posted February 2013
America's early quest for over-the-counter cures for all manner of ills and ailments has likely done more for collectors of old advertising than for those who hoped to be healthy. Thanks to all the quack fixings, mail-order mixes and country-store cures, there is a vast array of treasured items to ponder. Colorful and compelling trade cards, among other things, did a splendid job of capturing the spirit of these distinctive and delightful cure-all items.
One of the first such cures in America's mindset was bitters, which was as potent and alcoholic as any whiskey around. Bitters were usually sold (with a wink from the late-19th century storekeeper) in an attractive assortment of bottles. Colors varied from blue and green to amber.
Not far behind the appeal of bitters bottles today are the sure-cure bottles with more specific labels, like "Dr. Taylor's Sure Chill Cure ... Richardson Taylor Med Co. " The sure-cure bottles usually command about half the market price of true bitters bottles, but there is a growing collector demand.
| | |
| --- | --- |
| | Pratt's ointment, a patent medicine, advertised on this 1895 lithograph of its double benefits—of being good for both horse and man. |
It did not hurt historically "…that the golden era of bottle making in the United States, the 19th century, was also the golden era of quack cures in this country. One edition of Warman's Antiques observes that "…many early bottles were made in the glass-manufacturing area of southern New Jersey, Later companies in western Pennsylvania and Ohio manufactured (these) bottles."
Authorities say the first patent for medicine was issued in 1796, shortly after the U .S. Patent Office opened for business. However, despite being called "patent medicines," most of the quack cures were simply registered by name and sold over the counter.
The Boston Almanac carried an announcement in the edition of 1692 on some form of tonic said to cure any number of things including "distemper of the dry bellyache." The name of this "wonderful" tonic has apparently gone unrecorded.
What is said to have been the first patent-medicine advertisement (for Tuscarora Rice) appeared in a Boston newspaper in 1711. It was sold by a Mrs. Masters as a cure for the then dreaded consumption.
The patent-medicine businesses boomed despite the fact that the enterprising manufacturer could use just about any ingredients that would mix. A hint as to why such cures were accepted comes from a book published in the early 1800s. It was titled, The Poor Man's Physician and the Sick Man's Friend, by Josiah Burlingam of Madison County, N.Y. For bilious colic, Burlingame suggested with a straight face: "Give a Spoonful of Sweet oil each hour, for this has cured one who was thought to be at the point of death .... In case the complaint is obstinate and will not mollify…give an injection of strong tobacco, specked with flaxseed, and I never knew it failed. This method must be resorted to before the strength of the patient is too far exhausted."
Along the same lines, the New York Tribune printed a testimonial in 1841 from a woman in Utica, N.Y. She was 32, and in the two years she had been bedridden with a disease, she had consumed: "14 bottles of Phoenix Bitters, 20 boxes of Life Pills, 100 boxes of Brandeth's Life Pills, three bottles of Phelps Arcanrum, four bottles of Smith's Anti Mercurial Syrup, five bottles of Swaim's Panacea, three bottles of Indian Panacea, six-dollars' worth of Conway's Boston Medicine, a large quantity of Fowler's Solution of Arsenic, and different preparations of mercury prepared by doctors."
She concluded that her life was preserved and her health fully restored by the use of Bristol's Fluid Extract of Sarsaparilla.
One highly collectible item of the era was Warmer's Log Cabin, which was both a liniment and cordial. It could be rubbed in for pain and inflammation or taken internally for cramps, cholera, dysentery, and summer complaints or asthma. Today, the brown bottles of the 1800s, especially those in the original red, white and blue Log Cabin box, are prized.
The market also included Dr. Williams' Pink Pills to cure paralysis (the pills were simply starch and sugar), and Mr. Wilslow's Soothing Syrup for Teething babies (with a principal ingredient of morphine). Shoppers once grabbed up Dr. Kilmer's Swamproot in the colorful pale-orange box with the likeness of Kilmer on the package. Now, items like the Swamproot and Humphrey's Homeopathic bring $5 to $10 from eager collectors.
In 1906, President Theodore Roosevelt, after a powerful political campaign, signed the Federal Pure Food and Drug Act, which became law the following year. It said that the contents of a cure must be included for all to read on the label. Until that point, the patent-medicine, quack-cure business abounded in country stores, drugstores and even in mail-order catalogs.
Well before the law went into effect, the 1906 Sears and Roebuck catalog featured Sears' White Star Secret Liquor Cure. An advertisement showed Mother slipping the cure into Father's coffee after supper. It suggested that a few doses would cease his running around at nights. In truth, White Star had enough narcotic in it to drop him into the nearest couch within minutes after drinking a liberal dose in his coffee.
Beecham's, From Laxatives to Penicillin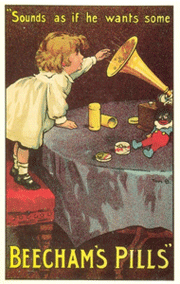 Beecham's was created by Thomas Beecham in England in 1847 when he was about 22 and after he had been selling herbal remedies. His formula must have done the trick because he opened a store to sell them. Its success led to a factory for creating other patent medicines. The company grew and began acquiring other businesses, including the consumer product companies. Over the years, Beecham's and its subsidiary companies sold Brylcreem, Aqua Velva, Geritol, Tums, Sucrets, Aquafresh and a host of other products. It also had 7-Up and Pepsi® franchises, but it later sold them.
As the company grew, it expanded into pharmaceutical research, and Beecham's is credited with the discovery of the nucleus of penicillin. Working with Bristol-Meyers, the company created and marketed many antibiotics, including amoxicillin, for which all parents of young children are grateful.
During its long history, Beecham's bought the Massengill Company and then merged with SmithKline, which later merged with Glaxo Wellcome to create GlaxoSmithKline in 2000. Alas, the Beecham name was lost from the letterhead, but one must be impressed with the handiwork started by a young 22-year-old selling laxative pills.
----------------------------------
This information is from the book, Beechams, 1848-2000: From Pills to Pharmaceuticals, by T.A.B. Corley (Crucible Books, pub, 2011.)
This 1895 color lithograph for "Get fat on Lorings Fat-ten-u and corpula foods" may have been true to its promise, or it may have been one of the many quack "cures" that was typical of that era. At the time, being overweight was a sign of good health and being skinny meant being sickly because of a lack of food. (Photo: the Gribler Bank Note Co. from a photo by Bakers Art Gallery and the Library of Congress.)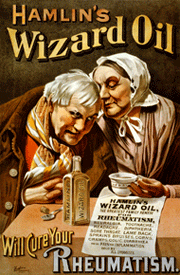 Hamlin's Wizard Oil calls itself: "The greatest family remedy for rheumatism, neuralgia, toothache, headache, diphtheria, sore throat, lame back, sprains, bruises, corns, cramps, colic, diarrhea and all pain and inflammation. Sold by all druggists." This ca. 1890 chromolithograph was by Hughes Lithographers, Chicago. (Photo: U.S. Library of Congress.)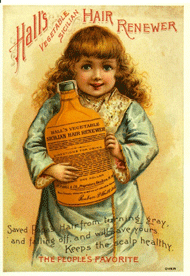 Hall's Hair Renewer: Trade card for Hall's Vegetable Sicilian Hair Renewer, late 19th c. It reads: "Saved Papa's hair from turning gray, and falling off, and will save yours. Keeps the scalp healthy. The people's choice." (Photo: Henry Ford Museum & Greenfield Village)

Highwood's "Old Indian" prescription laxative.