The Celebrity Collector

Corbin Bernsen has an enormous collection
of snow globes ­ nearly 7,000!
Corbin Bernsen traces his snow globe collection to his days on L.A. Law (1986-1994), the enormously popular television series on which he played the opportunistic divorce lawyer Arnie Becker. "I used to travel around the country promoting the show," he said, "and someone once gave me a snow globe as a gift. I liked it and decided to keep an eye out for others just as nice. I would bring them home and display them in an old pine hutch that had once belonged to my grandfather."
By the time L.A. Law had run its course, Bernsen estimates he'd collected about 30-40 snow globes. Some were presents, others he bought. His first purchase was made in 1990, when he was out shopping with his wife, the British actress/designer Amanda Pays. "We were in a shop in Pasadena, and I saw this snow globe with a black child eating watermelon," he recalled. "It was a snow globe, but it was also a piece of black memorabilia. I decided to buy it, but I was taken back by the price ­ $240."
The purchase enlightened Bernsen to the fact that snow globes ­ even ones that don't dovetail into another genre ­ are highly collectible, and that vintage snow globes are the most rare and collectible. After that, Bernsen was hooked. He began buying up single pieces and entire collections ­ even running an ad in the local paper: "Prominent celebrity looking to buy your vintage snow globes." Predictably, he was swamped by callers wanting a chance to rub elbows with a star.
"People were amazed that I would drive out to their house to see their snow globes, but that's how dedicated I was, and still am, to building a truly complete collection," he said. To date, Bernsen has a staggering 6,000+ snow globes ­ maybe 7,000, he lost count a long time ago. Most are in storage in a warehouse, awaiting a fate that is still being pondered. "Next time we move, I'll consider how we might exhibit them in the house. Or, maybe we'll open a shop, to share them."
Bernsen said he typically stays away from the newer snow globes, with Lucite panels inside. Some of his pieces date back to the turn of the century ("They were made in Germany then, mostly as paperweights and Christmas-themed gift items"). A few in his collection were made by Atlas, the acknowledged first serious maker of snow globes, in Germany around 1900.
Many of Bernsen's snow globes are from the 1930s and '40s, when they were popular as advertising items and promotional giveaways. The ads appeared on the base of the piece, while the scenes inside the globe ­ with paraffin wax for snow falling on intricately crafted figures and landscapes ­ made a striking impact. Heinz ketchup, cigarette makers, old tractor companies and moving firms all used snow globes to advertise their products.
A few unusual pieces in Bernsen's collection include a Batman snow globe from around the time of the television show (one of two known to exist); several made by a Canadian woman, with each globe scene telling its own little story (Bernsen paid $250 each for the one-of-a-kinds); and one that wasn't a snow globe at all, but a little girl's attempt to make one by hand. "It was a Pocahontas doll in a jar of water basically," he said. "I thought it was adorable and offered her $20 for it."
The story behind one of Bernsen's snow globes is so odd and unusual it actually made the news, in the U.S. and Canada. It began with a 26-year-old Montreal man named Kyle MacDonald who was tired of renting and decided he wanted to buy a house. He had a problem, though: no money. So he decided he would start with something he did have ­ a single red paper clip sitting on his desk at home ­ and see if he could trade it online and keep trading up until he could trade for a house.
It was a heady dream, but it actually worked, and in only 14 trades. The first trade was modest ­ he only got a pen that looked like a fish for his red paper clip. He traded the pen for a handmade doorknob from a potter in Seattle. Some trades later, he was the proud owner of a Bombardier snowmobile, which he got from a Montreal radio host. He traded that for an afternoon with rock star Alice Cooper, which he then traded for a snow globe that had the logo for the rock group KISS inside.
By this time, Mac-Donald's trades had made the papers in Canada, and word of the KISS snow globe reached Bernsen's ear. He offered MacDonald a part in his next film, a thriller with a twist called "Donna on Demand," in return for the globe. MacDonald accepted, then traded the part in the movie to the small town of Kipling, in Canada, which offered him a farmhouse in return. Bernsen traveled to Kipling for an open cast call, where local resident Nolan Hubbard secured a part in "Donna on Demand."
Corbin Bernsen was born in North Hollywood, Calif., on Jan. 7, 1954. He was raised around the glitz of the entertainment business, the eldest of three children born to Harry Bernsen (a television and film producer) and Jeanne Cooper (a veteran soap opera star who still appears on The Young and the Restless). His parents divorced in 1977. Bernsen graduated from Beverly Hills High School in 1972 and attended UCLA with the ideas of pursuing a career in law.
Instead, he went on to receive a Bachelor of Fine Arts in theatre arts, and a Master of Fine Arts in playwriting. He made his film debut in one of his father's pictures (Three the Hard Way, 1974). But even his high-profile parents couldn't guarantee him instant success and fame, or even work. In those early days, he eked out a living as a carpenter and roofer. He also sidelined as a model.
Bernsen's big break came in 1983 when he was cast as Ken Graham on the daytime soap, Ryan's Hope. During this time he also met and married Brenda Cooper, a TV costume designer who later worked on The Nanny sitcom). The couple divorced after two years of marriage. In 1986, his real breakthrough came when he landed the part on L.A. Law (becoming a lawyer after all, if only on television!). He also appeared in the '80s films Hello Again (1987), and Disorganized Crime (1989).
In 1989, Bernsen played a ballplayer-and-team-owner in the hit movie Major League, with Charlie Sheen and Tom Berenger. Two sequels followed. From 1990 to the present, Bernsen has appeared in numerous films and on TV. He had recurring roles on two soap operas: The Young and the Restless (with mom), and General Hospital, on which he played John Durant. He appeared twice on the reality program Celebrity Mole, and has had recurring or starring roles on The West Wing, JAG and Cuts.
Currently, Bernsen stars in the successful TV series Psyche, on which he plays a hard-nosed retired police detective whose son pretends to be a psychic. He commutes to Vancouver, Canada, to film the show, which airs on the USA Network. He's been married to Amanda Pays since 1988; the couple has four children, including twin sons. In their spare time, the Bernsens buy, restore and resell homes. They've renovated an amazing 16 homes in 18 years, with Bernsen doing much of the handiwork himself.
In 1995, they redid a Beverly Hills estate and sold it to Steve Martin for nearly $4 million. Amanda also has her own line of elegantly mod upholstered furniture, which she sells through Atlanta-based Directions. Her celebrity client list includes Nicholas Cage (who has her York sofa and chairs), and First Lady Laura Bush (who bought a set of Hastings chairs for the family ranch in Texas). The Bernsens also collect artwork, including works by Martin Kane of Scotland and Gustavo Rosa of Brazil.
Fans of Corbin Bernsen may write to the star c/o Public Media Works, 14749 Oxnard Street, Van Nuys, CA 91411.
Corbin Bernsen has a
Hollywood pedigree. His dad
was a TV and film producer, and his mom is a regular on TV's The Young and the Restless.
These snow globes represent a tiny portion of Bernsen's vast collection. Most of the nearly 7,000 pieces are boxed and in storage.
Kyle MacDonald (right) started out with a single red paper clip and was able to trade up to a KISS snow globe (which he traded to Corbin, left) and, ultimately, a house in Canada.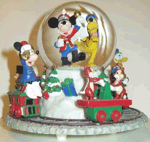 (R.) Disney was wise to hop onto the popularity of snow globes.
This one, titled "Parade of
Wooden Soldiers," features a moving train outside the globe.
Snow globes were first manufactured in France and Germany in the 19th century.
Many, like this one, had a Christmas theme.
Numerous books, like this one by Connie Moore and Harry Rinker, have been written about snow globes, attesting to their
popularity as a collectible.