Collecting Valentines
Collecting antique and vintage Valentine Cards & Postcards
The history of Valentine's Day has its roots in an ancient Roman fertility festival which took place each year on February 14th. The Catholic Church in the 5th century adapted this same February 14th date as the feast date of Saint Valentine. Be it myth or fact, many today believe that St. Valentine was a priest in Rome, who performed marriages in defiance of a ban on marriage imposed by the Roman Emperor Claudius—the rationale for the marriage ban being bachelors made better soldiers.
Another interesting aspect of the legend of Saint Valentine is that he was martyred on February 14th. It was not, however, until a thousand years later that people began to associate love with Saint Valentine's Day. This association was begun by the English poet Geoffrey Chaucer.
As time went on, the holiday continued to evolve, and in late 18th century England, the exchange of gifts and handmade cards proclaiming one's love began to take place. These early cards featured cupids, hearts and angels that were decorated with beads and lace in what is today referred to as "Victorian scrap."
Eventually, the practice of exchanging cards spread to this country. The first commercially-produced valentine cards in the United States appeared circa 1860, and the craze for sending and exchanging valentine cards reached its peak between 1890 and 1915. During these years, February 14th became one of the postman's busiest days.
The charm of early handmade cards, often with a few lines of verse proclaiming one's love, make them a favorite of today's collector. Although they are more difficult to find, fine examples can be purchased today for as low as $25. The more elaborate hand-made cards, especially those when found in excellent condition, can command prices as high as $1,000.
Commercial "three dimensional" valentines first appeared circa 1880. Often, they were die-cut chromolithograph images which, when the card was opened, produced a three-dimensional view. The best of these cards were produced in Germany. Today's prices for these adorable 100-year-old cards can be as little as $10, with the more elaborate ones going for hundreds of dollars.
In time, "honeycomb paper puff" designs were incorporated into these cards. "Paper puff" is the name given by collectors to a particular ornamentation. It consists of tissue paper which is folded like an accordion and pops open into a three-dimensional design that resembles a bee's honeycomb. Paper puffs reached their height of popularity during the 1920s. The Beistel Co. in Pennsylvania was the leading manufacturer of these paper puff cards. At that time, the typical price for paper puffs was five cents with the more elaborate ones selling for slightly more. Today, paper puff cards can be purchased for as little as $10 with the more intricate one selling for $100 or more.
Yet another classification of Valentine's Day cards are those referred to as mechanicals. This is any card that has a moveable part. It might consist of a lever that when pulled down causes a heart or some image to appear, or in earlier Victorian cards, it might be nothing more than a string from which some die-cut image is attached, but free to move.
In the early 1900s, the penny valentine postcard made its appearance and added to the postcard craze that gripped this nation during the first 15 years of the 20th century. Again, the German lithograph cards are in general the most prized by today's collectors. Cards produced by English firms of Raphael Tuck and International Art are also coveted by collectors. In this country, companies such as the Detroit Publishing Company, the Reinthal & Newman Publishing Co. and the Edward H. Mitchell Co. distributed U.S.-produced postcards. Other American entrepreneurs such as John Winsch of Stapleton, New York, and the Gottschalk, Dreyfuss & Davis Co., also from New York, issued postcards that were printed specifically for them in Germany. The Winsch cards were of particularly high quality, which at the time sold for two to five cents each, when the common price for a card was one cent. Although in business for only about five years, Winsch had managed to copyright more than 3,000 designs, many of which were valentine cards.
An easy way for the beginner collector to build a quality collection of postcards is to focus on any of the above-mentioned publishers. The publishers name can be found on the reverse of the card, usually along the left margin or down the dividing line of the card. Additionally, cards illustrated by noted American artists such as Frances Brundidge, Ellen Clapsaddle, Grace Drayton, Rosie O'Neill, Richard Outcault, Clare Dwiggins, Charles Gibson and Harrison Fisher are some of the illustrators collectors look for. Their names or initials are usually found on the face of the card, usually below the illustration. In fact, besides the valentine theme, any card by one of these illustrators would be a good investment.
Speaking of cards as an investment, knowledgeable collectors understand that, as with collecting any paper product, condition is of paramount importance in determining value. Finding a Clapsaddle Valentine card for $2 at a flea market might be a great investment, or it might be a waste of money if the card is creased, has a torn corner, or has writing on the illustration. The inability to carefully examine cards makes buying any paper collectable on a site such as eBay a risky proposition.
No discussion of valentine cards would be complete without mention of what was referred to as the "Penny Dreadfuls," which first appeared in this country circa 1890. Unlike the typical sweet and romantic card, these were bitterly cutting valentines. Whatever peculiarity, trait or handicap someone had, or was impugned to have, was made fun of with these valentines. The homely man or woman, the spinster, the overweight individual, the flirt, or the dishonest butcher with a fat thumb, might well have received a Penny Dreadful on Valentine's Day. Such cards were often delivered by some surreptitious manner to the unfortunate precipitants home. The McLoughlin Brothers, which eventually became a giant U.S. publishing company, was one of the most prolific publishers of these early paper novelties. These Penny Dreadfuls were not the kind of mementos one treasured and kept. After all, who would expect a love-strict maiden to save for posterity, a card that labeled her a withering flower? Because these cards were not usually saved, they are rare and very collectable.
Here is a general price guide for valentine postcards in excellent condition.
- Common cards (only verse or no images of particular interest):$0.50 - $1.50
- Cards with children and cupids: $3 - $7
- Comical cards: $2 - $5
- Cards by Brundage, Clapsaddle or other noted illustrators $8 - $25
- Penny Dreadfuls: $10 - $20
One of the best ways to purchase valentines is from postcard shows because they allow the buyer to sort through large selection of cards to find those of interest. Additionally, there are dealers in antique shops and antique malls, which specialize in these cards and can likewise, offer the perspective customer thousands of cards to choose from.
---
Syl Turner is an antique dealer who collects, buys and sells all types of ephemera, including valentines and postcards. He sells from the Broad Street Antique Mall in Chamblee Georgia, and maintains an in-shop inventory of hundreds of Victorian valentines and 50,000+ postcards. His ambition in life is to accumulate a collection of a million postcards. If any reader wants to help Turner reach this goal, he can be reached via the website: www.broadstreetantiquemall.com.
Victorian three dimensional
die-cut chromolithograph, 1890
German "Honeycomb
Paper-Puff", 1910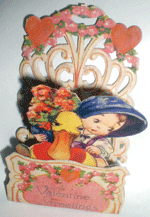 German Die-Cut
Photolithograph, 1900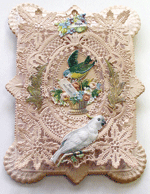 Victorian three dimensional
die-cut chromolithograph, 1890
American Mechanical, 1935
German lithograph Postcard, 1910
Assorted "Penny" Postcards, 1905-1920