Collecting Vintage Costume Jewelry
Excavations of ancient civilizations tell us much about the habits and households of past generations. Archeologists have uncovered pots, hunting implements, and… jewelry. In generations past, available materials were made into accents that were artistic, imaginative and beautiful—so beautiful, in fact, that many of these ancient artifacts continue to serve as inspiration for their more contemporary counterparts. Egyptian motifs, for example, show up at least once a decade.
As these ancient excavations reveal, jewelry has always been a part of personal adornment. During the 20th century, the birth of modern manufacturing methods provided vast amounts of personal adornments created with a variety of non-precious materials. At times oversized and opulent, at others serene and understated, costume jewelry has captured the interest of collectors in a big way.
Auctions are always a good barometer of interest among collectors. In October 2008 at Doyle's in New York, their auction of costume jewelry collections from Brigid Berlin and Ann Getty took in more than double the pre-auction estimates. In just one example, a necklace and earrings by Miriam Haskell defied the preauction estimate of $400- $500. When the hammer went down, the price was more than $2,800! Just a few short years ago, it was Bakelite bracelets that were going for the price of a small sedan. Today, 20th century pot metal and rhinestone treasures have made their way out of jewelry boxes and into auctions, antique shops and online markets. And some of the prices are staggering.
DeLizza and Elster was a company that made costume jewelry for many companies, including Weiss, Kramer, Hobe', Eisenberg and Sarah Coventry. During 1967- 68, the company produced and marketed their own line of jewelry, unsigned, and marked only with hang tags. Named Juliana (after DeLizza's wife), the designs have distinctive features which include fivelink bracelets, beautifully carved center stones, and large unfoiled rhinestones with open backs. Excellent workmanship is a hallmark of Juliana jewelry. These extravagant designs are THE hottest costume jewelry right now. For a full parure, including brooch, necklace, bracelet and matching earrings, you can expect to pay a thousand dollars and up, depending on the stones.
Many costume jewelry manufacturers looked to styles and designs of fine jewelry for inspiration, too. Alfred Philippe was a designer for Trifari for more than 40 years. He worked for Cartier, Van Cleef and Arpels before joining Trifari. Marcel Boucher apprenticed at Cartier before going out on his own. Collectors agree that designs by Trifari and Boucher are among the best of the best in costume jewelry.
Another drawing point is that vintage costume jewelry contains many of the design elements of fine art. This is no accident. Many artists worked as jewelry designers. McClelland Barclay, a graphic artist whose drawings appeared on the covers of many magazines throughout the 1930s, turned his talent to making costume jewelry. His deco designs were distinctive and well made. Today, his jewelry remains rare and highly collectible. His artistic career was cut short when he became a member of the U.S. Naval Reserve during WWII. He was on active duty when tragically he was killed in 1943.
When it wasn't being designed by artists, costume jewelry was inspired by fine art. In the late 1960s, Eisenberg manufactured enameled jewelry that was inspired by the artwork of different artists, including Cubists Georges Braque and Pablo Picasso.
Costume jewelry was legally recognized as art in 1955 when a federal judge ruled that costume jewelry designs were "works of art" and should be accorded the protection of U.S. copyright laws. After this date, the copyright symbol began to appear on jewelry. The presence of the © helps collectors date their jewelry. Just to keep things interesting, there is always an exception. CORO started using the copyright symbol earlier than 1955, perhaps as early as 1947.
Certain themes appeared again and again in costume jewelry designs. After the early 1960's release of Cleopatra starring Elizabeth Taylor, Egyptian themes began to appear. The Eugene parure is very similar to a Haskell design of the same period. The design and construction are so similar, in fact, that it has often been said, incorrectly, that Eugene worked for Miriam Haskell. Actually, Larry Vrba designed the Egyptian line for Miriam Haskell; it is one of the most popular Haskell lines ever. Mr. Vrba also designed jewelry for Castlecliff, including Egyptianinspired pendants. Today, he continues to design and sell his one-of-a kind pieces.
A beautiful fantasy series full parure by HAR. Genies wear richly-detailed
vests with clear rhinestone trim. The standing genie has rhinestone accents
on his pants. The HAR mermaid brooch with Lucite ball features a golden
fish and headdress accented by a red rhinestone. Matching genie bracelet features links with a magic lantern, ornate palace and genie with crystal
ball. The turban is decorated with a ruby red cabochon. Matching
earrings complete the set.
Other events influenced costume jewelry designs. Ironically, the privation experienced during WW II led to the use of sterling silver settings in costume jewelry. Outputs of costume jewelry manufacturers were governed by quotas that were set by the government. By March 1942, costume jewelry manufacturers were told to stop making goods using a long list of critical metals. Rhodium, expressly forbidden for use in jewelry, was needed to coat reflectors in anti-aircraft search lights. The use of rhinestones tapered off as domestic supplies became depleted, and European imports were cut off. This style is referred to as "Retro Modern."
Costume jewelry designers and manufacturers also looked to more novel materials to take the place of traditional metal and rhinestones. On the West Coast, for example, Eliot Handler, who would later develop the Barbie doll, began his creative career as a costume jewelry designer. Eliot partnered with jewelry manufacturer Zachary "Zach" Zemby to form the company Elzac in 1941.
Elzac jewelry was made with Lucite, wood, ceramic, felt and fur to create whimsical brooches with designs that featured carousel animals, monkeys and rabbits. Most famous were the ornately coiffed women affectionately known as "victims of fashion" because of their over-thetop outfits and makeup. "Bonnet head" brooches by Elzac, featuring a cap of colored or clear Lucite, were also extremely popular. The bonnet head design was patented in 1943.
Unfortunately for collectors, Elzac jewelry was unsigned, and the company made jewelry for less than a decade.
Eugene Joseff made historically accurate jewelry for Hollywood films during the 1930s and 1940s. Joan Crawford, Bette Davis, Marlene Dietrich, Carol Lombard and Barbara Stanwick are among the Hollywood leading ladies who wore Joseff jewelry in their films. They liked his jewelry so much they asked him to make it for their own personal wardrobes.
Joseff started a commercial line which was sold only in upscale department stores and boutiques. One of the earmarks of his jewelry was a matte gold tone finish which did not interfere with the bright studio lights. The same finish was used successfully in his commercial lines.
Joseff jewelry is rare—exceedingly rare, in fact. For the Hollywood pieces, Joseff only rented, never sold, his jewelry to the studios. After filming, the jewelry was returned to the vault. Because of his foresight, the Joseff of Hollywood Collection has been preserved. More than three million necklaces, brooches, tiaras, earrings and breastplates are warehoused in individually labeled boxes to keep the jewelry dust-free. With Joseff's untimely death, his wife took over the business.
For many designers, costume jewelry was designed to accent their fabulous fashions. Coco Chanel and rival Elsa Schiaparelli are two famous clothing designers who made jewelry to coordinate with their couture. There are others, too, including Nettie Rosenstein, Hattie Carnegie and Alice Caviness.
Caviness designs are large and bold and employ high quality materials, including decorative stones. Hattie Carnegie's jewelry designs are as interesting as her ragsto- riches life story and run the gamut from classic to exotic. Her highly collectible figural jewelry includes rams, fish, birds, elephants, Asian themes and Egyptian Revival designs.
Miriam Haskell has practically become a household name. Haskell designs are artfully rendered using only the highest quality materials. Collectors covet Haskell jewelry with its masses of seed pearls, rich filigree metalwork and mixture of unusual stones.
Eisenberg jewelry was first made to complement their readyto- wear lines and was sold as part of a fashion ensemble. The popularity of these early, unsigned pieces was undeniable; they began to disappear from the department store dresses as customers started helping themselves! Deciding to go with the flow, Eisenberg in 1958 started making costume jewelry exclusively.
Collectors note: Eisenberg jewelry was marked differently depending on when it was made. During WW II, it was marked only with an "E" in script. Eisenberg jewelry is still being made by the same company today.
Serious collectors of vintage costume jewelry have long wondered about the mysterious mark "©HAR." The copyright symbol helped to date HAR jewelry to 1955 and after, but for many years, collectors could only wonder about what company made such fantastic figural jewelry. The mystery was recently solved when Roberto Brunialti, a serious collector of American costume jewelry, made a discovery while researching in the U.S. Copyright Office in the Library of Congress. There, he found that the mark was owned by Hargo Creations in New York. HAR jewelry consistently commands high prices; a full parure of fantasy figurals can cost several thousand dollars.
It's not possible to talk about costume jewelry without mentioning Kenneth Jay Lane. Mr. Lane started making jewelry in the early 1960s. His jewelry designs have been inspired by his travels and employ a variety of unusual and high quality materials. He is famous for copying the precious jewels of the rich and famous, including the Duchess of Windsor and Jacqueline Kennedy, among many others. His jewelry is excellent quality; over his 40+ year career, almost every conceivable design, from classic to whimsical, has appeared. His early pieces are especially collectible.
For about 20 years, starting in the mid-1980s, Lane designed jewelry for AVON. These designs are fabulous and highly collectible. Keep in mind that Lane is still making jewelry. His pieces can be purchased in high-end boutiques as well as on a popular home shopping network.
Finally, for collectors and dealers alike, a word of caution: fakes and copies are an unfortunate byproduct when collectibles become popular and expensive. Weiss, Eisenberg, CORO, Trifari, Staret and Lisner have all been copied shamelessly. Ever since Bakelite auction prices have become the stuff of legends, copies are so common that experts have coined the term "fakelite." Protect your purse and buy from trusted sources. Carry loupes on shopping trips and read everything you can about this popular area of collecting.
---
Jacqueline Rehmann is the author of, Classic American Costume Jewelry, published by Collector Books in 2009.

Alice Caviness was a clothing designer who created jewelry to accent her fashions. This features a faux turquoise cabochon surrounded by pearls and smaller stones; 4+ inches long including the chain; signed "ALICE CAVINESS."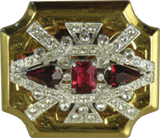 McClelland Barclay brooch with a heavy gold-tone setting with red and clear (diamante) prong-set rhinestones, signed.
DeLizza and Elster brooch, 2.25 inches, with loads of detail, including two beautifully carved stones accented with rhinestones.
Egyptian revival parure by Eugene Schultz. This is the only full parure by Eugene ever seen by the author.
Joseff of Hollywood brooch, 3 x 2.25 inches, signed "JOSEFF HOLLYWOOD." Probably sold in boutiques and high end department stores, it can be worn as a brooch or pendant.
"Victim of Fashion" brooch by Elzac with ceramic face; a whopping 4.5 inches. Elzac pieces were not signed but usually had a tag; few tags have survived.
Miriam Haskell brooch with faux jade stone in her signature gold filigree setting surrounded by tiny seed pearls; signed