The Magic of Collecting Antique Rugs and Carpets

By Daniele Gair
Posted August 2011
Conjuring up images of merchants haggling in dark, smoky rooms and of sultans flying through the night sky on enchanted carpets, antique rugs are among the most evocative of all collectibles. Their charm lies both in their exotic origins and in their timeless beauty. Though collecting these mysterious, yet familiar, works of art can be daunting; stepping into this world of mesmerizing textures, patterns and cultures is a magical journey.
The history of rug making goes back centuries and encompasses an enormous area, both historically and geographically. In a region covering almost the entire Eurasian continent, weavers in all levels of society, from roving tribes to court artists, produced carpets of phenomenal quality and variety. Different types of rugs were also crafted for different uses. In China and India, many weavings were used in temples and were made of the finest materials by the best artisans; whereas, the nomadic Turkoman tribes of Central Asia wove practical items such as tent doors and surrounds, storage bags and wedding decorations. By the 19th century, many carpets were being produced expressly for the European tourist trade, as intrepid explorers and events such as Napoleon's Egyptian Campaign awakened the West's interest in these treasures from the East.
Understanding the structure of a carpet means being able to identify a well-made carpet versus one of dubious quality. It all starts with a loom. Carpets are comprised of a grid-like foundation, with its warp and weft, or horizontal and vertical threads, interwoven with fiber. The colored fiber, usually cotton, wool or even silk, is woven onto these strands in a series of knots which, when cut, form the textured pile and design of the rug. There are two types of knots: the Turkish, or symmetrical knot, also called the Ghiordes knot, and the Persian knot, or asymmetrical knot. The fineness of a rug is graded by the number of knots per square decimeter it contains. The more knots in one area, the finer the detail and the texture.
Color is widely considered to be the most important factor in determining the quality of a rug, and the type of dye used is also a factor in a carpet's quality. Color can be derived from natural sources, such as plants or crushed insects, like the madder plant or later, the cochineal bug for red or indigo for blue. Natural dyes are considered to be the best of all dyes.
Other types were aniline and chrome dyes. Aniline was introduced at the end of the 19th century, and even though it was a chemical, it was not colorfast. Chrome dyes produce a brilliant array of hues, yet they "…lack the subtlety and sparkle of natural dyes," say Judith and Martin Miller in Understanding Antiques.
In selecting an antique carpet, determining the style or place of origin is a primary concern. This is not always easy. The major carpet-making regions, Anatolia/Turkey, Persia, the Caucasus and Central Asia, have developed highly individual patterns and styles, infused with motifs and symbolism particular to each region, town and even ethnic group. However, these decorative markers are not always static. Motifs may migrate with nomadic tribes, from one area to another, or names may correspond with trading centers rather than an actual point of origin.
By far, the most well known of all antique carpets is the Persian rug, so much so that Persian is frequently used as a general term for any Oriental antique rug. These rugs exhibit the greatest diversity in style, technique and color of any region. Avidly collected for many years, these carpets were traditionally woven everywhere from commercial centers to nomadic communities. Outside the cities, weavers created carpets, practical items and flat-woven kilims that incorporated dense geometric designs and intricate symbols called botehs. Out of the illustrious Safavid court of the 16th and 17th centuries emerged weavings of a more classical, realistic nature. Usually crafted of silk, these highly-desirable carpets display an exceptional level of skill and artistry.
Persian carpets are, of course, the most highly collectible and command exceptional prices. Bonham's of Los Angeles and San Francisco auctioned a large carpet from the City of Tabriz in modern-day Iran, one of the oldest rug weaving centers in the world, for $45,140 in June 2009, and in December 2007, they auctioned a Mohtashem Kashan carpet from Central Persia, circa 1880, for $264,000.
Turkish, or Anatolian, have much in common with Persian rugs. Like their counterparts to the east, these rugs fall into two distinct categories, the traditional iconographic and geometric rugs of tribal and nomadic artisans, and those created in the workshops and Ottoman court ateliers in the more urban areas, which presented a more sophisticated, formal style influenced by the courts of Persia and India. Designs are often bold, dense and complex and incorporate significant religious elements.
The oldest type of weaving in Turkey is the flat-woven kilim, which were used for domestic purposes and have, according to Judith and Martin Miller, maintained many traditional designs longer than their knotted counterparts. These carpets are highly collectible, as are the rarer small prayer rugs. Carpets from the Russian Caucasus and Central Asia also bear many of the same characteristics as Persian and Turkish rugs. However, it should be stressed that the names are not interchangeable.
Building a collection also involves venturing off the beaten track. With antique carpets, this means visiting some of the less obvious areas of the map, such as China, India and even France and England. The carpets of China are among the most easily recognizable of all regional styles, exhibiting detached, almost floating decorative motifs, and a color palette often dominated by shades of blue and yellow or ivory. As with Middle Eastern carpets, important symbolism is often incorporated, but unlike Islamic design, Chinese rugs may integrate geometric and floral design in the same rug.
Also worth careful consideration are the more unique Chinese, Indian and Tibetan rugs, such as: pillar rugs, which are borderless carpets made to cover columns in Buddhist temples; Buddhist meditation rugs; and saddle rugs, double-sided rugs which are woven separately and joined in the middle. These rugs are extremely rare and well worth the search. In fact, Chinese rugs can fetch upwards of $15,500. Indian rugs, like early pashmina Mughal rugs and flat-woven cotton dhurries, are also highly desirable and are among the most expensive.
The journey through European carpets begins in Spain, where the Moorish influence brought the colorful patterns and dramatic motifs of the Near East to European carpet and tapestry design as early as the 12th century. In France, the Savonnerie and Aubusson workshops created designs that reflected the Neoclassical, Baroque, Art Nouveau and Art Deco styles almost exclusively for monarchs like Louis XIV in the case of Savonnerie, and less affluent markets through the late 19th century. These great houses had such a significant influence on design in other parts of Europe and Asia that imitations were produced as far away as China.
In 18th-century England, designers and furniture makers like Robert Adam and Thomas Chippendale interpreted this influence into design that reflected their more classical and architectural tastes. They then commissioned their work to be produced by companies like Axminster, which later introduced high-quality, machine-made rugs with the advent of the Industrial Revolution.
Although antique Oriental rugs dominate the collecting landscape, carpets from the modern era shouldn't be overlooked. Since the late 19th century through the pre-World War II period, modernist design has influenced every decorative medium, including textiles. From Arts and Crafts to Art Deco, carpets created during this period, whether hand- or mechanically-crafted, display outstanding artistry and are as diverse as their countries of origin. French Art Deco carpets are considered particularly desirable, and Chinese art deco rugs, which combined traditional motifs with a French modernist influence, have commanded prices from between $15,000 and $18,000.
The world of antique rugs is populated with an extraordinary array of possibilities for the collector. As always, the best tool one can use is research. Begin by finding a trustworthy dealer to guide you through the basics of selection, whether for decorative or collecting purposes, and be wary of someone who does not know the difference in styles or regions of influence or production. Also, several books have been written to help the novice and the experienced collector in increasing knowledge and familiarity with the wide world of rugs, including Miller's Understanding Antiques, The Bulfinch Guide to Carpets, Starting to Collect Antique Rugs by Murray Eiland III, and Susan Day's Art Deco and Modernist Carpets. Remember, tailor your collecting to your own tastes, and enjoy the ride!
---------------------------------------
Useful websites:
*www.sothebys.com, www.bonhams.com, and www.christies.com.
*www.nazmiyalantiquerugs.com/search.cfm; Nazmiyal is one of the most respected names in antique carpets in the world.
*www.antiqueorientalrugs.com, visit Robert Mosby Inc. for highly detailed images of a wide variety of carpets.
---------------------------------------
A native New Orleanian, Daniele Gair has been obsessed with the written word and the arts ever since she could remember. Holding a B.A. in English from Newcomb College of Tulane University, she has honed her skills as a professional writer for 13 years. Daniele has explored the world of visual art as an owner of an art gallery/snowball stand, and she currently researches and writes about fi ne art and antiques for M.S. Rau Antiques in New Orleans.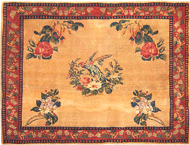 An antique Tabriz rug,
Persia; not the rug that sold by Bonham's, but a good example of the Tabriz style. (Photo, courtesy of Nazmiyal Collection Inc.)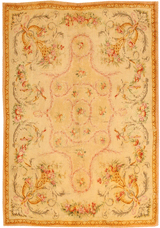 An antique Aubusson rug from France. (Photo, courtesy of Nazmiyal Collection Inc.).
An Art Deco rug, design by Wassily Kandinsky. (Photo, Nazmiyal Collection Inc.).