Collecting Coca-Cola:
The Most Famous Brand Name in the World
By Cindy Reece
Recognized by 90% of the world's population, the popularity of the Coca-Cola logo goes without saying. Any object containing this incredibly popular icon gives it a boost in market value. Today's market is just as hot as ever! Values on Coca-Cola memorabilia of the past continues to amaze collectors, but what about present day collectibles?
| | |
| --- | --- |
| | Miniature porcelain collectible box opens to reveal tiny Coke bottle. Estimated value $25 - $30. |
Coke memorabilia is a fun and fascinating hobby. Avid Coke fans can find the collectibles market flooded with specialty items such as beanies, plush toys, tins, postcards, playing cards, pens, pencils, dishware, phonecards, matchbooks, thimbles, clothing, signs, trays, patches, and many more items. Value of an item is usually determined by the availability and condition. Mint conditioned items (in original packaging) will bring a higher value. Since most items are massed produced, look for items that are limited editions. The best source for pricing an object is to find a good pricing guide. These guides can give a base price and usually a condition of the piece. Most times, the price you pay for an item depends on how bad your desire is to acquire it. Know that some of these are reproductions and the value will probably never be that of yesteryear, but remember as collectors we are collecting for fun. As time passes and collections continue to grow perhaps some of us will have in our possession a most valuable treasure.
| | |
| --- | --- |
| | Revised Edition of Coca-Cola The First Hundred Years - estimated value $15 - $20 |
Locating a Source
Check out the World Wide Web. Type in Coca-Cola, click the search button and be amazed at thousands of listings that pop-up. Of course, there are popular online auctions such as Ebay. These auctions are fun if you are looking for a particular item or if you just enjoy browsing. Just a note - beware of items marked rare and make sure you know what you are about to bid on.
An excellent source can be antique and flea markets. Don't forget bargaining, sometimes the price can be negotiated. On occasion, estate sales of private collectors have turned up some very interesting and valuable items. Some of these items going for a few dollars up to thousands. Also check out local clubs and organizations in your area. These guys have a lot of valuable information to offer.
A favorite is the World of Coca-Cola. Just think of it Coke fans - you walk in and nothing but Coca-Cola wall to wall, floor to ceiling. Absolutely astonishing - a must see for any Coke fan. Not only exhibits and movies but, one can blast into the past at a 1930's soda fountain and fast forward in the future with an unforgettable soda fountain showpiece. Pick up some nostalgia with contemporary gifts and collectibles on the way out. A truly wonderful experience.
Not all Coke memorabilia will come to be "million dollar cash ins" of the future, but only time will tell. Meanwhile enjoy the hunt and remember Have a Coke and a Smile!!
1999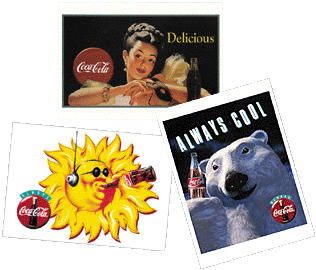 Collection of mint postcards - estimated value $15 - $20. Sun postcard at auction sold for $10.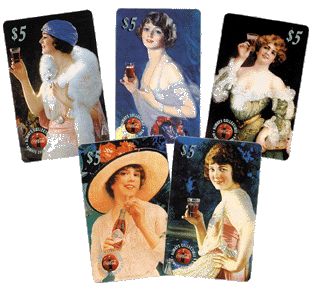 A beautiful set of 5 Coca-Cola phonecards, mint - marketed by Score Board. Estimated value $25.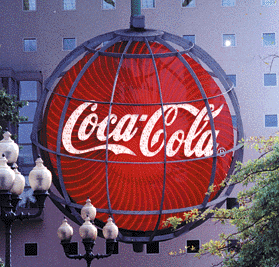 Above photo taken outside the World of Coca-Cola, Atlanta, Georgia - 1998.

Coke bottle depicts World of Coca-Cola logo. Estimated value $10.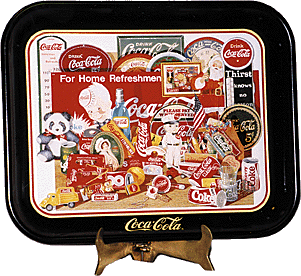 Colorful tray shows Coke collectibles. Estimated value $10 - $15.
Photo credits: C. L. Reece