I've attached pictures of items I am interested in having appraised: a Brady lithograph of Abraham Lincoln; short history mini-books of Civil War generals (1881, Duke Cigarette promotionals); a 22 pounds tobacco stamp with Ulysses Grant on it; and a photo card of Major General Geo. B. McClellan.
JS: Your lithographs of Lincoln and lithographic CDV of McClellan have values of about $25 each in the Civil War market. The Duke tobacco cards are usually priced for about $10-$20 each, so your 33 different cards should sell for $300-$600. The tobacco tax stamp with a vignette of Ulysses S. Grant is a scarce item I have not often seen examples of. I have seen many small, strip-type internal revenue tax stamps (often attached to tobacco tins or bags of tobacco), but I have not seen this 22 pounds type before.
A Lincoln lithograph and a General McClellan lithographic CDV, $25 each.

A set of 33 Duke Cigarette
mini-history booklets, $10 each.
After a little research, I have found that the first U.S. tax stamps were made in 1868. Your example is from series 1871 which had maybe 12 different denominations, from 1/2 pound to 60 pounds with different designs and vignettes depending on weight. Average prices found for these stamps seem to run about $200 each in fine complete condition.
| | |
| --- | --- |
| | A 22 pounds revenue tax stamp printed in 1868 with ď$7.04Ē and Ulysses S. Grant on the face, about $200. |
It is most interesting that when the foremost collection of revenue stamps was sold in 2007-2009, this particular stamp was missing. The Henry Tolman II Collection was sold by Robert Siegel Auction in New York City, and the series 1871 lot was complete from 1/2 pound to 60 pounds, missing only the 22 pounds stamp, which you have. The lot sold on May 9, 2007 for $2,500, just over $200 per stamp. Your denomination must be scarce in that Mr. Tolman could not find it.
Condition lacks a bit on your example with reductions to the border on the bottom, but I imagine it would still complete the set and sell for at least $200.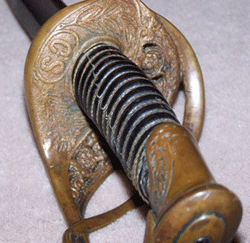 John, I have a Confederate Officer's sword that has been in my family since the war. I first remember it as a child in my grandmother's closet, and for the last 25 years, itís been in mine. The blade was broken at the surrender by Union troops who refused to let great-great grandpappy go home with his sword intact. So, the blade is broken; the scabbard and belt I never remember having seen. The blade has turned dark with age, but it does have a lot of really nice engraving that might be able to be brought out by someone who knows what they are doing. The good news is that the hilt and the leather grip with twisted wire are in really good shape. I've attached photos. I would be interested in selling for the right price.
Also, I have my grandfather's complete WWI uniform with tunic, pants, shorts, summer cap, helmet and puttees. There are also some extra buttons and a stripe, a first aid kit, and his Victory Medal with France clasp. He was in the 649th Aero Squadron, which was a construction squadron assigned to uncrating American made Aeroplanes and preparing them for service. They were stationed mainly in Romorantin, France. I have a couple of jewelry boxes he made out of propeller blades. There is also a bayonet, but I am not certain it was his. I have a book (dated April 13, 1919) on the squadron that was his along with a framed photograph of the entire squadron and a single photo of my grandfather. The book is a fascinating snapshot of the squadron's personnel and activities. I would consider selling these items as well if you could put me in touch with someone who would give me a fair price. Otherwise all this stuff will wind up on eBay.
JS: Interesting grouping of family military memorabilia you possess. That's a nice archive of World War I memorabilia with lots of pieces, though few pieces on their own have much value. The most valuable individual piece is the jewelry box made from a propeller tip, which as a piece of World War I trench art which was the military folk art of the day, might sell for between $200 and $500.
World War I uniforms, $200-$300, and an Aero Squadron
unit history booklet, $100-$200.
The Aero squadron unit history appears in fine condition, and other theaters published little books like this are generally priced between $100 and $200. The various uniform parts and helmet will sell for several hundred dollars; similar groupings can be found in auction have sold for $200-$300 or a bit more.
Your Civil War sword is definitely the most interesting Confederate sword I have seen in a while. What an interesting history that family tradition states that it was broken at surrender. The sword is a scarce pattern typically thought to be made by Leech and Rigdon of Columbus, Miss., but the same pattern hilt is seen on swords made in Mobile, Ala. Without a makerís mark, we can only guess as to manufacture, but it was made in the Deep South, most likely early in the Civil War.
Confederate officerís sword with
a broken blade, $5,000.
The grip on your sword is in exemplary condition, retaining all of its original leather wire wrap and a beautiful patina to the hilt. The "CS" cast into the top of the guard is well-defined, and the extra branch is a unique pattern where there are not a lot of examples known. It is too bad the sword has lost its scabbard, and the blade has about a foot missing of length, and the old etching once discernible is pitted and rusted over. This is still a very interesting relic, and I have no doubt this wonderful relic sword would still sell for at least $5,000.