| | |
| --- | --- |
| Posted November 2016 | If you have a Civil War item that you can't identify or something you want to know the value of, contact John (mail: Box 510, Acworth, GA 30101; email John at seantiquing@go-star.com with Civil War in the subject line or call 770-329-4984 or 770-974-6495). John needs a good description of the item, condition, manufacturer's marks and any other markings, and photos. Please Note: All questions MUST be accompanied with a Photo, it should not be more than 200k in file size. |
I've had these Civil War medals sitting in a drawer forever. What you can tell me about them? I would also like a value put on them if you could, please. I would also think about selling them.
JS:JS: Your medals are in a bit of disrepair, but dealers in such will restore and put them back together. The GAR membership medal and top bar have a broken American flag ribbon. The "WAR OF 1861" top bar once attached to the silver ID pin and was presented to sergeant Robert Holliday of the 30th NY. It is the best medal, being a unique camp presentation. This unit was formed in Albany, N.Y., in June 1861, served until just after Chancellorsville, and mustered out back to Albany in June 1863. Holliday entered service as sergeant, was demoted back to private, and later made sergeant again when transferred from Co. G to Co. F, May 1, 1862. The First Brigade reunion badge is complete, and the group as-is would sell at a Civil War show for between $300 and $500.
Various medals, the best being the Sgt. Robert Holliday presentation medal. All worth $300-$500.
---
I have a couple of items that have been handed down in my family since the Civil War. Not looking to sell, just trying to determine exactly what each item is and value so I can get insured.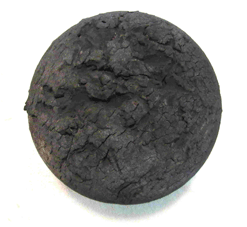 Here is a very strange item I have had in my possession for a little while now, at least since 2011, I think. For as long as I can remember, I have loved getting out of the house to go somewhere and explore around town and clean up along my way at the places I visit. One day, I found myself at a pretty decent-sized park in southeast Atlanta called South Bend Park and decided to stroll around and explore while I cleaned up the neglected trash. I discovered this solid and heavy rubber ball in the creek area while picking up garbage. I thought it was garbage so I picked it up and discovered how very heavy it is for its size.
Needless to say, I didn't throw it away but kept it instead because I found it very odd. I have researched what I could and found nothing compared to it. I originally thought it was a dog chew toy or some kind of workout or medicine ball or something used for industry or manufacturing. There are no markings on it, but it is very decayed for a rubber ball object.
I first thought that those were bite marks from a dog; however, the rubber is very hard and too hard to puncture. Incredibly, the ball still bounces. It is exactly five inches in diameter and weighs about 7.5-8 pounds.
This is very puzzling to me, and I was wondering if it was something used during the Civil War, given the history of the area where I found it. When I showed a couple of friends the other day, they said it was a cannonball, but I'm not sure because I couldn't imagine a rubber cannonball, but who knows?
JS: I have no idea. There were no "bouncy" rubber balls during the war. Not sure when natural rubber was used as such, but this seems too dense to be natural. Hard rubber, which was invented by Charles Goodyear in the1840s, is not elastic, so I can't help. I imagine this is a well-weathered toy of unknown age.

---
John, can you help me with some info on the knife shown in the attached photos?

JS: This knife is one of many seen today—newly made but sold as an antique online, at a flea market, antique show, auction and other venues as "authentic Civil War," but it is not. Whoever made this knife is probably making another one to fool the public as I write this. Knives of this style that are sold as what they actually are—newly made—can be found for $30-$40.
---
A number of years ago, I was given a collection of Civil War memorabilia, a few boxes of old letters written between a soldier and his family back home. If for no other reason than insurance purposes, I would love to have the collection appraised, but I haven't known quite where to start. Can you give me some idea of how I would go about this?
JS: Civil War letters are the most common items that survive the Civil War. They vary in price from a few dollars to a few hundred dollars, depending on content. If you have a fine set of letters that read like a book that can't be put down, they could have value. If they are mundane—talking about the weather, food, seeing Abraham Lincoln or Robert E. Lee, or speaking of religion—few people care. You can find comparable sales of similar-sized lots to what you have on specialized auctions such as Heritage Auctions in Dallas, Texas, or Cowan's Auctions in Cincinnati, Ohio.
---
John Sexton is an independent appraiser and expert of Civil War memorabilia. He is an accredited member of various appraiser organizations. He can be contacted at 770-329-4984 or www.CivilWarDealer.com. If you have a Civil War item for him to appraise, email a photo and a description to seantiquing@go-star.com .