| | |
| --- | --- |
| Posted November 2014 | If you have a Civil War item that you can't identify or something you want to know the value of, contact John (mail: Box 510, Acworth, GA 30101; email John at seantiquing@go-star.com with Civil War in the subject line or call 770-329-4984 or 770-974-6495). John needs a good description of the item, condition, manufacturer's marks and any other markings, and photos. Please Note: All questions MUST be accompanied with a Photo, it should not be more than 200k in file size. |
Hi John, I found a sword on my property. Where can I turn to find out where it might be from?
Photo Above: A complete version of the same sword, $300-$400.

Photo Right: A found WWI Era German/Prussian sword, $50-$100.
JS: Your sword is a German/Prussian WWI Era Pioneer sword, which is often seen in photos of Imperial German soldiers wearing these menacing, edged weapons. Great relic, probably brought back by a U.S. WWI GI. A complete one with scabbard will sell for $300-$400. Your relic might still bring $50-$100.
---
Can you tell me about my dog tags?
JS: Dog tags from the Civil War were typically commercially made with many different designs stamped by sutlers with names, units, towns, etc. These commercial dog tags sell for a few hundred dollars upwards of several thousand if the soldier named had a really interesting history or was from a famous unit.
ID disks made from coins such as this occasionally turn up also, but usually with a hole punched in them so they could be attached with a string or a cord. Here again, value is determined by history and the aesthetics of the piece.
Doing a quick search of Mr. Darnels in the 11th Illinois Volunteer Infantry, no similar name appears in any company. The unit designation on this coin as "Ills Inft" is not a typical abbreviation used in inscriptions during the Civil War, and therefore, this could be a fantasy item, or it could be real since inscribed silver was easy to duplicate then and now.
There have been numerous mundane objects inscribed over the last 50 years and passed off as Civil War. These objects still typically sell in the market as real, but savvy, educated collectors stay away from such. However in the right auction or dealer venue, regardless if this inscribed coin was inscribed in the 19th century or 20th century and if indeed the soldier does turn up in this unit, market value would probably be $200-$300.
---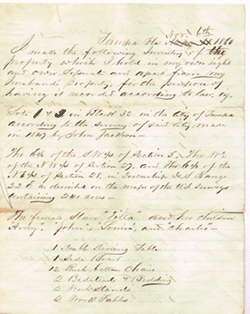 God Day, John. I have about a dozen documents that are from the 1860-1870 time frame and, while they are not Civil War related, I still wonder if they have value. Could you give me an idea of what the charge would be to have a look and render an opinion of what the value could be? I am attaching a scan of one of them so you might see what I have. The docs came from an old burned out mansion in Atlanta, late 1960s.
JS: Typically, documents of this genre, financial-related, are quite common and of little value. One exception is documents concerning slaves; those documents are being sought by archives and libraries for genealogy research. Typical manuscript documents listing slaves as inventory by name, age, etc., ten years ago or so seemed to sell from $100-$300 each in auction and by dealers; whereas, a typical price today would be $50-$100, as many thousands of the bureaucratic documents made their way to market.
These documents are still interesting windows to our past; note the inventory starts with the most valuable properties being real estate, then slaves, and then household furniture. On another note, anything from Tampa, Fla., circa 1860s is quite scarce as the population of Tampa at that time was less than 1,000 people. So you have something quite scarce; maybe in auction the ten documents would bring more than my estimate to someone interested in Tampa history.
---
John Sexton is an independent appraiser and expert of Civil War memorabilia. He is an accredited member of various appraiser organizations. He can be contacted at 770-329-4984 or www.CivilWarDealer.com. If you have a Civil War item for him to appraise, email a photo and a description to seantiquing@go-star.com .