| | |
| --- | --- |
| Posted October 2016 | If you have a Civil War item that you can't identify or something you want to know the value of, contact John (mail: Box 510, Acworth, GA 30101; email John at seantiquing@go-star.com with Civil War in the subject line or call 770-329-4984 or 770-974-6495). John needs a good description of the item, condition, manufacturer's marks and any other markings, and photos. Please Note: All questions MUST be accompanied with a Photo, it should not be more than 200k in file size. |
I picked this up at an estate auction in Missouri, and it is in a frame, a map of Culpeper, Va. Looks authentic. Marked in the corner: "Occupation by Grant's Army. Army of the Potomac. Winter occupation of 1863. Drawn by Staff Officer. Staff of Maj. Gen. S. M. R. Patrick. M. Genl. and by him presented to Capt. Justin H. Chapman B Co 5th Conn Vol Inf." I am not sure what the value of this map is.
JS: Soldier-drawn illustrations and maps have always been popular with collectors, depending on aesthetics and history. You can find decent maps sold in auction or by dealers for from a few hundred to a few thousand dollars for the rarest and best, like this large one with color and details of homes in a town that saw heavy occupation and camping activity during the war. Captain Chapman to whom the map is presented was Provost Marshall, having headquarters at the Culpepper Hotel in the winter of 1863-64. He had his leg amputated a year earlier from wounds at Cedar Mountain but stayed in service, and his regimental history writes a glowing biography of him.
This particular map is quite famous and quite valuable, as soldier-drawn art goes; however, yours is a souvenir copy because the Culpepper Historical Museum owns the original one.
---
I have a couple of items that have been handed down in my family since the Civil War. Not looking to sell, just trying to determine exactly what each item is and value so I can get insured.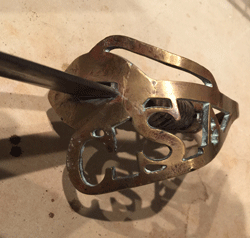 JS: Interesting group of objects handed down through your family. They all have the as-found look, the way collectors like the stuff with no restoration or cleaning. The rifle is a model 1873 Springfield trapdoor, made from 1873 until about 1890. This gun has a crack in the stock, but if complete, it will sell for about $200-$300. The bayonet in dark, "iron patinated" and rusted condition and is typically priced between $50 and $75.
Your sword is the prize. This Confederate officer's sword was made by Louis Froelich in Kenansville, N.C. There is a wonderful text by John McAden and Chris Fonville about this important C.S. manufacturer. Though the CSA letters look cut out, they are actually cast into the guard. This popular sword would typically sell for between $5,000 and $7,000 with a grip missing leather and a wire wrap. Average-fine examples with good, bright gray blades and perfect grips can bring $20,000.


---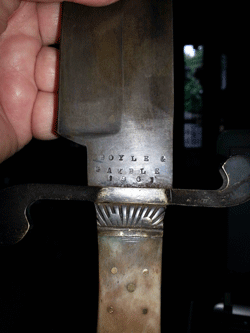 Can you let me know what you think about this Bowie knife?
JS: Buyer beware! I have to tell you, this is a very recently made reproduction knife, and it's actually a copy of a European item. The markings are, of course, newer than the knife. Boyle and Gamble of Richmond, Virginia, made several varieties of Bowies and camp knives but nothing close to this. You might want to peruse my 2012 book that I co-authored, Confederate Bowie Knives, published by Man-at-Arms; it is available on Amazon and shows almost every known Confederate knife known. I photographed Confederate edged weapons for more than 20 years while compiling it.
---
John Sexton is an independent appraiser and expert of Civil War memorabilia. He is an accredited member of various appraiser organizations. He can be contacted at 770-329-4984 or www.CivilWarDealer.com. If you have a Civil War item for him to appraise, email a photo and a description to seantiquing@go-star.com .