| | |
| --- | --- |
| Posted October 2015 | If you have a Civil War item that you can't identify or something you want to know the value of, contact John (mail: Box 510, Acworth, GA 30101; email John at seantiquing@go-star.com with Civil War in the subject line or call 770-329-4984 or 770-974-6495). John needs a good description of the item, condition, manufacturer's marks and any other markings, and photos. Please Note: All questions MUST be accompanied with a Photo, it should not be more than 200k in file size. |
The bullet that I found was about 10 feet from where I found the buckle. It still has part of the casing attached. I am interested in knowing the possible worth of the buckle and how important it may be to have it authenticated prior to a sale. I found the buckle yesterday in the city limits of Goldsboro, N.C., where a house had been torn down.
JS: Confederate buckles are indeed highly counterfeited, and authentication is important. However, this beautiful buckle you found with a metal detector yesterday is easily authenticated by your photographs. No knowledgeable dealer or collector would ever question this scarce, enlisted brass belt plate. This particular buckle is most commonly referred to by collectors as a "clip-corner CS," and it was utilized by Confederate troops in the Deep South, most often found in Louisiana, Mississippi, Alabama, Tennessee and Georgia.
This is not a commonly encountered buckle in North Carolina. Several variations of this particular buckle are shown by Steve Mullinax in the most important text on this subject, Confederate Belt Buckles & Plates. These buckles have a peculiar and distinctive style of machine-spun hooks for belt attachment that is easily seen in the photographs here. Often, the backgrounds surrounding the letters "CS" have a black painted or enameled surface.
| | |
| --- | --- |
| | |
| A "clip-corner CS" buckle, $1,000-$3,500. | A Spencer carbine bullet carried by Sherman's cavalry, found near the CS buckle, about $2. |
While this buckle is not rare and among the most commonly encountered Confederate belt buckles, it is still quite collectible, and nice examples command strong prices. For an excavated artifact, this is an attractive buckle with very-good patina and a complete set of hooks. The slight bend to one corner, raised concretion in surface areas and the cut on the "S" all detract from the value, but these blemishes are relatively minor overall, and the fact that it is identified to a particular known site will add value, especially to collectors of local artifacts. You will find this particular buckle priced at Civil War tradeshows by dealers, depending on condition, from about $1,000-$3,500 depending on various aesthetic qualities.
The bullet you found with this buckle is from a Spencer carbine (sells for about $2), which was carried by most of Sherman's cavalry near war's end. Your buckle may have been a souvenir collected by one of these Yankee cavalrymen who lost it where he camped in Goldsboro.
---
I bought this at a recent farm dispersal auction here in Wisconsin. How it made it up here is anyone's guess. Dated March 1862, Union. On one strap, there is a carved carbine. Around the bowl, it is carved "Presented to J. (REST OF NAME IS CARVED OFF) by Gill Clindinin. Co. E (2 something), R W.V. On the side it says, "Old Virginia" with what looks like an arrow. The front of the bowl has a shielded flag, 6 stars 6 stripes. The other side of the bowl has 3, 5 pointed stars one bigger than the next overlaid. On the bowl has a carving with what looks to be a flower. The bowl is huge and just a little bigger than a baseball, about 3.25 inches. Appears to be a burl wood with no stem. Would look great oiled up but can't bring myself to do it and maybe screw up its authentic importance.
Was wondering what you might able to tell me about it, as to who was Gill Clindinin, and if there is some way to find out who it was presented to? Who knows, maybe just one person in that Company E had a first name that began with the letter J. Is there a muster or something I could look at, or do you have records of them? What kind of monetary value might it may have? I think it's a great piece of history that needs more provenance. Would like to thank you for any thing you maybe able to tell me.
JS: Carved folk art pipes with names and patriotic motifs were made by many Civil War soldiers with time on their hands (in campsites, prisons, etc), some intricate, some historical. Pipes are known in many genres, mediums, and some carved by professionals and sold to other soldiers. This is about as big of one as you will find. History and aesthetics add value, and some folk-art pipes have sold for many thousands of dollars, but most typically, they sell in auction or priced by dealers for $500-$2,000 which this neat, original pipe should fall in that range.
I could not find the name of the presenter which does appear to read "Gill Clindinin, Co. E, 2nd WV (West Virginia regiment); a little more in-depth research could probably find this soldier.
The motto "OLD VIRGINIA" is unusual, and the large size might appeal to some collectors. The hairline cracks are typical, and I would not oil it or wax it as folk-art carvings are highly faked, and the surface here is in as-found condition. To find out its true value in the market, place it in a well advertised auction with good photographs. (eBay has done well in past with others).
To check sales prices of other Civil War folk-art carved pipes, search Cowan's Auctions, Cincinnati, Ohio, or Heritage Auctions, Dallas, Texas, that has sold many of the very best ones over the past few years. Worthpoint will show eBay sales realized (but mixed in with suspect carvings, too). You will see that prices realized in folk art are indeed in the eye of the buyer.
---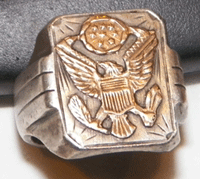 Found this ring metal detecting in New York, was told it was a Union officer's ring around 1860. Only other markings are inside that looks like "800" or "80D." The 80 is plain but last letter or number is worn off. Would appreciate any help to identify and worth.
JS: Nice metal-detecting find of a U.S. military design ring, though not Civil War but WWI Era. The Great Seal of a circle of stars above a heraldic American eagle was adopted and designed in 1902. The marking "800" inside denotes 800 fine silver, 800 parts per thousand which is typically a European and not an American quality mark. Most American silver is sterling or 925 parts silver per thousand from the early 20th century. So the ring was probably theater-made in Europe for a GI during WWI or by occupying troops sometime thereafter. Similar rings are sold at military shows for about $50.
---
John Sexton is an independent appraiser and expert of Civil War memorabilia. He is an accredited member of various appraiser organizations. He can be contacted at 770-329-4984 or www.CivilWarDealer.com. If you have a Civil War item for him to appraise, email a photo and a description to seantiquing@go-star.com .