Hello, I have, based on the serial number (90446), from what I have been told a 1859 Navy Colt 36 cal., but as you can see, it appears to have been through a fire. The wooden handle is gone, and it is all iron, except for a part of the screw of the broken brass front site. I got this pistol at a flea market 20 years ago because it had a Colt's patent U.S. mark on it. I did not know the date it was made until I sent the numbers off to a gentleman who knew about Colts. He said the Confederates during the war burned the Colt Factory down and all records of military use were burned up, too. All that I know is, the date it was made was (1859), and with the U.S. mark, it was most likely used during the Civil War. The wedge screw is missing, too, which I understand made it easier to change an empty cylinder for a loaded spare one when you popped out the wedge. The iron is soft on many of the screws, and many pits of rust and damaged areas are on it. I keep it wrapped in an oily rag most of the time. Please take a look at the photos I have enclosed and see if it has some value. I read the Southeastern Antiquing and Collecting Magazine, and love to read over the Civil War Collector section.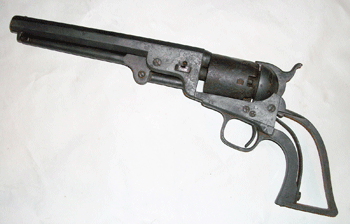 JS: Your revolver is a model 1851 "Colt Navy"; 36 caliber was the accepted Navy caliber where 44 was accepted by the Army. Your gun has a desirable early Civil War Era "Hartford" address. Based on the serial number, your gun was made in 1859, and only 3,000 navies were made that year; 5,000 were made in 1860 and 20,000 in 1861 as the war was beginning. This model was quite popular among Southern officers, more so than Union soldiers.
Many of these early Hartford navies were sold in the South just prior to the war, and many others made their way south after the war began; Sam Colt sold to Northern agents who were selling Colts to Confederate States. Colt was selling guns from inventory at the beginning of the war, and several groups of 100 guns or so were shipped to U.S. ordnance depots with earlier serial numbers. The "US" on the frame usually referred to a U.S. Army or Navy purchase, but that was not always the case. Colt continued to use US-marked frames on several models sold in civilian or state militia markets. Iron-mounted guns were often U.S. Navy, typically with brass back straps and trigger guards for the civilian market, but they were also sold in England.
Looking over known serial numbers on Colt navies, we find that from about 90,100 to just over 91,000 most, if not all, were civilian, but they had "US" on the frame and iron back straps and trigger guards. The next consecutive serial number after yours is 90,447, and it is a known gun in an identical configuration to your relic.
Condition is utmost in evaluation of arms where high condition brings thousands of dollars, and a very average, well-used, complete gun sells for $1,000-$1,400. Relics such as yours with good markings that present well are priced at Civil War gun shows between $400-$800.
I have attached some pictures of two Confederate soldiers that were family members of mine and that I am contemplating selling. There were four brothers that all fought in the war, and I am reasonably sure I know which two are in the picture. They were in Company F, 34th NC Infantry. As the two brothers that I believe are in the picture were both killed during the summer of 1862, I am guessing this was taken in 1861 or 1862.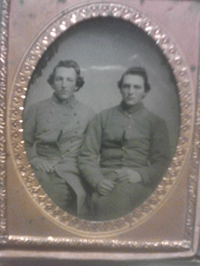 From what I have been able to ascertain, the picture is an ambrotype, and it is 1/4 plate.
The case is tattered, but the frame is in good shape. The image itself is as pristine as anything I have seen online. It is crisp, clear and shows no fading, and the tinting is intact. The pictures I have sent to you were taken with a camera phone, and I intend to have it scanned soon.
JS: The ambrotype of two Confederate brothers in the 34th North Carolina is a good image and appears in very good condition. The 34th North Carolina Infantry was part of A.P. Hill's Corps and saw much fighting in the Army of Northern Virginia under Robert E. Lee. The most common size of images found during the Civil War are sixth plates, and these larger quarter plates are most desirable.
This image in average condition with no identification or history would generally sell for about $1,000 or less. The fact that the clarity and contrast are among the top condition found and the soldiers are identified members of your family, even if we just know that they are two of four brothers, is good. If sold in auction (especially in North Carolina), I could see this image bringing more than $2,000.