| | |
| --- | --- |
| Posted August 2016 | If you have a Civil War item that you can't identify or something you want to know the value of, contact John (mail: Box 510, Acworth, GA 30101; email John at seantiquing@go-star.com with Civil War in the subject line or call 770-329-4984 or 770-974-6495). John needs a good description of the item, condition, manufacturer's marks and any other markings, and photos. Please Note: All questions MUST be accompanied with a Photo, it should not be more than 200k in file size. |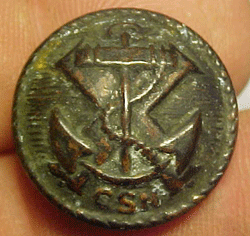 I have collected and sold Civil War artifacts for over 55 years, but I do not know Confederate items. I recently purchased this button from an old collector. He said he thought it was an original Confederate item. I don't know, but from my past years in dealing, it looks good to me, thus the reason for purchasing it. Would you be so kind to tell me its value?
JS: Your button does not look original, due to lack of detail and odd color. I am not familiar with the maker. William Leigh at civilwarbuttons.com let me know this is an example of a Pakistani copy. There are several Pakistani manufacturers who create many military pieces of insignia from bullion, cloth and metal. These include copies of Civil War buttons, shoulder straps, hat devices, epaulettes, belt buckles, uniforms, etc. WWII insignia and uniform parts are also produced and commonly seen at flea markets and online sites, often sold as originals. These Pakistan makers sell many different buttons in bulk, typically for about 20 cents each.
---
I found this framed with another original print from 1916 so not sure if it is an early reproduction or not? Looks old. Thoughts?
JS: Hard to tell in this poor photograph, but most likely, this is a reproduction. The paper looks dark, rougher and heavier than the expected newsprint or rice paper that is normally expected. Many modern copies have sold over the last few decades, and some look fairly old and vintage now. Close scrutiny is advised when purchasing any type of broadside of this era.
A follow-up question from the owner: What would a real one be worth?
JS: It is an unusual piece, no comps easily found—maybe $5,000 in my guestimation in the retail market.
---
Hi, John! I'm trying to find someone who can identify for me the item in these pictures.
The first thing it reminds me of is a dog tag. I have no idea if that is what it actually is. It's made of metal and has the impression "RICE…WOODS" on it.
I grew up on a farm about three miles from Newtonia, Mo., and this was found on the farm. I know there was a big Civil War battle that occurred in Newtonia. That's the only reason a dog tag was the first thing that popped into my mind. I've done a little research, and it seems most Civil War dog tags were made out of coins so I may be completely off on it even being a dog tag.
JS: Your item with a name is a brass identification tag for an unknown purpose. Such items are not uncommonly dug up in 19th century sites. Some are quite distinct types used for identifying bags or freight on railroads or steamships, often with the ship's name or "RR" stamped on them. Those tags that are identifiable are very collectible and sell for $10-$50 typically, though ones with special history can sell for much more.
Your generic brass tag is typical of the great many of unidentified bits and pieces that history has forgotten that are found by metal detectorists and others and have little or no market value. A quick internet search shows no Civil War soldiers North or South with the name Rice Woods; a Boy Scout camp in Indiana does bear that name. We may never know the purpose of this tag.
---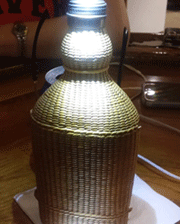 Can you tell me about this dark glass bottle flask in a wicker cover?
JS: Your flask is a late 19th century, post-Civil War, Victorian Era whiskey flask by a French maker, based on the maker's mark. The "S.G.D.G." on the top is an abbreviation for sans garantie du gouvernement, meaning "quality not guaranteed by the government." These were made and imported all over. In the general antique trade, you will find similar priced at $75-$150.
---
John Sexton is an independent appraiser and expert of Civil War memorabilia. He is an accredited member of various appraiser organizations. He can be contacted at 770-329-4984 or www.CivilWarDealer.com. If you have a Civil War item for him to appraise, email a photo and a description to seantiquing@go-star.com .