| | |
| --- | --- |
| Posted July 2016 | If you have a Civil War item that you can't identify or something you want to know the value of, contact John (mail: Box 510, Acworth, GA 30101; email John at seantiquing@go-star.com with Civil War in the subject line or call 770-329-4984 or 770-974-6495). John needs a good description of the item, condition, manufacturer's marks and any other markings, and photos. Please Note: All questions MUST be accompanied with a Photo, it should not be more than 200k in file size. |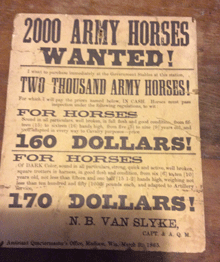 This was a gift from a friend who found it while renovating his house in Whitehall, N.Y. It is in decent shape but has some deterioration and was hung with a nail originally. Seems to be printed on early cardboard or cardstock. Can you tell me anything about the value of this piece? I love how descriptive it is regarding the types of horses they needed.
Another part of the story you may find interesting—in another part of the same house, my friends found what we believe to be an Underground Railroad hidden room. They found it after tearing down a wall in the attic. The small room contained a cot, a wool blanket and a portion of a Bible, copyright 1861. The entrance was through a crawlspace from the kitchen woodshed.
JS: Your cavalry poster or broadside, if original, will sell for $300-$500 in my opinion in the market of Civil War dealers selling to the public. There are some condition issues, but text is mostly intact with only small reductions. Your poster should be printed on thin paper or newsprint; Civil War broadsides are never printed on cardboard. Most likely the thin paper was dry mounted to board for preservation, which was not uncommon.
---
We recently found these swords in our basement and then found you on theInternet. Would you be able to give us idea about markings we should lookfor?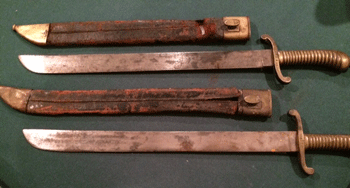 JS: Your short swords are actually German late 19th century, called a Faschinenmesseror facine knife, issued to special Imperial German infantry. These sell in the trade for $100-$150 or so. Similar ones on eBay and other auction venues can be found for as high as $250; the few dealer prices I can find are about the same.
---
Hello, I found your information online while I was trying to determine what type of pistol I have. The backstory on this pistol is my grandfather acquired it from a dealer that discovered it in a barn in Virginia. It is not in working order (hence the cable tie), but any information would be fantastic. My grandfather passed recently so I do not have his resources or knowledge to aid me. Thank you for your time!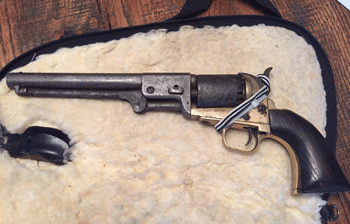 JS: Interesting story of being found in barn, but the gun is not that old, maybe 1960s. It is a brass-framed copy of a Confederate copy of a Colt Navy revolver. This one is probably from an Italian black powder kit, though no proofs are seen of that. These can still be bought new or in kits for about $150.
---
I have a black leather holster that I have been researching and cannot come up with an origin for. It looks very similar to the Navy Colt holsters used in the Civil War; however, an expert's eye would be helpful. The only marking is the number "3" stamped on the belt loop. Any information would be much appreciated.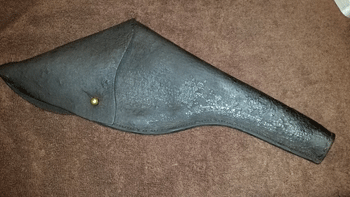 JS: Your holster is a military-style flap holster. The number 3 on the belt loop probably designates the size of gun it fits. The style of stud-holding belt loop is not typically seen during the Civil War and not until the 1870s and after. Typically, Civil War belt loops were hand-sewn or had brass grommets and studs. Regardless, it is an old military-style flap holster that appears in adequate condition, and if it fits a Colt Navy well, a dealer at a trade show would probably ask $300-$400 for it. Holsters are popular regardless of era as many collectors like to display their pistols with holsters.
---
John Sexton is an independent appraiser and expert of Civil War memorabilia. He is an accredited member of various appraiser organizations. He can be contacted at 770-329-4984 or www.CivilWarDealer.com. If you have a Civil War item for him to appraise, email a photo and a description to seantiquing@go-star.com .