| | |
| --- | --- |
| Posted July 2015 | If you have a Civil War item that you can't identify or something you want to know the value of, contact John (mail: Box 510, Acworth, GA 30101; email John at seantiquing@go-star.com with Civil War in the subject line or call 770-329-4984 or 770-974-6495). John needs a good description of the item, condition, manufacturer's marks and any other markings, and photos. Please Note: All questions MUST be accompanied with a Photo, it should not be more than 200k in file size. |
I have a close friend who purchased a plate and would really like to get more information regarding the piece. A value or insight would be helpful.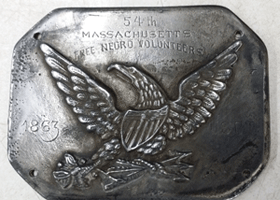 JS: The pewter/lead accoutrement plate pictured here is a fantasy item made quite recently. Accoutrement plates of the Civil War Era are typically brass, being either cast or die-struck, or lead-filled, die-struck brass shells. Pewter or lead plates like this come in many different shapes, inscriptions and designs and typically only have these punched-hole attachments. Rarely do they have hooks or attachment devices which are more typical of the era.
Nothing like this existed during the Civil War, and there are numerous fake, fraudulent and fantasy items permeating flea markets, antique shows and online auctions. Many similar plates were sold on eBay over the years, but the "eBay police" have been very good at catching these frauds and removing listings; I have had few links sent to me over the past couple of years.
Anything associated with the famous "Brave Black Regiment" 54th Massachusetts is quite valuable. In recent auctions, a souvenir wooden canteen associated with this unit sold March 15th, 2015 at James D. Julia Auctions as Lot 1426 for $13,250. An archive of letters and photographs of Louis Emilio, a captain in the 54th, sold in February of 2014 also at James D. Julia Auctions for $207,375.
---
I have been interested in the Civil War for many years, have visited several battlefields, and now have started to collect a few buttons. Could you please help me identify, authenticate, and value the five buttons that are attached to this email? I purchased them from a flea market, and the seller said he acquired them many years ago in Gettysburg, Penn. I appreciate your time and expertise.
Only the "EXTRA QUALITY" button (Top left, front and back) is real; yet only valued at less than $10. The rest are modern copies.
JS: The buttons here have little value. The first button pictured, "EXTRA QUALITY" Eagle button, is a standard Civil War button worn by enlisted men in the Union Army. This button has a small dent in the face and similar buttons can be found in perfect condition for less than $10. The second button with the letter "I" is a copy of a Confederate enlisted infantry button, probably made for re-enactment. The Georgia State Seal, U.S. Marine Corps, and U.S. General Staff buttons all date from the 20th century and have little value. At Civil War trade shows, button dealers offer these 20th century buttons in large "junk button boxes" priced at about 50 cents retail.
---
My father has had this cane for many years. He had told us children that this piece told the story of the Civil War. Let me know if this is something you would be interested in purchasing.
JS: What a neat old folk-art cane. With no signature or ID, it is typical of Victorian Era relief-carved canes with a great couple of mounted soldiers. There are a couple of known carvers who created similar items at reunions with lots of personalization added as requested. The best of these canes have brought more $10,000, though about $1,200-$1,500 is typical. Folk art is like other art, and pricing is very subjective as to the market.
My recommendation on selling this cane would be to find an appropriate auction venue, as it is quite unusual and well made with good old surface, and that's what buyers look for. Slotin Auction in Buford, Ga., is a leading specialty house selling folk art, both antique and contemporary, and there are many regional houses in the U.S. who would auction it. A presale estimate is $1,000-$2,000, but it might bring considerably more; it's hard to guess when dealing with unique, one-of-a-kind pieces.
---
John Sexton is an independent appraiser and expert of Civil War memorabilia. He is an accredited member of various appraiser organizations. He can be contacted at 770-329-4984 or www.CivilWarDealer.com. If you have a Civil War item for him to appraise, email a photo and a description to seantiquing@go-star.com .