Looking through my parents' belongings, I found a print that was given to my grandfather who was a newspaperman for the Brooklyn Eagle. There is a label on the back of the photo that says it was one of 50 prints of the Matthew Brady photo. I feel that the photo presented was authentic since it was found with other artifacts of my grandfather's that had been boxed away for more than 50 years.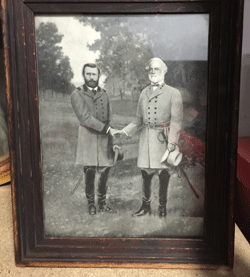 I am enclosing an image of the photo and the typed inscription on the back of the frame. I haven't opened the frame to look at the image but wanted to see if this was a unique print since I don't see it online at all.
JS: This is indeed an interesting image which I have not seen before. It appears to be a copy of an original piece of art or possibly even the original. It is not a photograph. The art is reminiscent of several different images published in periodicals of the day such as Harper's Weekly or Leslie's. There were no photographers actually at the surrender scene, though many paintings and prints of Lee and Grant at Appomattox are known with several of them shaking hands.
The typed label on verso is incorrect. It was probably done well after the fact as daguerreotype photography was already outdated by the time of the Civil War, and Matthew Brady at this time was using glass plate negatives to make albumin photography. Regardless, it is an interesting image and no doubt 19th century or early 20th century. Similar prints of the era are in a wide range of prices, depending on the venue, for up to several hundred dollars.