| | |
| --- | --- |
| Posted April 2017 | If you have a Civil War item that you can't identify or something you want to know the value of, contact John (mail: Box 510, Acworth, GA 30101; email John at seantiquing@go-star.com with Civil War in the subject line or call 770-329-4984 or 770-974-6495). John needs a good description of the item, condition, manufacturer's marks and any other markings, and photos. Please Note: All questions MUST be accompanied with a Photo, it should not be more than 200k in file size. |
Hello John. My cousin just stumbled upon a pair of Civil War cavalry boots.(No pun intended.) He took them to the curator at Virginia Military Institute, and he looked them over and verified that they are authentic. I am hoping for a ballpark estimate on these. Any help would be greatly appreciated.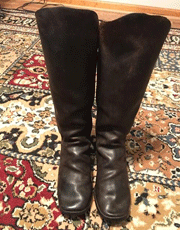 JS: Your boots appear to be the standard issue used by cavalry or other mounted troops during the Civil War. During the peak of the Civil War collectibles market in late-1990s to the early-2000s, boots and other commonly used gear were a hot commodity among collectors and typically sold for $300-$500 per pair. Dealers still price at these levels but sell few as collectors are scarcer than the items; indeed, these are not commonly encountered.
The collectibles markets are much weaker on most items now as shown by recent auction data these past few years. Even so, great items are still sought, and new record prices are being set. But for your boots, the most recent sale will show you an auction value; a very recent large national and international auction, Cowan's, Cincinnati, sold lot 776, November 2, 2016 which were four great pairs of Civil War boots for an average price of $129.50. These boots were from one of the country's best-known collections, the estate of John Ashworth, Memphis.
---
I think I have an original letter Stonewall Jackson sent to Robert E. Lee in 1863. The letter had damage, but luckily, the entire letter is readable. On the back of the frame it says,"Yorkraft Inc." I'm interested in selling but first would like to know what it's worth.
JS: The famous letter you show is a facsimile reproduced many times. The original letter is in the Library of Virginia along with other important Stonewall Jackson manuscripts. Your display only has a little value as a decorator item.
---
I was given a miniature Civil War Era dragon claw pipe by my late aunt that she said had belonged to my great great (great?) grandfather.I have found the same pipe online, but it says "Frank" on the side, whereas mine says "O BOY!" Mine also has a shamrock with the letters "KBB" in it. I've researched but didn't find anything, except that it's from the Civil War Era.I was wondering if you could appraise the pipe and tell me more about it.
JS: Your pipe is indeed Civil War Era, probably for putting in a small cigar, a "cheroot," instead of tobacco. I have not researched the maker, but well respected Richmond antique dealer Ben Greenbaum is offering an identical pipe for $70.
---
John, I hope you can help me with this. This item was listed online as a Civil War Era sword. I purchased it online from what I thought was a trustworthy source, and when my wife went to pick it up, having done far more research on this model than I, she said she thought it was a fake. She pointed out a few things such as the maker's mark. I have not been able to find any pictures of an Ames 1852 so I am unsure whether or not this is genuine.

JS: This is a newly made sword, probably from India. A genuine Ames model 1852 Naval Officer's sword has a wider blade, a sharkskin grip and etching.
---
John Sexton is an independent appraiser and expert of Civil War memorabilia. He is an accredited member of various appraiser organizations. He can be contacted at 770-329-4984 or www.CivilWarDealer.com. If you have a Civil War item for him to appraise, email a photo and a description to seantiquing@go-star.com .