| | |
| --- | --- |
| Posted April 2016 | If you have a Civil War item that you can't identify or something you want to know the value of, contact John (mail: Box 510, Acworth, GA 30101; email John at seantiquing@go-star.com with Civil War in the subject line or call 770-329-4984 or 770-974-6495). John needs a good description of the item, condition, manufacturer's marks and any other markings, and photos. Please Note: All questions MUST be accompanied with a Photo, it should not be more than 200k in file size. |
Hello, Brother John. I may have gotten a little over excited based on having to make a quick decision on buying this knife. But, anyway I hope I did not make a mistake. I bought this knife as a Confederate Macon (Ga.) knife. But after I got it, it appeared to be in too good a shape; although, it has been in an estate and in storage for the past 50 years. What do you think about it as far as Civil War, Macon-made, value (if any)?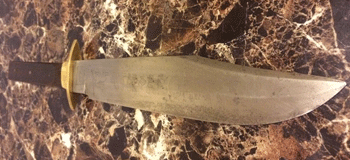 JS: Sorry, but this knife is one of many "new made" Confederate Bowies. If the South had had all the arms supposedly made during the war that are showing up in the 20-21st centuries, we might have won the war.
---
I have a Gallager carbine, serial number 12187, July1860. Everything works. I am seeing values from $1,200 to $2,200, I guess condition is everything.
JS: The NRA website (NRAmuseum.com) tells its history: "This carbine was invented by Mahlon Gallager, a South Carolina native. More than 23,000 were manufactured, and they saw extensive service as a cavalry arm with Union troops. Both percussion and metallic cartridge versions of the Gallagher carbine were manufactured, but extraction problems with both cartridge types made this arm somewhat unpopular with the troops that used it.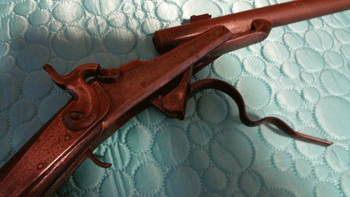 "Manufactured by Richardson & Overman of Philadelphia, this carbine fired an unprimed .50 caliber cartridge with a brass foil and paper-wrapped case or an all-brass case. The rounded, perforated base of the Gallager cartridge looks like a doughnut. Ignition was provided by a percussion cap. A major fault of these carbines was the absence of a suitable extractor. The case had to be extracted with knife or some other sharp-pointed instrument. When the trigger guard lever is lowered, the barrel slides out from the frame and tips downward to receive the cartridge. Its barrel is 22 1/4 inches long, and the overall length is 39 1/4 inches. The Gallager, like most other Civil War carbines, has a sling ring on a slide bar mounted on the left side opposite its lock. The sliding sling ring was attached to a belt that went around the shoulder. The carbine was fastened to a swivel clip on the belt from which it hung muzzle-down. This carbine was patented by Mahlon J. Gallager of Savannah, Georgia, July 17, 1860; 22,728 Gallager carbines were purchased during the Civil War."
This is the only Southern-invented, Union-made carbine. They generally saw hard use so high condition makes them worth more. You can find similar, complete guns in functioning condition with good lock markings priced $1,000-$1,500 at Civil war trade shows.
---
Here's a diary I'm thinking of buying. It's by a Union Signal Corps officer who was on Grant's staff at Vicksburg. The diary is about 65 pages, plus about 15 pages of transcribed dispatches. It covers April and May 1863 and mentions the May 1863 assault on Vicksburg. If you can give me an idea of its value, I'd be grateful.
A bit more background: the diarist is Lt. Clifford Stickney from Illinois. He joined in 1861 and remained in the army until his death in 1867 from yellow fever. There's no photo with the diary. Originally, there were multiple diaries covering Stickney's entire service, but the set was broken up, and this volume is all the seller has. From the photos, I think the diary may have been rebound, if that matters.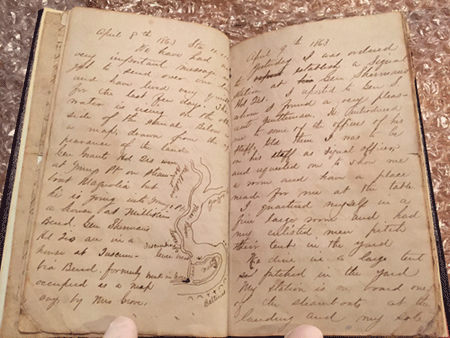 JS: Civil War diaries are among the most common items that survived the war. With that said, some can be quite valuable and others mundane with little interest. Seems like almost every literate soldier, enlisted man and officer would at some point write down his thoughts. A majority of surviving diaries are not of much interest to readers today as they just tell about daily life, poor food, politics, health, God, girlfriends and family back home. Rarely do you see a diary that you start to read and you can't put it down; it reads like a novel, and you can't wait to see what is going to happen. Such diaries, whether Civil War or of any historical era, are the most valuable.
The handful of pages I read in this particular book are quite interesting. Lt. Clifford Stickney's service as a second lieutenant in August 1862 was in the 72nd Illinois infantry and by March 1863 was a signal Corps officer to the end of the war. There are few items extant from the signal corps as it was a small, but important, Civil War organization, so such items are popular. This diary is interesting in that Lieut. Stickney was in the heat of much artillery action while giving signals to Admiral Porter's fleet on the Mississippi with artilleryman being killed around him in one passage. The time frame is the siege of Vicksburg, and just two months later, it would fall, causing a death blow for the Confederacy.
A quick Internet search of diaries sold last year by several auction houses such as Cowan's in Cincinnati, Heritage in Dallas, and James D Julia in Fairfield, Me., have comparable diaries in my opinion that have a presale estimates averaging around $1,000 with prices realized above and below this figure. I spoke with one specialized dealer who recently bought an 1864 signal corps diary for $1,500 which also had similar content and pages. The range of prices realized on Civil War diaries are dramatic.
---
John Sexton is an independent appraiser and expert of Civil War memorabilia. He is an accredited member of various appraiser organizations. He can be contacted at 770-329-4984 or www.CivilWarDealer.com. If you have a Civil War item for him to appraise, email a photo and a description to seantiquing@go-star.com .