| | |
| --- | --- |
| Posted March 2017 | If you have a Civil War item that you can't identify or something you want to know the value of, contact John (mail: Box 510, Acworth, GA 30101; email John at seantiquing@go-star.com with Civil War in the subject line or call 770-329-4984 or 770-974-6495). John needs a good description of the item, condition, manufacturer's marks and any other markings, and photos. Please Note: All questions MUST be accompanied with a Photo, it should not be more than 200k in file size. |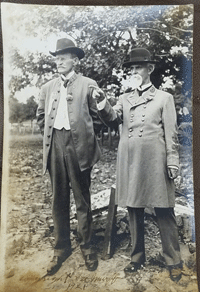 I have photos (6) made by S.A. Murff at the 1921 Reunion of Confederate survivors from the Hattiesburg and Brice Cross Roads Battles in 1864. Some of the photos have data written on the back. Am I wasting your time or might these be worth having appraised?
JS: Very interesting group. Anything from a small-but-famous action has value. Reunion photos rarely bring more than a few hundred dollars each. My guess is that this group might sell in an auction for $1,000 or more, but this is a small market. EBay might be a good venue to see what the value really is.
---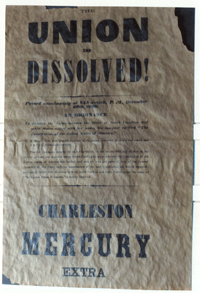 Hi John. I am from upstate New York, the Southern Adirondacks. On the New York side of Lake Champlain, I picked up a broadside. It came from Essex County, the Vermont side of Lake Champlain. Pre-Civil War? Dec. 20th, 1860 from Charleston, S.C.,Mercury Extra? Must be their local newspaper?
Somebody glued the back side of the broadside to a black matting. I know they used cheap paper for broadsides. This paper is thicker than other broadsides I had before.
JS: "The Union is Dissolved" is a very famous broadside published by the Charleston Mercury in December 1860. Originals are quite scarce and generally sell at auction in fine condition for tens of thousands of dollars. Several have sold for well over $50,000 in the last 10 years. There are also numerous copies, and yours is one of those. We can tell by the artificial vellum it is printed on. These facsimiles were made as early as the 1950s, and actually, there were earlier copies made on pulp paper before the turn of the century. I often see facsimiles such as yours, which have no real collector value, but do tell a story concerning the beginning of the Civil War.
---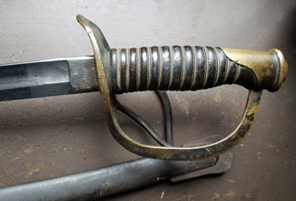 Looking for an appraisal here...getting offers all over the board for this saber made by Providence Tool Company in 1862.
JS: Your sword is a popular Civil War contract light cavalry saber made only in 1862. Providence Tool Company made many contract arms. Often, fine examples like yours are found as many appear unissued. At the peak of the collectible market, superior examples sold for around $1,000 or more, but today, $600-$800 would be retail.
---
Hi, John. About four years ago, we went to an estate sale of a gentleman who was the president of the Texas Historical Society. He had also been a Civil War re-enactor and so he collected a lot of Civil War items. This caught my eye on our way out. No one seemed to know what it was, other than a knife. When I got home, I actually found an exact match of it on Christie's auction website. It had sold for around $600. Our knife was in better shape than the one sold.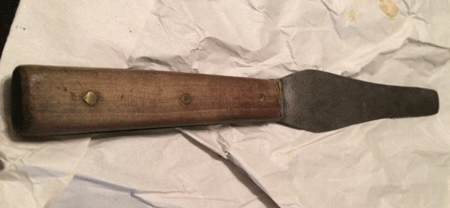 We put it away for a while, and in the process of moving, we found it and a couple of other items. It's this, however, that I want to know what it is and if you think it's worth the $600 that was paid for it four years ago.
JS: Your knife is a Green River Works by John Russell Company, made in Massachusetts about 1880-1900. The company made a popular and large line of numerous skinning knives and cutlery of all sorts. Very common in used condition, nicer and bigger examples can bring much more than the $50-$150 price of average pieces found at shows.
---
John Sexton is an independent appraiser and expert of Civil War memorabilia. He is an accredited member of various appraiser organizations. He can be contacted at 770-329-4984 or www.CivilWarDealer.com. If you have a Civil War item for him to appraise, email a photo and a description to seantiquing@go-star.com .