| | |
| --- | --- |
| Posted March 2015 | If you have a Civil War item that you can't identify or something you want to know the value of, contact John (mail: Box 510, Acworth, GA 30101; email John at seantiquing@go-star.com with Civil War in the subject line or call 770-329-4984 or 770-974-6495). John needs a good description of the item, condition, manufacturer's marks and any other markings, and photos. Please Note: All questions MUST be accompanied with a Photo, it should not be more than 200k in file size. |
I have a Colt .31 caliber pocket pistol mold that I found in coffee can full of nails and screws. The oddity is the number 1754 stamped into it. It appears that whoever did the stamping re-stamped over some numbers. Why? Was he in a hurry and messed up? I may never know. What can you tell me about this, and does it have any value?

JS: Your bullet mold does indeed appear to be a .31 caliber Colt; the brass molds (like yours) are a bit earlier than the iron molds. This mold was for the model 1849 Colt pocket model revolver.
I cannot explain the number. I guess it's possible it's stamped over "Colt Patent" marking. It's possible that was a serial number for a gun it was associated with, if the style of the numbers was similar to Colt dies. Regardless, an average condition brass .31 caliber mold without patent markings can be found at gun shows or Civil War shows typically priced for about $150-$200.
---
Hello Mr. Sexton, my husband has had this saber in his family for a number of years, and he has no idea how it came to be his. After looking at your site, I believe it is a cavalry saber. It is marked with the following information on the blade, near the handle: "C. ROBY, W. Chelmsford, MASS"; on the other side: "US, 1864, A.G.M." I'd really appreciate knowing your thoughts about this relic, and if you would be interested in appraising or buying it.

JS: Your sword appears to be a very nice example of a US model-1860 light cavalry saber. This was the working sword of the Union Civil War cavalryman. Many thousands were made by several contractors. Yours was made by Christopher Roby of West Chelmsford, Massachusetts. The sword was made and inspected in 1864, which makes it one of 32,410 Roby contracted cavalry sabers paid for by the United States government during the Civil War. This makes Roby the second largest contractor of these sabers behind N. P. Ames of Chicopee, Mass., the largest supplier.
Your sword appears to be in an above average condition, exhibiting the original leather grip, still retaining some luster to the brown leather and its original twisted brass wire grip wrap. The blade appears to be uncleaned and smooth; the markings look fairly bright, which is the way collectors like to find these swords. The scabbard has been painted silver with ring mounts gold, which was the popular way in the Victorian Era to display "relics" of the war. In today's market, you can easily find a comparable sword in fine condition priced by dealers for about $800.
---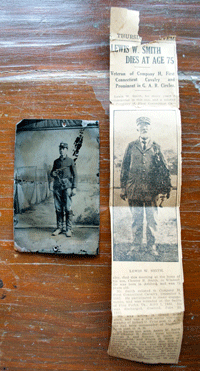 I have a tintype photo of an identified soldier with a newspaper article that talks about his service and death. I was wondering how much it could be worth.
JS: Your photograph is a sixth plate ferrotype, commonly called a tintype. This image was taken in a photographer's tent in the field or muster-in camp, most likely, as the painted backdrop was typical of such images.
It's nice to still have the rest of the family album with his obituary which confirms his identity being a private in the First Connecticut Cavalry, which was a hard-fought unit through many of the battles in the eastern theater of war. A quick search of records shows that Lewis W. Smith enlisted as a private in Co. H. 1st Connecticut Cavalry in Dec. 1863 and was from Westbrook, Conn. He is listed as being wounded on April 1, 1865 at the Battle of Five Forks Virginia, just over a week before the final surrender of Lee at Appomattox.
Your image has a crease through the center and holes at the edges for mounting, which hurt its value. However, the image is still fairly clear with good contrast, and Private Smith is sporting his Colt model 1860 Army revolver. The Colt Army was the standard U.S. military sidearm for the cavalry. A tintype of an identified cavalryman holding his pistol with a cross saber insignia on his kepi will probably sell for $300-$400 in the Civil War collector's trade. The obituary and family photo add little, other than provenance.
---
John Sexton is an independent appraiser and expert of Civil War memorabilia. He is an accredited member of various appraiser organizations. He can be contacted at 770-329-4984 or www.CivilWarDealer.com. If you have a Civil War item for him to appraise, email a photo and a description to seantiquing@go-star.com .