| | |
| --- | --- |
| Posted March 2014 | If you have a Civil War item that you can't identify or something you want to know the value of, contact John (mail: Box 510, Acworth, GA 30101; email John at seantiquing@go-star.com with Civil War in the subject line or call 770-329-4984 or 770-974-6495). John needs a good description of the item, condition, manufacturer's marks and any other markings, and photos. Please Note: All questions MUST be accompanied with a Photo, it should not be more than 200k in file size. |
I live in central Virginia and recently found a Boyle, Gamble and McAfee bayonet handle. The blade is missing. I was wondering if I could possibly get some additional information about the handle.
JS: What a rare and interesting relic you dug up. This brass Bowie-bayonet handle with the cast name of the firm "Boyle, Gamble & MacFee Richmond VA" is the second excavated handle I have seen. There is another in the George Ray collection now owned by the Atlanta History Center.
Boyle, Gamble & MacFee patented a brass bayonet adapter in 1861 that saw wide use during the Civil War, and they also made a few saber bayonets and Bowie-bayonets, both utilizing the brass handle you found. Pictured here is a complete Bowie-bayonet in my book, Confederate Bowie Knives, with my co-authors Jack Melton and Josh Phillips. There are probably less than 10 complete examples of either version of the Boyle, Gamble & MacFee, Richmond, VA, bayonet. These products, along with other edged weapons made by this Richmond, Virginia, firm, and a detailed history of the firm can be found either in Bill Albaugh's books on Confederate swords or in my book on Bowie knives mentioned above.
Complete versions of this knife or bayonet sell for around $10,000. Your relic handle is missing the muzzle ring, but the markings are still very good, and I would guess it would still sell for $500-$1,000.
---
Just wondering if these items have much value.
JS: Your buttons, I hate to tell you, all appear to be 20th century reproductions, though apparently aged to look dug up. If original, there are several rare examples that sell for several thousand dollars each, but facsimiles are only valued at a few dollars each.
---
I've enclosed a picture of some Civil War items I have. I would like to know what they are and their value. The holster is stamped "Rock Island Arsenal." It has a copper or brass shield at the top of it. The small cutter has the name J. English and Wm Dodds. The draw knife is brass and has the names AG Bacheloer and JW Stone and J Burghard. I assume that these are the individuals' names that used them. The ball flask is 2 1/2 lbs. and has 1 and 1 1/4 stamped in the snout. It has a hunting scene on it. Possibly could have been made by the Flask and Cap Company. I can't find any identification on it. The pistol grip is a leather cutter and is stamped "Crawford Newark NJ." The other brass flask I assume is a powder flask. It has no markings. The leather bucket I assume is a water bucket or feed bucket for a horse. It is stamped "US Cav." Finally, there is a small pair of pliers with no markings. Your help would be greatly appreciated.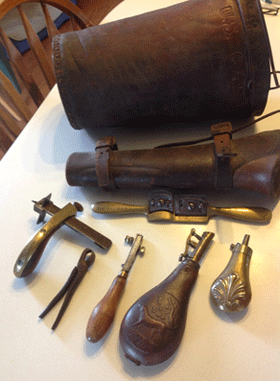 JS: Well, nothing in this group is Civil War, but the two leather items are from the American Indian Wars. The leather bucket marked "US CAV" was for either grain or water to feed a horse. The holster marked "Allegheny Arsenal" was attached to a saddle to secure a 45-70 carbine, circa 1875. Both of these items appear in nice, complete, sound condition and are typically priced in the market for about $200-$250 each. The two shotgun or fowler flasks are for powder (brass one) and shot (leather body) and were made from about 1850 through the 1870s, "American Flask & Cap Company" was possibly the maker. In solid very good condition as shown, this pair will typically be priced in the market for about $100 or so.
The four tools appear to be leatherworking tools, if the maker marks you show are the makers. English & Dodd and Crawford are both well-known Newark, New Jersey, toolmakers, but I am not familiar with Bachelor, Stone and Burkhard.
The Crawford marked pistol-gripped tool is known as a "draw gauge," and they typically sell for about $50 apiece. The two-handled brass tool I'm sure is a similar value, if not more. These two brass tools date to circa 1860. I believe Crawford was out of business prior to the Civil War.
Antique tools are a very specialized market with their own group of dealers and auctions and probably should be researched more in depth if you are interested in them.
---
John Sexton is an independent appraiser and expert of Civil War memorabilia. He is an accredited member of various appraiser organizations. He can be contacted at 770-329-4984 or www.CivilWarDealer.com. If you have a Civil War item for him to appraise, email a photo and a description to seantiquing@go-star.com .