| | |
| --- | --- |
| Posted February 2016 | If you have a Civil War item that you can't identify or something you want to know the value of, contact John (mail: Box 510, Acworth, GA 30101; email John at seantiquing@go-star.com with Civil War in the subject line or call 770-329-4984 or 770-974-6495). John needs a good description of the item, condition, manufacturer's marks and any other markings, and photos. Please Note: All questions MUST be accompanied with a Photo, it should not be more than 200k in file size. |
I'm looking at purchasing a Windsor (Robbins & Lawrence) 1849 Mississippi rifle that was used in Pickett's charge by an infantryman with the 24th Virginia, Co I. The key photo is of the gun stock with the name of "W. T. Boswell 24th Co I" carved in it. A Whitmel T. Boswell served in this company from May 1861 to Dec 1864 (nothing about him after that). He had two brothers that served in Co. E of the 57th Virginia; one died of his wounds at Gettysburg while the other of Typhoid prior to Gettysburg. Any thoughts as to the value of such an item?
JS: Identified arms and artifacts from Gettysburg always bring a big premium. The believability of provenance and purported history can increase the value of a relatively mundane rifle or sword that no doubt was on a particular place on a battlefield. Dealer prices on identified Gettysburg objects and prices realized from auction are often many multiples of the price of the same item if unidentified.
| | |
| --- | --- |
| | |
This well used model 1841 contract US rifle with no history would probably sell for less than $1,000 in most venues. The carving in the stock with the soldier's name, company, and regimental number appear from your photographs to be original. In my opinion, this rifle would have a pre-sale auction estimate of $3,000-$5,000. The price realized could exceed (or fall below) this estimate, based on whether this unit was known for carrying Mississippi rifles or even if this soldier was present at Gettysburg; more research is needed in my opinion to pay more. Regardless, I would value the gun in the same $3,000-$5,000 range as an identified Confederate-used rifle; his unit was indeed present at Gettysburg..
---
I have a CS Navy button I found a couple of years ago. It was pounded flat and folded in half. When I recovered it, I opened it up and took it home and cleaned it. Appears to be a CS68 (Alberts). Was wondering the value. I have relic hinted for 30+ years and have never seen another. The backmark is "E.M. Lewis & Co. Richmond VA."
| | |
| --- | --- |
| | |
JS: You found a very rare Confederate button, though unfortunately, quite poor in condition, but the backmark and details of a sailing ship and "CSN" are still distinct. You found the correct A. H. Albert reference of CS68 as a button made by "E M Lewis, Richmond Virginia." Buttons made in the south are commonly referred to as being "locally made," and Confederate locals bring the highest prices in the military button collecting community, especially in high condition. At the peak of market about 10 years ago, a perfect example of this button, non-excavated, approached $10,000. However now, the same button might bring no more than $4,000-$5,000. Your example in very poor condition would still be a filler in a collection and should bring $300-$500.
---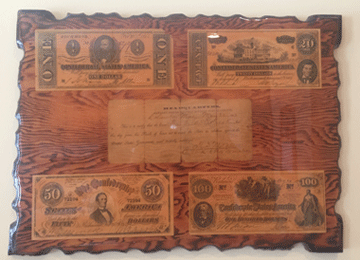 A friend has a family heirloom from his grandfather that fought in the war. The Confederate bills are authentic, as is the letter. Could you give me approximate values of the items?
JS: The Confederate currency here is all reproduction. This particular set was made as souvenirs, probably about the time the middle document was decoupaged to the board. You can tell by the ink colors in the signature; if the currency was original, they would also have been hand-signed in a similar ink color ink. The document with the cracks and folds is original and scarce. It is a Confederate "Parole of Honor" given by US cavalry forces to CS soldiers in Columbus, Mississippi, near war's end in 1865. The most famous paroles were those given at Appomattox (Appomattox Paroles), which in similar condition sell in excess of $1,000. The parole, if it was loose and not glued to the board, would probably sell for $600-$800. Unfortunately, this entire display has little value to document collectors, but it still has some value in the antique world, although only a fraction of what it would have if it was not in this condition.
---
Could you please give me info on this sword? It is a Knights of Pythias and has Gustavus Sniper's and J.D. Hawley's (Civil War vets) names on it, also "Syracuse NY."
JS: Regardless of the recipient being a Civil War veteran, prices on these circa 1890 fraternal swords are only about $100-$150 in most common antique venues.
---
John Sexton is an independent appraiser and expert of Civil War memorabilia. He is an accredited member of various appraiser organizations. He can be contacted at 770-329-4984 or www.CivilWarDealer.com. If you have a Civil War item for him to appraise, email a photo and a description to seantiquing@go-star.com .