| | |
| --- | --- |
| Posted January 2017 | If you have a Civil War item that you can't identify or something you want to know the value of, contact John (mail: Box 510, Acworth, GA 30101; email John at seantiquing@go-star.com with Civil War in the subject line or call 770-329-4984 or 770-974-6495). John needs a good description of the item, condition, manufacturer's marks and any other markings, and photos. Please Note: All questions MUST be accompanied with a Photo, it should not be more than 200k in file size. |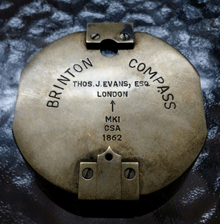 I came across this item in my garage. I looked for it online (eBay, Amazon, etc.). Could not find an identical item. Could you please take a look at it and tell me if this is original item? Thanks in advance.
JS: I have seen several of these since I started writing this column. I wrote the following in 2014 on another: "Your compass, I hate to tell you, is a modern reproduction made in India that is seen at flea markets or similar venues with all kinds of spurious 'historical markings.' Your compass is not even a type made in the Civil War but a copy of a 20th century British military marching compass made originally by Brunton. Always be careful of mundane brass objects with 'CSA' stamped on them. At flea market-type venues or on the web, you will find guns (that have little value), reproductions of a variety of badges, and buckles with 'CSA' on them, usually marked with various dates and identification. I found several other fake Brunton-style compasses listed on eBay for $20 and up with other spurious markings. (Note the maker is even misspelled 'Brinton' on this fake.)"
---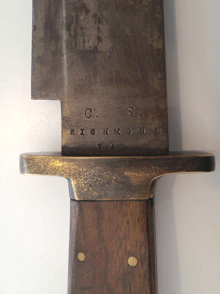 I have viewed your website and saw a picture of a similar item I recently inherited. I am not sure of it. If you would be so kind to tell me what I have and approximate value.
JS: I hate to inform you that this is a modern fake. The knife itself is not old and appears quite new. Boyle & Gamble, Richmond, Virginia-made Bowies are not that rare, but fine examples sell for well over $10,000, and some varieties for much more. You need to peruse my 2012 text Confederate Bowie Knives by Melton, Phillips and myself and see original examples. This should be a warning to shoppers on the Internet as more fake than real Confederate objects seem to turn up in those venues. There are many good dealers and auctions where good objects can be found. Meeting fellow collectors who have knowledge is a great start. National Civil War shows present wonderful displays and collector and dealer tables.
---
I have attached photos of an Army of the Cumberland-Atlanta Campaign lithograph. I'm trying to find value information. The gentleman who owns it received it when he was a young child in the mid-1930s from an uncle who he says was in the Civil War. He is looking for a value before he donates it to a local military organization. Any help would be greatly appreciated.
JS: There were numerous lithographs and engravings of patriotic views of Civil War escutcheons, battle scenes and sentimental nostalgia of numerous types. These were popular decorations in the homes of veterans, like limited edition prints and decorative art is today in modern homes. This particular image was printed by American Oleograph Company, Milwaukee, Wis., and was titled, "Divine Service." It was copyrighted in 1877 by Louis Kurz, who incidentally was a Civil War veteran. Kurz, along with Alexander Allison, did a large series of Civil War chromolithographs from the 1880s until the early 20th century which are quite common in the market today, and numerous examples can be found at auction or offered by dealers at a wide range of prices, typically $100-$200 for crisp, fine examples.
Your print is a bit earlier and probably quite scarce, but other similar rare or scarce sentimental lithographs have a limited market. In my opinion, if I were cataloging this for an auction, I would establish a pre-sale estimate of $100-$300, not to say it wouldn't bring less or a lot more.
---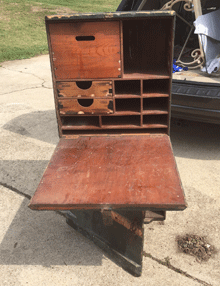 John, my neighbor has this trunk that we believe to be from the Civil War Era. It has no markings and was found in an old barn. Please let me know if this is in fact a Civil War Era desk.
JS: Your desk is indeed identical to many field-used Civil War desks. Several institutions have identical examples; the Atlanta History Center has one that belonged to the future President James Garfield when colonel (later general) of the 42nd Ohio Infantry during the Atlanta Campaign. His desk is stuffed with original correspondence and bureaucratic, military paperwork dated 1862-1864. The desk is a great display item with his inkwell and numerous papers bundled into the various cubby holes.
The value is mostly related to the notoriety of the owner and associated documents. Garfield's sold for about $5,000 back in the 1980s, I recall. Its style was copied by many carpenters of the day, and there must have been some made as production items, though I have never studied the dimensions as I know they vary. Average prices asked by dealers at Civil War trade shows are around $300-$400 for generic field desks in good condition.
---
John Sexton is an independent appraiser and expert of Civil War memorabilia. He is an accredited member of various appraiser organizations. He can be contacted at 770-329-4984 or www.CivilWarDealer.com. If you have a Civil War item for him to appraise, email a photo and a description to seantiquing@go-star.com .