| | |
| --- | --- |
| Posted January 2016 | If you have a Civil War item that you can't identify or something you want to know the value of, contact John (mail: Box 510, Acworth, GA 30101; email John at seantiquing@go-star.com with Civil War in the subject line or call 770-329-4984 or 770-974-6495). John needs a good description of the item, condition, manufacturer's marks and any other markings, and photos. Please Note: All questions MUST be accompanied with a Photo, it should not be more than 200k in file size. |
John, recently I picked up these two items at an auction. The auctioneer mentioned that the photo was of "the Broom Brigade." Could you tell me what the Broom Brigade is and also the value of the photo? Second is a jacket that I also bought, and again it was mentioned that it was possibly a women's Civil War jacket. Any ideas? Value?
JS: Your image dates to circa 1885. Broom Brigades were women's organizations who drilled and marched militarily like their male counterparts who used rifles, however they used brooms. Images like this are unusual and tell of a time in history when genders were truly separated—women in Victorian America would never have been trained to be a military auxiliary.
The male leader is wearing a Grand Army of the Republic membership badge, so this group was probably one of the women's auxiliary groups of the GAR. A quick internet check shows a similar 1884 cabinet card of a Cleveland GAR Broom Brigade currently being offered for $150. Another photo of similar genre sold on eBay on Feb. 3, 2008 for $10.77.
Can't help with value of the jacket, but it is not so different from the "Broom Brigader's" dress seen in these images.
---
Was surfing the web and came across your web page. I have been metal detecting for over 30 years. While on a hunt in November 2013, I found what I think is a Civil War star martingale. I was wondering if you could help confirm and get a value on it. Any ideas on how it ended up here in Lansing, the capital of Michigan?
JS: The lead-filled brass shield with star you found is Civil War and possibly associated with Confederate Texas troops. I have never seen a saddle with this device as a martingale or other decoration on horse equipage hardware. North-South Trader magazine has shown several of these dug up from camps and battlefields over the years, and they are accepted as "Texas" by most collectors, regardless of their actual source. I have seen these sold for as much as $1,000 in the past when the market was stronger, but yours, which is in very good condition and still retaining the three connective iron wires on the back, might not sell for as much in today's softer Civil War market. However, anything Texas is always popular, and Texan collectors buy what they like.
---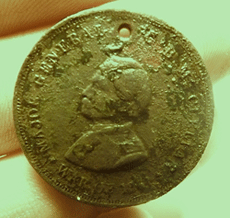 Hello John. Found this in a Friday night hunt while metal detecting. I have seen where it might be an issued dog tag from the Civil War, and I have also read where it may have been used for his presidential run in 1864. It has the image of and the words "Major General G. B. McClellan, War of 1861", on the front. If you could let me know, that would be great. Is it rare; hold any value?
JS: The object you dug is a Civil War dog tag. These were sold by sutlers in the field to soldiers in several designs: McClellan, Washington, Lincoln others. This tag was not filled out. A soldier who purchased one had the sutler stamp his name, unit and hometown on the reverse.
Value is determined by the soldier's name and associated history. Dog tags with names of Medal of Honor recipients generally bring the most, having sold for more than $2,000 in past. Tags with average histories are typically priced between $400 and $800. Condition also dictates value, and unfortunately, your tag has a lot of corrosion (ground action). A tag in fine, crisp condition will bring several multiples of the $50-$100 your unissued tag would most likely be priced at by a dealer today.
---
John Sexton is an independent appraiser and expert of Civil War memorabilia. He is an accredited member of various appraiser organizations. He can be contacted at 770-329-4984 or www.CivilWarDealer.com. If you have a Civil War item for him to appraise, email a photo and a description to seantiquing@go-star.com .