The Celebrity Collector:
Cindy Pickett
By Ken Hall
Posted July 2011
The actress Cindy Pickett is a 35-year veteran of film and television, having played Jackie Marler-Spaulding on the popular soap opera, The Guiding Light (1976-1980), Vanessa Sarnac on the ABC weekly series, Call to Glory (1984-1985), and Dr. Carol Novino on the hit hospital drama, St. Elsewhere (1986-1988). But she's probably best known as the actress who played Matthew Broderick's sweet but unsuspecting mother in the classic coming-of-age comedy movie, Ferris Bueller's Day Off (1986), written and directed by John Hughes.
Ms. Pickett is a collector of stereopticon cards, which owners of stereopticon devices around the turn of the century needed to view images in 3-D. For those who don't know, stereopticons were the high-tech entertainment devices of their time (from around 1850 to 1940). By inserting a card that had two pictures of the same scene or object into the stereopticon, one for each eye, viewers could see photographs in 3-D. Stereopticons were wooden contraptions with metal trim, and they were costly in their time. But they were so popular they could be found in most parlors of the Victorian Era. The stereopticon that became wildly popular in this country was co-invented by the famous U.S. Supreme Court justice Oliver Wendell Holmes.
"I grew up on a farm in rural Oklahoma and was always surrounded by wonderful old antiques," Ms. Pickett said from her home in Pacific Palisades, Calif., just outside Los Angeles. "I remember my grandmother had an old wood-burning stove, and I just loved the feeling that came from being around objects from another time. She also had a stereopticon, which for us was our television. This was in the early '50s; there was no TV yet, at least not where we were, so when other kids came over or we had company, we'd all look at the cards in the stereopticon. It was a way to look at places in the world or scenes in 3-D that we otherwise would never get to see."
Later on in her 20s, while living in New York, Cindy bought a stereopticon for herself and began collecting the cards, most of which were made in the late 1800s and early 1900s.
"I guess I've got around 30 cards," she said. "They are getting harder and harder to find. Only one of mine is in color. It's from 1904 and shows a bowlful of pansies, but believe it or not, it's not as vivid as the ones in black and white. I'd say my favorite one of all is from the Louisiana Purchase Exposition (or the St. Louis World's Fair) from 1904. It's just beautiful."
Other cards feature: the famous Flatiron Building in New York City; a fish market in Finland; a roulette room in Monte Carlo; a big Sequoia tree in Yosemite National Park; the city hall building in Capetown, South Africa; a scene from Kroll's Garden (the renowned beer garden in Berlin, Germany, 1902); a full moon; a Civil War scene of a Union soldier writing a letter on top of a drum; bullock skins used as ferry boats in Punjab, India (in which gutted and bloated animals are ridden as water rides, 1902); and various other depictions of travel, nature, landmarks, buildings and whatever other images makers thought would sell. Some were even naughty (for their time).
Some are priceless slivers of time from another age. In one card, for example, a little boy and girl are pictured in a room, in a kind of let's-play-doctor theatrical pose, with the boy saying, "She has symptoms of smallpox" (1898). In another, a woman is shown talking on a wall-mounted crank telephone, above the tag line, "The quicker way to spread the news – the telephone!"
Cindy keeps her stereopticon on a bookshelf in her home and gladly shares it with guests when they ask about it. The cards are what she would consider a true collection of vintage objects, but the fact is, she's loved antiques for years and has decorated her house in an eclectic blend of old and new.
"When I used to live in New York City," she said, "I had a boyfriend who had a house in Vermont, and we'd go there on weekends to shop for antiques there and back. I still have many pieces from those days. I even worked in an antique shop at one time. I'd spend all my time arranging and rearranging the pieces when no one was there. I just loved it."
Cindy Lou Pickett was born April 18, 1947 in Norman, Okla. Her grandparents were Dust Bowl sharecroppers in the Depression Era at a time when a Christmas gift was often nothing more than an apple or an orange in a stocking. But her father Cecil went on to become a high school teacher and moved the family, when Cindy was 9, to Bellaire, Tex., just outside Houston. By then, Cindy was already a stage veteran, her father having put her in a production of the play Our Town, at age six, as a flower girl ("After that, I was hooked," she said). Her father went on to teach dramatic arts at the University of Houston, where Cindy studied under him. Cecil Pickett became renowned as something of a star-maker. Not only did he have his daughter as a pupil, but also both Quaid brothers (Randy and Dennis), Brent Spiner (Mr. Data on Star Trek: The Next Generation), Trey Wilson (Nathan Arizona, furniture magnate, in Raising Arizona), Robert Wuhl (Alexander Knox in Batman and Arliss Michaels in Arli$$) and others.
Cindy remained in Texas throughout most of her 20s, studying under her father and performing in various local productions. But after getting her Equity card, she decided to give New York City a try. Within a month of her arrival, she landed the soap opera gig on The Guiding Light, plus a role on Broadway in the musical revue Sunset, in which she played Mary Travers of the folk group Peter, Paul and Mary. In 1980, she landed her first movie role in Roger Vadim's erotic thriller Night Games. The following year she scored a part in another movie, the mystery/crime drama Margin for Murder, in which she played Mike Hammer's (Kevin Dobson) devoted secretary. By that time, she was an established, working actress.
Ms. Pickett has guest-starred in a slew of television shows including: Simon & Simon, Magnum P.I., L.A. Law, Murder, She Wrote, The Pretender, NYPD Blue, CSI: Miami, Without A Trace, Crossing Jordan and Burn Notice. Other notable credits include: I Know My First Name is Steven, a 1989 TV movie; the sci-fi horror film DeepStar Six, 1989; and Crooked Hearts, 1991. She continues to act, having just concluded a part in an independent film, Mother Country. Other projects are in the works.
Ms. Pickett is an acting teacher, a master gardener and an accomplished photographer. She is also writing a screenplay, begun by her father (now deceased), and based on small-town life in Dust Bowl Oklahoma. Ms. Pickett has three children, two by her former husband, the actor Lyman Ward, who played her husband in Ferris Bueller's Day Off.
--------------------
Cindy Pickett is available for celebrity guest appearances, for a fee. For more information, log on to www.livinglegendsltd.com.
Cindy portrayed Dr. Carol Novino on the hit hospital drama St. Elsewhere, 1986-88.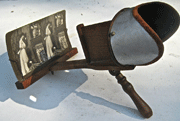 Cindy's stereopticon.
Cindy in a scene from Ferris Bueller's Day Off in 1986.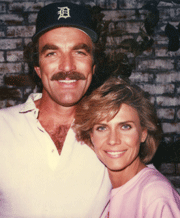 On Magnum P.I. with
Tom Selleck.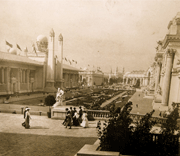 Cindy's favorite card, the Louisiana Purchase Exposition in St. Louis, 1904.
Cindy's breakout role was as Vanessa Sarnac on the series Call to Glory, 1984-85.