Christmas Angels
Collecting antique and vintage Christmas Angels
For more than a century now, the Christmas angel in wax, paper, cloth, wood or other materials has decorated the holiday scene. Once considered merely ornaments or trimmings, their diversity and enduring background of craftsmanship makes many of them highly collectible today.
Writing of Christmas in the 1870s, Phil Snyder in the Encyclopedia of Collectibles told of angels made of cotton and wool. Breaking with tradition, they were sold in stores rather than made at home.
"Decorated with embossed paper faces and such details as buttons, powdered glass and gold paper wings, they were often the children's favorites," he noted, "probably because they were unbreakable and therefore, were the only tree ornament children were allowed to play with."
This December, these very same angels, made in the Thuringian Mountains of Germany and referred to as "Dresdens" (the name of a particular town in the region) are truly treasured.
Wax angels of Christmas became quite popular toward the end of the 19th century. Some were solid wax, but most bore a simple wax covering over a base of composition or papier-mache.
The majority of waxed angels of the 1890s and early 20th century stood about four inches tall, but sizes varied up to 14 inches. Generally, the larger angels were more expensive when sold then and are, therefore, considered the more valuable today.
"Almost all of them hosted wings of spun glass," according to Robert Brenner the author of Christmas Past, "and many times were finished at the end with a tiny gold paper star to which a thread was attached so that the wings could be properly posed in the branches of the Christmas tree."
The effect was that, "Many children on Christmas morning thought that indeed the angels of heaven were hovering in their tree."
Generally, tree ornaments for Christmas, including angels, did not come into their own until the middle of the 19th century. While German glass blowers are known to have fashioned angel ornaments for limited used earlier, angles of wax poured over plaster were not widespread in that country until the middle 1850s.
By the 1880s, German manufacturers were exporting both glass-blown and wax angels to the United States where decorating the Christmas tree had also become a popular tradition. In the fall of 1880, a German importer persuaded Frank Woolworth to purchase $25 worth of various ornaments for his few stores in America.
"In two days they were gone," Woolworth said later, "and I woke up." In ten years, Woolworth had expanded to 14 stores and was ordering 200,000 blown-glass ornaments each holiday season.
By the late 1890s, mail order firms like Sears and Roebuck were offering items like an angel surrounded by tinsel that was actually made in the United States and promised to be more durable than "old style German glass tree ornaments." The Carl P. Stirn catalog of 1893 also promoted "…wax angels with spun glass wings, suspended on rubbers," for 38 cents each.
At the height of the Victorian Era, angels were offered not only in wax and glass, but in cotton, wood, straw, china, and various types of paper. Back in the Dresden region of Germany, skilled craftsmen were using the advancements of chromolithographic printing for dazzling turn-of-the-century, embossed, cardboard angel ornaments.
Eventually, the Dresden-type angels, as beautiful as they were, were overshadowed by the more durable cotton ornaments that could be twisted into shapes and by the even longer lasting porcelains of the early 20th century that came from both Germany and Japan.
After World War I, the Japanese began a prolonged period of producing angel ornaments, mostly in celluloid or porcelain. Many of the very early Japanese figures had celluloid faces or heads, backed by cotton batting and stick-framed bodies.
Another significant period of angel ornament production continued in Japan at the end of World War II. This time, "Made in Occupied Japan" items extended from existing porcelain, papier-mâché and celluloid to include wood and soft white metal.
Besides the leading industrial countries of the first half of the 20th century, a vast assortment of Christmas angels came from Mexico and other Central and South American countries starting in the late 1940s and continuing through the 1960s. The majority of these had their beginnings with native folk artists with whom the angel was already a significant part of their culture. Often, angel figures painted on paper, wood and earthenware were exported to other countries for the Christmas holiday season.
Currently, the collecting of decorative Christmas ornaments in general and angels in particular, is highly popular. Books like the previously-mentioned Christmas Past and The Official Price Guide to Holiday Collectibles add to this interest. The values of more and more Christmas angels are being published in various antique and collectible price guides, with prices frequently dependent on age, material, manufacturer and condition.
The exact origin of Christmas angels can be difficult to determine without some study. Some designs were produced for but a single holiday season—and are automatically rare. Other designs were made for decades, either by the same manufacturer or others. Moreover, designs for a specific angel during the 20th century were sometimes altered by the maker or "borrowed" between countries during different periods of time.
Since the middle of the 19th century, Christmas angels, according to most sources, are second only to Santa Claus in terms of holiday figures produced. In addition, since they were usually carefully stored almost the entire year, many fine old examples survive today.
___________________________________
(Photos of Christmas angels are from the Judith Wright Collection, a private individual.)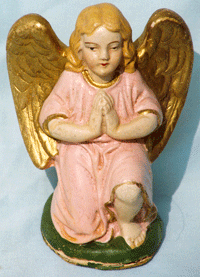 Turn-of-the-century papier-mache angel made in Germany.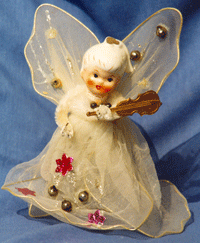 Early 20th century angel, celluloid head, silk wings and made in Japan.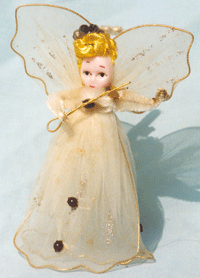 Porcelain-head angel with silk wings, mid-20th century.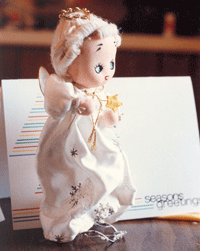 Treetop-type angel, ca. 1960, with a silk dress and fiber head.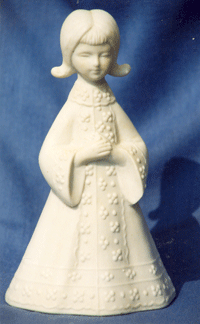 Ceramic Christmas bell depicting an angel, with a "Made in Japan" (AES Japan) sticker.