The Celebrity Collector

Cathy Shim of Reno 911 and Mad TV
has over 100 jigsaw puzzles
By Ken Halll
For Cathy Shim, solving a jigsaw puzzle is a lot like playing the piano ­ she's proficient at both. "It's all about focusing on what's in front of you," the Korean-born actress said from her apartment in Los Angeles, which she shares with her husband, Jason, and four cats: Twilight, Bliss, Heaven and Baby Tiger. "Sometimes I get too focused. Once I start a puzzle, it's hard to tear me away." Shim estimates she's done more than 100 jigsaw puzzles over the years. The ones she likes best, or has found most challenging, she frames and displays.
When she's not doing jigsaw puzzles, Shim can be seen on the Comedy Central series Reno 911!, a riotous send-up of Cops and a major hit for the cable network since its debut in 2003. Shim has played a wide array of characters on the show, most notably Officer Suzy Kim. In the recently-released film adaptation of the show ­ titled Reno 911!: Miami ­ she plays the "Spring Break Dream Girl" and love interest of Travis Junior (played by Ben Garant). She was recently asked to appear again on the fifth season of the television show.
Shim also has a recurring role on Mad TV ­ as Ms. Long Bong, in Bobby Lee's Korean Soap Opera. In addition, she appears on the Nickelodeon series Drake and Josh, playing Leah, the only girl in high-schooler Josh's nerdy group of friends. On the big screen, Cathy co-stars with Christopher Walken as one of his evil Korean minions in a wacky ping-pong comedy, Balls of Fury (due out in April). And post-production is nearly complete on her next film project, Art of War 2 (starring Anthony 'Treach' Criss), in which she plays a reporter.
The jigsaw puzzle bug bit early, when Cathy was around three (about the same time she started playing piano). When her parents moved the family from Korea to the United States, while Cathy was still a young child, she immersed herself in jigsaw puzzles. "My parents are very traditional, and quite strict when it comes to studies," Shim said. "I would come home from school and start right away on my homework or practicing the piano. There was little time for playing outside or even having friends. So I did puzzles in the time I wasn't studying or at school."
She would buy her puzzles or her parents would buy them for her, at toy stores in the Los Angeles area. Later on, much to her delight, a shop dedicated solely to puzzles opened in Asuza, Calif., but it closed down, "so I had to go back to buying them in toy stores, which I still do today." From simple puzzles with not many pieces, Shim graduated to landscape scenes, sprawling farmlands, majestic mountains, and the like. Today, her favorite puzzle subjects remain animals (a passion of hers) and landscape scenes (because they are beautiful and challenging).
Shim's most ambitious puzzle project to date was Michelangelo's famous Ceiling of the Sistine Chapel ­ a 5,000-piece monster that, upon completion, she framed and presented as a gift to her in-laws. "They loved it so much they put it over the mantel in their home," she remarked proudly. Shim has a favorite puzzle maker: the Japanese artist Makoto Muramatsu, whose renderings of cats in comical situations have amused her for years. Four of his puzzles are framed and hang in her home. "I love cats, and I love the cats in Muramatsu's drawings," she said.
Typically, Cathy will attack a puzzle beginning with the borders ­ "they're the easiest" ­ then go to work on things she can sub-categorize by shape and color: buildings, trees, people, etc. She'll build them individually, then fit the several parts together to make a whole. The average puzzle contains 1,000 or more pieces, and Shim usually completes one in 2-3 days. "I used to be able to finish an entire puzzle in one day," she said with a laugh, "but I'm not so young any more! Now it takes a few days." Has she ever given up on one? "Never! Failure is not an option."
On more than one occasion, Shim has found a puzzle so challenging or stimulating she's actually taken it apart and done it all over again. Size-wise, most of the puzzles she's done measure around 20" x 36". She selects simple wooden frames for the ones she'd like to display, so as not to detract from the beauty of the image. In addition to the four Muramatsu pieces, she has six others hanging on her walls: three are fantasy-themed landscape scenes, while three others are photos. Two of the photos are by Kim Anderson, the noted child portrait photographer.
Other puzzles are either completed but in storage (waiting for the day Shim and her husband get a new, larger place so they can all be properly displayed), or in boxes (awaiting assembly or re-assembly). Her latest project: a reversible 750-piece puzzle (each piece is actually two pieces, with images on both sides; when complete, the puzzle is different front and back). Sound difficult? "It can get a little tricky," Shim said. "You need an elevated glass coffee table just to do it, so you can keep an eye on both sides as you go. I'll do it, though. I like the challenge."
Cathy Shim was born in Seoul, Korea, and came to America with her family at age three. By five, she was already an accomplished pianist and performing competitively. By age seven she was admitted on a full scholarship to the R.D. Colburn School of Performing Arts in Los Angeles. She attended gifted magnet programs from elementary through high school, ultimately graduating from Van Nuys Performing Arts Magnet. She enrolled at the University of Southern California with a major in Piano Performance. It seemed her career was destined to take a musical path.
During her second semester at USC, Cathy and two lifelong best friends formed an all-girl singing group called "Unity." It was just for fun, initially. After all, the three had been singing together for family and friends for years. But when a Korean talent scout saw and heard them, he immediately invited them to travel to Korea and perform. The girls accepted, and spent the next five months on tour. When she returned to the U.S., Shim had a new dream: to act in television and films. She added courses in theater to her curriculum at school.
Ironicaly, Shim's degree from USC was in neither music nor theater but kinesiology ­ the study of biomechanics, metabolism, and physiology of humans. After graduation, she worked in several areas of the medical world, including diabetes research, radiology and orthopedic surgery. Her dream is to one day apply this knowledge to her love of animals and to work with organizations that help protect them. But in the meantime, she will continue to ride the wave of success she's currently enjoying in films and on television.
In addition to the TV shows and movies already named, Shim has appeared in numerous other productions. She had roles in several independent feature films, including A Cigar at the Beach and Love Is the Drug. She was an associate producer and co-star of the movie The Gymnast, which won the Grand Jury Award at Outfest 2006. She also had a small and uncredited part in Steven Spielberg's Memoirs of a Geisha. On TV, Shim has been seen in Shark, Living With Fran, Unfabulous, All of Us, So NoTORIous, and Free Ride.
Shim also appeared in Eminem's 2004 music video "Just Lose It." She is currently honing her comedic skills with the prestigious Ground-lings improvisational theater company. When she's not acting, doing puzzles, playing the piano or making the world a safer place through medicine, Cathy also knits (which she finds a therapeutic way to pass time on the set) and designs jewelry for her friends and family (by incorporating semi-precious gems and exotic beads set in silver and gold). She's also working on a screenplay, but chooses not to discuss it quite yet.
Fans of Cathy Shim may write to the star c/o Sharp & Associates, 8721 Sunset Blvd., Suite 208, Los Angeles, CA 90069.
Cathy Shim has recurring roles
on three hit TV shows: MAD TV, Reno: 911! and Nickelodeon's
Josh and Drake.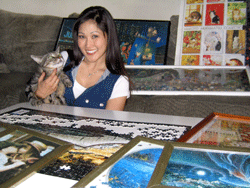 One of Cathy's four kitty-cats
gives her a hand ­ er, paw ­
doing a puzzle.
Cathy is able to knock off a tough jigsaw puzzle in one sitting.
Cathy gave this completed puzzle of Van Gogh's Starry Night, as a present to her in-laws.