The Celebrity Collector
Nicholas Cage
sells his million dollar comic collection.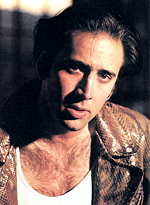 He's the billion dollar man who sold his million dollar-plus collection.
Actor-director-producer Nicolas Cage, whose movies have raked in a billion dollars, recently showed himself to be the consummate collector of comic books when his collection of 141 lots was auctioned by Heritage Comics of Dallas for $1.68 million.
Among the highlights of Nicolas Cage's collection was a 1940 Detective #38 comic that featured the debut Batman's sidekick Robin, The Boy Wonder, for $120,750 over a price guide list of $45,000. A 1940 All-Star Comic #3 introducing the Justice Society of America sold for $126,500 against a value of $45,000. It was the first comic book to introduce a super hero team, which included the Green Lantern, Hawkman, the Flash, Hourman, Dr. Fate, the Spectre, the Sandman, and the Atom. Cage's comic book recording the first appearance of Superman (Action Comics #1 from 1938) hammered at $86,250, including buyer's premium.
The sale, which also included comic art, movie posters and memorabilia not in Nicolas Cage's collection, set a new world record for comic book auctions with a total of $5.2 million.
Born on Jan. 7, 1964 and a collector for many years, Cage reportedly made the decision to sell his collection after watching the market and deciding now was a good time. Apparently, he was right. He is also now selling cars from his other collection.
An academy award winner, Nicolas Cage is an equal opportunity actor-his movies appeal to all ages, races, genders and religions. His acting ability spans most genres, including action, drama, comedy. Most actors and actresses his credits: Windtalkers, Gone In Sixty Seconds, The Rock, Con-Air, Raising Arizona, Guarding Tess, Firebirds, The Family Man, Moonstruck, Face/Off, City of Angels, Leaving Las Vegas, and Peggy Sue Got Marriedto name a few. Just as impressive is his list of co-stars: Sean Connery, Cher, John Travolta, Shirley MacLaine, James Caan, Meg Ryan, Kathleen Turner, Sarah Jessica Parker, and Angelina Jolie.
But acting and movies were virtually foreordained for Cage. His uncle is the legendary Hollywood director Francis Ford Coppola, and his aunt is Talia Shire, "Adrian" in umpteen Rocky movies and Connie in all three Godfather movies.
Nicolas Cage is actually the stage name of Nicolas Kim Coppola. Cage changed his name so his acting would be judged on its own merits and not on any preconceptions associated with the Coppola name. He chose Cage from his favorite comic book hero, Luke Cage (Hero for Hire), so is it any wonder that he would be an avid comic book collector?
Nicolas Cage's current movie is Matchstick Men. This year, he also starred in Adaptation and Sonny.
Now that this collection has changed hands, Cage plans to move into other areas of collecting, and he has a nice nest egg to bankroll that move.
Other items sold during the four-day auction which were not in Nicolas Cage's personal collection included:
*The first known sketches of Wonder Woman from 1941, two ink, pencil and crayon drawings on one sheet of paper with handwritten notes by her creator, Dr. William Moulton Marston, $33,350.
*A Spider-Man #1 comic from 1963, $70,150.
*An original "Peanuts" comic strip art by Charles Schulz dated September 2, 1956, $17,825.
*A movie poster of The Attack of the 50 Ft. Woman, $12,650, including buyer's premium. (This poster was featured on the cover of the October issue of Southeastern Antiquing and Collecting Magazine.)
First appearance of Hourman, DC Comics, 1940, $54,625.

Superman #1,
DC Comics, 1939, $41,400.

One-sheet (27" x 41") $13,225.
(Not in the Cage collection.)
2002
Top to bottom: $126,500-1940 All-Star Comic #3 which introduced the Justice Society of America; $120,750-1940 Detective Comic #38, Robin's debut; $2,357-1952 Atomic War! #1; and $86,250-1938 Action Comics #1, the first appearance of Superman. (All photos courtesy Heritage Comics, 800-872-6467. All prices include buyer's premium.)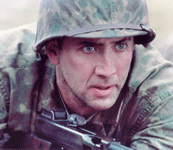 Cage in the movie Wind Talkers.

First sketches of Wonder Woman with notes by Dr. W.M. Marston, creator, $33,350.