The Celebrity Collector:
Butch Patrick (Eddie Munster on The Munsters)
By Ken Hall
Posted October 2012
Butch Patrick is forever cemented in the minds of baby boomers everywhere as the child actor who played Eddie Munster on the hit '60s television series The Munsters (1964-66). Those familiar with the show will be surprised to learn it only ran for two seasons, at around the same time another monster-themed program, The Addams Family, also aired. The Munsters featured a wonderful ensemble cast with veteran screen actress Yvonne DeCarlo and Fred Gwynne (from TV's Car 54, Where Are You?) in the lead roles as Herman and Lily Munster.
Al Lewis, who was also on Car 54, played the lovable Grandpa, while Pat Priest and Beverley Owen split time as Marilyn, the "normal" Munster. Butch, of course, played Eddie, Herman and Lily's son, who had a dragon for a pet and often had his favorite stuffed animal in tow—a werewolf he called Woof-Woof. The sit-com was a spoof loosely based on Universal Studios' movie monsters, but for whatever reason, it never enjoyed high ratings (perhaps because it was in black and white). It grew legs later on in syndication and even spawned a movie.
Perhaps not surprisingly, Butch has collected (or has been given) monster-related items over the years, but he also has a fair amount of Beatles memorabilia and one-of-a-kind artifacts specific to his generation. His favorite item of all, he says, is a sketch by the artist Chuck Jones, of the iconic cartoon figure Road Runner, drawn on the set of the 1968 movie The Phantom Tollbooth (in which Patrick starred; Jones produced and directed the film).
| | |
| --- | --- |
| | His most prized possession of all: this sketch of Road Runner drawn by Chuck Jones and inscribed to Butch. |
"It probably took Chuck less than five minutes to draw that sketch, but I prize it above everything else," he said.
The fascination with the Beatles began, as it did with many young people of the time, with the group's debut performance on The Ed Sullivan Show in February 1964.
"Naturally I went out and bought all their records and started a collection that way," he recalled. "Then a friend in Las Vegas who had a huge and serious collection of Beatles items approached me, asking if I wanted to buy it. There were nearly 500 items in that collection, and he wanted $30,000, but how could I say no?"
Over time, Patrick has sold or given away over half of what he bought, but there are still plenty of items there to make Beatles fans take notice. He owns: not one, but two copies of the famous "butcher" cover of the Beatles' Yesterday and Today album (one peeled, one unpeeled); three animation cels from the film, Yellow Submarine; gold records for George Harrison's song Cloud Nine (off the Dark Horse album) and Paul McCartney's solo album Red Rose Speedway; large and small photographic portraits of each Beatle by the renowned photographer Richard Avedon; George Harrison's purple boots; a Yellow Submarine original movie poster; Beatles Christmas tree ornaments by Hallmark; and assorted buttons, Beatles bags and other memorabilia.
| | |
| --- | --- |
| | Individual figures of John, Paul, George and Ringo. Patrick watched the Beatles on The Ed Sullivan Show, along with millions of other Americans. |
| | |
| | Patrick's accumulation of Beatles memorabilia got a huge boost when he bought a friend's collection – for $30,000! |
Believe it or not, there is a Munsters-Beatles connection, one that Butch was not witness to, sad to say. It was around the time the Beatles were to play in one of the local arenas, possibly the Hollywood Bowl, and there were always security issues to consider, lest the lads be torn to shreds by adoring fans. One day, they were brought to the Universal set and parked there for part of a day.
"One of them, I'm not sure who, used my dressing room, because it was nice and big," Patrick said. "Unfortunately, I wasn't on he set that day, and nobody got me any autographs."
The monster items include: an array of bobble-head dolls; Herman and Lily in a special Barbie set (yes, there was such a thing), figurines; autographed photos of people like ghoulish rocker Alice Cooper and Addams Family star John Astin; a collectible Munster Village set made by the Bradford Exchange; a Lost in Space robot; and a veritable mountain of T-shirts. (Patrick is partners with a friend in a T-shirt venture called Universal Monsters. He also sells hand-drawn, one-of a kind T-shirts on the website www.munsters.com, which he operates).
Other items Patrick owns include: a soccer ball signed by all the members of the 1969 World Cup Champions Santos Football Club of Brazil (to include soccer legend Pele); a bobble-head doll signed by the late entertainer Anna Nicole Smith; some signed baseballs (Patrick's late stepfather was Ken Hunt, who played professional baseball for the New York Yankees and Los Angeles Angels in the early 1960s and was Mickey Mantle's roommate for a brief while); an exact replica of the bottle from the '60s sit-com I Dream of Jeannie; and other items.
"I've given away so many things over the years, I really should have much more than I do," Patrick said wistfully.
He's sold off some items, too—like the original Woof-Woof, which he hung from a noose in the bedroom of his house until the doll became tattered and degraded. He sold it to someone who restored it and sold it. It has changed hands again since then. He also sold the tour bus used by the rock group The Grateful Dead, a 1965 ½ Gillig Brothers model, complete with posters on the inside walls of dates from the Avalon Ballroom and Fillmore West.
"I paid $10,000 for the bus and poured another $15,000 into fixing it up," he said. "I ended up selling it for $25,000, so I barely broke even. Now I wish I still had it."
Butch Patrick was born Patrick Capels on Aug. 2, 1953, but took the last name of Lilley from his adoptive parents not long after being born. He was given the nickname Butch as a young child, and everyone called him that, so his talent agent in 1960 suggested he go by the name Butch Patrick. His first role came in the 1961 comedy-fantasy film Two Little Bears, co-starring Eddie Albert (Green Acres) and Jane Wyatt (Father Knows Best). Before being cast as Eddie Munster, he appeared on shows such as Bonanza, Ben Casey, General Hospital, The Real McCoys and My Favorite Martian. Later on, he had a recurring role on My Three Sons.
Patrick credits his sister for getting him into show business, explaining, "She was the one who got me started and gave me all the encouragement. She always wanted to be an actress and was on the casting call sheet one day. She was asked if there were any other children at home. She told them about me, and I got some small roles, then some bigger ones."
It wasn't so easy when it came to auditioning for The Munsters. He was up against 500 other kids. In fact, he wasn't cast for the pilot episode. The part went to another actor, Happy Derman, but he played Eddie bratty, and in the end, it was decided Eddie should be more of a nice, regular boy. It helped that Butch's eye teeth stuck out and really did look like fangs and that he was so short.
"They liked that because it played off of Herman's height," he said.
| | |
| --- | --- |
| | Butch wasn't originally cast as Eddie, but in the end, he landed the role. |
After The Munsters ended, Patrick found work on popular TV shows like Gunsmoke, I Dream of Jeannie, The Monkees (the famous holiday episode, where The Monkees teach Butch the real meaning of Christmas – watchable on YouTube), Daniel Boone and Adam-12. He also appeared in Disney movies such as Way Down Cellar, The Young Loner and The One and Only, Genuine Original Family Band. A big break came when he landed the lead role on the Saturday morning kid's show Lidsville (1971-73). He played Mark, a boy lost in a strange land of walking, talking, singing hats. The show was created by Sid and Marty Krofft (H. R. Pufnstuf).
In the mid-1970s, Patrick left acting to pursue a career in music, learning the bass guitar and playing in a group called Eddie and the Monsters. In 1983, he recorded the song Whatever Happened to Eddie? The accompanying video got some airplay and was an inspiration for the MTV series, The Basement Tapes, a showcase for unsigned bands. In the '80s Patrick also appeared as himself in an episode of The Simpsons (1989) and as grown-up Eddie in a Little Caesars pizza commercial. He was also in the film, Dickie Roberts: Former Child Star (2003).
Today, Patrick continues to act and play music, and is always booked solid for Halloween parties and other monster-themed events. He is friends with Louise Harrison, the late Beatle George's sister, and is active in her charity Help Keep Music Alive, which benefits music programs in schools that have had to cut back due to the recession. He also keeps busy with www.munsters.com and Universal Monsters, and in 2010, he rode his motorcycle in Carthage, N.Y., as part of a benefit for the blind. Patrick was ranked #45 on VH1's list of "The Greatest Kid Stars."
Fans of Butch Patrick may visit the star online at www.munsters.com.
Today, Butch Patrick continues to act and make music, and he's always booked solid for Halloween.
The Munsters were always being placed into improbable situations, like this family trip to Marineland.
Lunchbox from the Saturday morning kids' TV show Lidsville(1971-73), on which Butch starred.
Butch takes the wheel in costume as Eddie Munster.
Beatles hair spray?! The Fab Four were so marketable, their name and likeness appeared on a myriad of products. Patrick's extensive collection includes pins, figures, gold records and posters.
Toy robot from the TV show Lost in Space. Patrick is friends with Billy Mumy, who was a child actor on the show.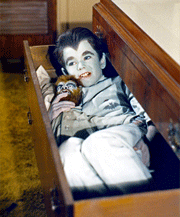 Patrick actually owned his stuffed animal "Woof-Woof" for years, but he sold it to someone who restored it.
Patrick has an exact replica of the bottle from I Dream of Jeannie. He appeared once on the show.
Patrick's extensive collection of Beatles items includes pins, figures, gold records and posters.
Stylized rendering of the Beatles by an unknown artist. Patrick also has two copies of the famous "butcher" album.