Q & A with Ralph and Terry Kovel
What's New in Bottle Collecting?
The Kovels recently published the 13th edition of their Kovels' Bottles Price List.
Here is what they had to say about what's happening in bottle collecting.
How has the bottle market changed in recent years? What new trends have you noticed?
Collectors in the 1970s wanted historic flasks, bitters bottles, and other hand-blown bottles from the 19th century. When these became rare and expensive, newer collectors began searching for medicines, inks and blob-top sodas. Today, a show will have milk bottles, perfume bottles, machine-made soft drink bottles with applied color labels, and fruit jars like the famous Mason jars.
What might surprise a novice collector?
The variety of bottles. Many collect bottles by shape, color or use. We search for paper-label food product bottles. Others we know collect bottles picturing owls, sports-related bottles, miniatures or bottles labeled with the family name. Some new bottles, such as special-event or celebrity-related soda bottles, are collectible. There are 90 different categories of bottles in Kovels' Bottle Price List. And there are still great bargains to be found.
What's surprised you during your research for your book?
We went through a time when there was a huge interest in Avon and Jim Beam bottles ­ we could have written a whole book on them ­ but then, interest in them kind of died. Despite, this, we continued to list them in our books, and then in the last two years, we have seen a renewed interest in them. Nothing like the big flurry of sales in the early '90s when liquor store owners put out Jim Beam bottles, and they flew off the shelves.
But they are beginning to come back, especially sports-related Beams.
The biggest change we've seen, however, is in milk bottles and soda pop bottles with applied color labels. Kids like milk bottles; they're inexpensive and have funny graphics on them. But there are fakes, with messages about helping with the war effort, for instance. There is also more interest in bottles with original paper labels. Some reproduction bottles of the past 20 years are also being collected.
Another surprise we found in our research was the crazy prices for perfume bottles of any age, and particularly oversize display bottles made for stores. Ink bottles, particularly blown glass, are popular, too.
Collectors also want "go-withs" like ads, signs, bottle openers and milk bottle caps.
Are there major differences between bottle collecting in the North and in the South?
Every region has had its own bottle makers, and state names are often embossed on bottles. Many collectors like bottles from near home. In the North, you can find digs near highways, old houses or trash dumps. In the South, bricked-in privies are good spots to dig, and so are swamps, where bottles might be trapped in tree roots or mud.
Today, there is big money historic flasks and bitters bottles. They are always the most expensive. Bitters are medicines with a high alcohol content, that were sold as medicine from wagons. They were very popular in Victorian times because there was little pain medicine then. Some bitters had cocaine in them, which also relieved pain.
Museums in the North often have exhibits of historic flasks because glass blowing started in this region in the early 1800s. Now, historic flasks are considered art, and many are found in museums.
But valuable bottles can be found just about everywhere. A collector paid a dime for a bottle in a Midwest church sale that later sold for $4,000. Other bottles have been found that were worth $50,000.
Bottle collecting is a great family hobby. What tips do you have for parents?
Take your family along on trips to dig bottles or to hunt for bottles in shops and shows. It is a treasure hunt, and a find is always exciting. Bottles can be found at thrift shops, garage sales, flea markets, and shows; near road or house construction sites; and, of course, in Grandma's attic. We remodeled our front porch and found about 20 soft drink bottles left by the original builders.
Teach your children how to negotiate a price, how to check condition, what questions to ask about the bottle's history, and how to have fun by choosing a bottle that appeals to them. They will not only meet other collectors, but also learn about geography, money and American history.
Here are some tips for collectors of all ages:
Well-behaved children are welcome at bottle events. A young child should be taught to clasp his or her hands when walking through a show and never to touch a bottle before asking permission.
Children are just the right size to search under the tables at shows. They may find hidden bargains. But be sure they ask first and move slowly and carefully.
Collect the best you can find. Don't settle for a damaged bottle.
Beware of possible dangers. Old bottles could still have traces of dangerous contents, like narcotics or poison. Always carefully empty old medicine bottles. Take safety precautions ­ wear rubber gloves and make sure the room is properly ventilated.
Don't display bottles in a sunny window. Old bottles may change color in the sun.
Bottles at a show range in price from free to thousands of dollars. Look at all of them. Encourage your children to accept any interesting free ones.
Milk bottle caps, which sell for 25 cents to about $2, can be displayed in glass-front bug collection boxes or used in the game of Pog.
What books are you working on now?
We have our annual Kovels' Antiques and Collectibles Price List coming out in October. A couple of years ago, we wrote a book on antiques up to the Year 1900, and we recently turned in the manuscript for a new book on antiques and collectibles from 1900 to 2000. We've found there is a different generation of collectors interested in items from the 1950s and later. They are collecting the hottest new look ­ things with weird-looking designs. They're not often interested in the earlier stuff.
---
Kovels' Bottles Price List, 13th Edition, by Ralph and Terry Kovel, Random House Reference, ISBN: 1-4000-4730-7; Price: $16.95/ $23.95 (CAN).
Ralph and Terry Kovel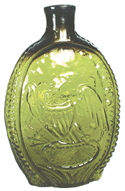 Flask with eagle and
cornucopia design, $550.
(All photos, Glass-Works Auction, unless credited.)
Pyroglazed Betty Boop soda bottle, $20.
(Photo, Kovels.)
Teakettle ink bottle,
6-sided, cobalt blue,
3 1/8 inch, $615.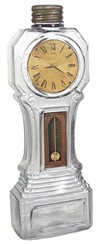 Figural grandfather clock, screw cap, 1885-1910, 7 7/8 inch, $60.