Seeking Pottery Treasures From 19th Century Bohemia
By Ian MacMillan

With the publishing of two major books on Amphora, Brian Vreeland's Monsters & Maidens in 2003 and Richard Scott's The House of Amphora in 2004, the wonderful world of Bohemian ceramics was exposed to a rapidly expanding group of collectors. As insight into the magnificent array of works done by the Amphora group (Reissner, Stellmacher & Kessel, Paul Daschel and Ernst Wahliss) expanded, it was inevitable that the incredible talents of other Bohemian potters would finally come to light.
Internet sales currently indicate a growing interest in non-amphora Bohemian potters, especially Johann Maresch, Bernard Bloch, Julius Dressler, Wilhelm Schiller, Gerbing and Stephens and Josef Strnact. To some extent, this is due to the escalating prices and scarcity of Amphora and possibly the desire of veteran pottery collectors to branch out from past addictions into exciting new growth areas. It is interesting to note that American Art Pottery collectors are also developing an appreciation for the untapped area of quality Bohemian pottery. Along with Amphora, Dressler and Schiller produced many pieces similar in style and form that influenced their American counterparts, especially Grueby, Van Briggle, Hampshire and Rookwood.
Like most collectors, Bohemian pottery became a personal passion by way of a winding progression. Entering into the challenging state of retirement after 32 years teaching high school math, collecting seemed the perfect way to "fill the gap." At first, anything signed "Czechoslovakia" was fair game, and most of our pottery purchases included works by Mrazek, Ditmar Urbach and Eichwald, while Loetz and Kralik highlighted our glass purchases. In those days, much of this was readily available. How times have changed! As we invested time and gained experience, we developed an awareness of the stunning pottery produced in the Turn-Teplitz area of Bohemia by the Amphora Works. Searching for Amphora was an introduction to other Bohemian potters, and our collection veered toward Julius Dressler, Wilhelm Schiller and Josef Strnact.
The search was exciting as these three companies normally used just initials to mark their pieces. We made many exciting buys at auctions, antiques shows and antique malls where sellers had failed to correctly identify the piece. In addition, our growing understanding of forms and artistry employed by these makers became a wonderful asset since each potter exemplified a specific approach to their work. Many of the pieces screamed out due to their stoneware appearance. Stoneware, because of the tremendous availability of silicon and feldspar in Bohemia, was a very popular medium. Less porous than earthenware and less expensive and easier to process than porcelain, it was the medium of choice during the last half of the 19th century in Bohemia.
With the discovery of kaolin in 1788 at Gabhorn, near Karlovy Vary, Bohemia was able to commence the economical production of porcelain and other ceramics where previously these pieces had been imported, especially from Thuringia. By the second half of the 19th century, the ceramic factories in Bohemia were flourishing. By 1905, the Teplitz area was reputed to have 30 different pottery manufacturers and was the largest pottery center in Europe.
Initially in this period, industrialization and the rise of the middle class created the demand for less expensive ceramic products. Transfer ware was cheap and popular and resulted in a decline in the number of artists and in the demand for modelers. The bourgeois were quite happy to buy revivals of old styles ­ Gothic, Baroque, Renaissance Rococo and Classical, and as the century progressed, the industry was caught between the tastes of the local middle class and the burgeoning demands of a much wealthier export market.
It is in this context that we are now able to examine the efforts of Wilhelm Schiller, Julius Dressler and Josef Strnact. One must remember that written documents from this period are not easy to come by ­ especially in English. Bohemia was ravaged repeatedly by wars and natural disasters, resulting in the destruction of many factory records.
In 1829, Wilhelm Schiller started a pottery with Freidrich Gerbing in Bodenbach. It produced very high quality terra cotta and majolica pieces. Vases, clock cases, jardinières and wall plaques were very popular, often in Classical and Renaissance motifs. This relationship lasted until 1885 when Gerbing and Stephen became an entity, and Schiller and his son went out on their own. By 1909, both companies had closed their doors. Market tastes had shifted away from Nouveau and Traditional styles to Arts & Crafts and the beginning of Art Deco. Availability of attractive products from manufacturers closer to home further reduced demand from Bohemia as flourishing potteries in Ohio and Great Britain won market share battles in the U.S.
Schiller was incredibly creative! He appears to have focused on the lucrative and ever-changing whims of the export market. His Persian line of highly ornamental stoneware is extremely beautiful, and the elaborate Majolica Rococo urns are very flamboyant. His Southwest Native vases could have been an attempt to attract the American market. His extensive production line of Art Nouveau pieces is impressive for its artistic quality and wide range of unique designs.
Collectors have let Schiller "fly under the radar screen," and only recently is there evidence of a growing worldwide interest in his works, as evidenced by increasing demand and higher prices.
Josef Strnact founded his terra cotta/majolica factory in 1881 in Turn-Teplitz, Bohemia, right beside the Stellmacher Works. It appears that his works were aimed at the local market and offered many utilitarian designs, compared to the export focus of Schiller and Dressler. High relief terra cotta historical plaques and ornate majolica relief fruit vases were his primary export items. At home, he was famous for producing majolica signs which were custom made to be hung prominently in front of businesses and shops. These may not have been export items and are definitely a prize for any collector. In 1905, Strnact employed 300 workers, but ill health forced him to retire by the end of World War I.
Finally, Julius Dressler, the best known of our three potters, possessed a creative bent that produced many different lines, like Schiller. In 1888, Dressler founded his factory in Biela, Bohemia, not far from Teplitz, and specialized in majolica wares. His early emphasis was on Renaissance and Classical Religious themes ­ with his very desirable and scarce Venezia line with its deep cobalt and ivory features being particularly impressive. In the 1890s, he moved easily into both the Art Nouveau and Arts and Craft styles, the latter having many similarities to that produced in England and the United States. His matte green Art Nouveau vases are very popular and at today's prices still offer very good deals for astute collectors. In the early years of the 20th century, Dressler produced a number of pieces of Egyptian Revival, both in majolica and terra cotta. These works are extremely desirable and harder to find, but well worth searching for. Little is known of Dressler after 1910, but it appears that his factory marks were used up until 1945.
We have only scratched the surface with our present knowledge of 19th century Bohemian pottery, and there are surely some truly magnificent treasures yet to be unearthed and identified. Through the efforts of those associated with the Czech Collectors Association and the Amphora Collectors International as well as independent collectors and researchers world wide, valuable information and documentation previously thought to be lost or scattered to the winds is being collected, researched and documented. Those wishing to share their knowledge or treasures, ask questions or gather information are invited to contact me at smacmillan2@hotmail.com or 905-988-5589.
-------------
More information can be found at www.czechcollectors.org. All photos are from the Ian and Sandra Macmillan Collection.
J. Dressler rare Venezia vase with majolica glaze; $700.
J. Strnact majolica floral vase in the Nouveau Style; $200.
W. Schiller & Sons organic style stoneware vase. A similar vase is on display in the Teplitz Museum, Czech Republic; $500.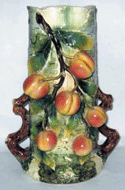 Large Strnact Nouveau relief fruit vase, $450.
W. Schiller unique form Egyptian stoneware ewer, $250.
J. Strnact historic plate with high relief scene depicting Dover Castle; $75.