The Celebrity Collector
The Price Is Right's Bob Barker
Collects Military Figurines, Bradford Plates
By Ken Hall
He's been giving things away for so long as the host of TV's The Price Is Right, it's hard to imagine Bob Barker actually collecting something for himself. But the venerable king of daytime game shows is a collector, of military figures and miniatures. He figures he's got about 175 pieces in all, plus several plates depicting Civil War battle scenes. The collection actually began as an indulgence bestowed on Barker by his late wife Dorothy Jo, who knew of Bob's love of military history.
"I've always been interested in the military and America's wars, even as a kid, and I've read dozens of books on the subject," Barker said from his home in Hollywood, Cal. "Dorothy Jo was aware of this, of course, and one day she bought me a figure of one of Napoleon's generals. It was a gift. Then, before long, one became a few, and before you know it a collection was born. She became as interested in them as me. We would look for new pieces in our travels here and abroad."
Dorothy Jo passed away in 1981, and little has been added to the collection since then (save for occasional gifts from friends). But that hasn't dampened Barker's pride in what he has. "I keep the figures in open cabinets so anyone who wants to pick them up and look at them can," he said. "There are three good-sized cabinets in my living room that are filled." As for an aggregate value, Barker hasn't a clue. "I really need to have them appraised. I'm sure there's some value here."
Barker divides his collection (which he describes as "eclectic to say the least") into two categories: larger figures (10"-18"), of which there are about 90; and smaller figures and miniatures (1.5"-8"), which number about 80. The larger figures are mostly porcelain, although he's got a few wooden pieces, too, including a Spanish guard and a Samurai warrior purchased in San Francisco. The smaller ones are mostly metal. "What I've got represents a wide variety of soldiers and wars."
Although Barker is a self-described Civil War buff, figures from that conflict don't dominate his collection. Dorothy Jo's gift of the Napoleon general gave rise to what he calls "a small French army." He has a set of Napoleon with eleven generals and a set of Napoleon with nine generals, plus a set of five marshals on horseback. From the Civil War, he has "a couple of Robert E. Lees, a couple of Ulysses S. Grants and a good number of figures from both the Union and Confederacy."
Other highlights from Barker's collection:
British Beefeater, 1' tall, holding a lance, in full regalia.
British officer, with scarlet jacket and high white plumed hat.
Swiss guard, 18" tall, on pedestal, scarlet trousers ending at the knee, black boots.
Spaniard, with cape and typical Spanish hat, half-boots with trousers tucked inside.
German soldiers from World War II, purchased by Dorothy Jo in Germany.
Many Revolutionary War, World War II and foreign war figures.
Numerous small pieces, many depicting gunners and infantrymen.
The plates are from The Bradford Exchange and show scenes from the Civil War battles of Antietam, Fredericksburg, Shiloh and Atlanta. Barker's fascination with wars and military history had him dreaming as a boy of becoming a West Point cadet, but instead he chose Drury College in Springfield, Missouri, which he attended on a basketball scholarship. His studies were interrupted by World War II and Barker trained as a Navy fighter pilot. The war ended before he could see action.
After the war, Barker went back to Drury, where he got a degree in economics. While there, he helped finance his studies by working at a local radio station. He discovered he had a natural bent for hosting audience participation shows and later got a job at a radio station in Palm Beach, Fla. A year later he moved to Los Angeles where, within a week, he was hosting his own radio program called "The Bob Barker Show." His career path was established, and fame came knocking.
In 1956, the television producer Ralph Edwards was looking to revive the former radio and TV show Truth or Consequences. He sold the concept to NBC, but didn't have a host. Then, one day while he was driving around L.A., he heard Barker's show and knew he'd found his man. Later, when asked what it was that impressed him about Barker, Edwards said, "He sounds like Jack Benny doing audience participation." Truth or Consequences would run for 18 years, ending in 1974.
The Price Is Right, which Barker has been hosting for 30 years, was actually born while Truth or Consequences was still on the air. "For three years, I would do one show in the morning and the other in the evening," Barker said, "Of course, I was a lot younger then." Today, he's in his 30th year as host of The Price Is Right, and has collected 14 Emmy awards for his efforts (including two as executive producer and one Lifetime Achievement Award). His current contract runs through 2005.
About five years ago, Barker was contacted about doing what would become his first motion picture appearance. "Adam Sandler, who was a big fan of The Price Is Right as a kid, had written the screenplay for Happy Gilmore, and he included a scene that was written specifically for me, the scene on the golf course, where I beat him up," Barker recounted. "I told him that as long as I win the fight, I'll do it." Barker noted he studied karate for several years under the actor Chuck Norris.
Bob Barker was born in Darrington, Wash., and spent most of his youth on the Rosebud Indian Reservation in South Dakota, where his mother was a schoolteacher. His family moved to Springfield, Missouri, where he attended high school and college. Today, Barker is a vocal figure in the animal rights movement. He founded the DJ&T Foundation (named after his wife and mother Tilly, both of whom loved animals), which subsidizes spay-neuter clinics and voucher programs.
Fans of Bob Barker may write to the star c/o CBS, 7800 Beverly Boulevard, Beverly Hills, CA 90036.
2001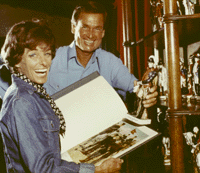 Bob Barker's collection of military figurines was actually begun for him by his late wife, Dorothy Jo, who died in 1981. The two are pictured alongside part of the collection.


Barker is a vocal figure in the animal rights movement. He concludes each Price Is Right broadcast by reminding viewers to spay and neuter their pets.
Barker's hair may have turned white over time, but that's to be expected when you host the same program for 30 years ­ a record.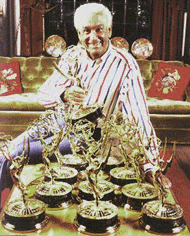 Barker has earned 14 Emmy awards ­ more than any other performer ­ in a career that has spanned five decades.