By Mike McLeod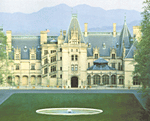 There are few places where you can really step back in time to the turn of the century and experience the authentic surroundings and the lifestyle of one of the richest families in American history. The Biltmore House in Asheville, North Carolina, is such a place, and it should be on every antiquer and collector's list as a must-see. Paintings, engravings, lithographs, prints, sculpture, furniture, tapestries, rugs, porcelain, glass, pottery, books, clocks, musical instruments, clocks, weaponry, ornate and original architecture, silver, and a conservatory filled with hothouse plants and flowers from all over the world are showcased in this, the largest private residence in America in its day.
When George Washington Vanderbilt III officially opened the doors to the Biltmore on Christmas Eve in 1895, it was after six years of a mammoth construction project. Yet, the home was not entirely completed at that time. Interestingly, Vanderbilt was a bachelor during the entire process. It was not until 1898 that he became a family man with his marriage to Edith Stuyvesant Dresser. They eventually had one child, Cornelia.
| | |
| --- | --- |
| George Washington Vanderbilt | While George Vanderbilt's father and grandfather amassed the great Vanderbilt fortunes in shipping and railroad, George preferred the life of a scholar and a traveler. He visited Europe, Africa and Asia for an extended period of time each year throughout his adult life, and he was fluent in seven languages. Even so, George endeavored to make Biltmore a working, income-generating estate. He started a dairy, which was successful for many years; farms yielded produce, meat, honey from 41 beehives. His forests produced 3,000 cords of wood annually that were processed at the Biltmore's mill. A 300-acre nursery offered 5 million plants for sale. Today, restaurants, a hotel, a winery, and beef cattle production are thriving industries-in addition to tourism. |
After George Vanderbilt's unexpected death in 1914 following an emergency appendectomy, the house eventually passed into the hands of Cornelia's sons. During the Depression, the City of Asheville approached them to open the house as a tourist attraction. Even charging the extremely high price of $1 for admission, the Biltmore House and Estate attracted many visitors during those tough times.
| | | |
| --- | --- | --- |
| | | |
| | | Contact us to place your upcoming antique show and event information here. |
The home is a marvel today and was a futuristic marvel at the turn of the century. George Vanderbilt equipped it with the latest technological wonders-electricity, telephones, central heating, mechanical refrigeration, elevators, fire alarms and central plumbing. Indoor bathrooms at the time were a distinct luxury, and the Biltmore has 43. A legged tub rested, and washing in them with running water must have been a thrill. Interestingly, indoor plumbing had not reached the toilet facilities at this time, and there were no lavatories in the bathrooms.

A bowling alley (with wooden balls of various sizes for different games), a swimming pool with underwater lights, a gym and private dressing rooms provided opportunities for indoor recreation.

As you can imagine, construction on the four-story stone home with a 375-foot front facade required an army of workers. A village was built outside the property just to house them, and they traveled about three miles into the estate each day to begin work. A private rail spur hauled building supplies, including limestone that had already journeyed 600 miles from Indiana and marble from Italy. On-site factories and work sheds housed woodcarvers, a kiln that produced 32,000 bricks per day, and wood workers who created oak and walnut flooring. A nursery propagated 2,935,615 plants for the grounds. (Another half million or so were collected or purchased locally; 2,870,675 were eventually planted on the estate.)

To prepare for the great estate's interior decoration, George Vanderbilt traveled the world. In Europe and America, he purchased custom-made furniture in the English, Continental, and American styles. Indeed, several rooms are named after their styles of furniture: the Chippendale Room, the Sheraton Room, and the Louis XVI Room.

In these rooms and many others in the living areas, the hardwood floors are in herring-bone-design, which attest to the attention to detail maintained during planning and construction.

About 1,000 masons, carpenters and artisans worked on the Biltmore House over six years.
With a 120-page guidebook required to detail much-but not all-of the Biltmore's treasures and history, there is obviously only room in this article to touch on just a few of the highlights.
The Banquet Hall. Reminiscent of the great feasting halls of English literature and lore, the center of this magnificent room is dominated by an oak dining table seating 64 chairs. The acoustics are said to make it possible for a person at one end of the table to speak with another at the other end without raising a voice. Adding to the medieval motif are: two built-in, gilt-trimmed throne chairs; triple fireplaces flanked by armor from the 1400s to 1800s; a high-relief panel, "Return from the Chase"; a built-in sideboard with 18th and 19th century copper and brass vessels from Spain, France and Holland; and an organ gallery. Although not originally installed, the fully-restored, period organ automatically plays for visitors at timed intervals.

Adorning the walls are five of a set of seven Flemish tapestries woven with silk, wool and metallic thread between 1546 and 1553, depicting the love triangle from Roman mythology of Venus, Mars (her paramour, the god of war) and Vulcan (the jealous husband and god of fire). These exquisite works of art appear to be about 15 feet tall and 30-40 feet in length.

The Banquet Hall sat 65; diners marveled at the 16th c. tapestries, 15th c. armor, and gothic ceilings.
The Salon with Napoleon's chess table in forground and chess pieces.

The Salon. When the men retired to the Billiard Room, or the Smoking Room or Gun Room in the Bachelors' Hall, the women would often go to the Salon. Here, they would read, engage in conversation, or play games-cribbage, checkers, mah-jongg, card games like whist and euchre, or perhaps chess on an Empire walnut game table with ivory pieces used by Napoleon while exiled on St. Helena Island (1815-1821). They could consider the wonderful hangings created for Cardinal Richelieu, the 17th century French statesman. The hangings are velvet and stitched with metal-thread couching depicting the cardinal's hat and armorial bearings.

The Salon's décor is graced with 19th century Louis XV-style settee and armchairs with their original tapestry upholstery and a Bombé commode, 18th century Rococo. Showcased on the walls are prints including the Albrecht Dürer (1471-1528) woodblock engravings "The Emperor Maximilian I," and "Hercules Killing Euryptos."
10,000 books on display in the Library. (Right: Ceiling painting, Pelligrini's "The Chariot of Aurora.")

The Library. A lover of the printed word, George Vanderbilt kept a journal recording the books he had read-sometimes listing many in one week. He acquired a collection of 23,000 books in eight languages, of which about 10,000 are on display wall-to-wall, two stories high in the library. Many are first editions and almost all are leather-bound and gilt tinted, evidencing the care Vanderbilt expended on his collection. He employed a librarian to catalog his books. Author Henry James visited the Biltmore in 1905 complained that his bedroom was half a mile away from the "mile-long library."

Other antiques and art decorate the library in addition to the books. On the ceiling is the Giovanni Antonio Pelligrini (1675-1741) painting "The Chariot of Aurora" that was originally in the Pisani Palace in Venice. Measuring 64 feet by 32 feet on 13 canvases, it depicts the dawn and symbolizes the light of learning. Giant Ming Dynasty urns that were used as goldfish bowls rest among walnut and silk damask settees, armchairs and sidechairs in 19th c. Baroque style.
Mrs. Vanderbilt's Bedroom. Edith Stuyvesant Vanderbilt was a descendant of Peter Stuyvesant, the first governor of Dutch colonial New York. Orphaned at 10, she was raised by her maternal grandmother. Richly appointed in gold and purple décor, the room appears today as it did at Edith's arrival.
Oval-shaped with golden silk wall covering, Savonnerie carpets and cut-velvet drapes, the room is decorated in Louis XV style. Two French period marble-topped commodes accompany the fireplace. The room is also appointed with a print by Peter Paul Reubens (1577-1640) and others from Germany, the Netherlands, France and Flanders and a Louis XV clock by Phillipe Barat with elaborate porcelain figures and flowers.
The Music Room with 18th c. woodcut print of Maximilian I over the mantle and Meissen porcelain 12 apostles to the right.

The Music Room. Planned, but not completed, the Music Room was restored and opened in 1970. Certainly, the 20th c. Steinway piano is beautiful, but the eye cannot be kept from the "Triumphal Arch of Maximilian," an 18th c. woodcut print Holy Roman Emperor Maximilian I (1459-1519) commissioned from Albrecht Dürer and others about 1515. Ten feet tall and wide in 192 separate printed blocks, the cathedral-like design elaborates military and political events, depicts the emperor's accomplishments in linguistics and hunting, and lists a family tree.

Also of acute interest in the Music Room are the Meissen porcelain figures of the 12 Apostles from the mid-1700s. Created by Johann Joachim Kändler in the Meissen factory, the pieces are from several different sets made for the Empresses Amalia and Maria Theresa of the Austrian Hapsburgs.

St. Matthew
Not commonly known, the National Gallery of Art in Washington, D.C., stored paintings at the Biltmore during WWII to protect them in case the war went badly.
The Bedrooms and Hallways. With too many to detail and too much to elaborate on, just a couple of notes: in the Chippendale Room are two Renoir's, "Young Algerian Girl" and "Child with an Orange."

The walls of all rooms and the hallways are filled with art and prints. Being a great collector of prints, Vanderbilt amassed about 1,600 etchings, woodcuts, aquatints, photogravures and other prints.

In another area was a magnificent display of Japanese porcelain, lacquerware, netsuke, and three samurai swords purchased by George Vanderbilt. On that buying trip, 11 crates of Japanese antiques came home to the Biltmore, and next year that room will be restored and many of those pieces displayed.

Renoir's
"Young Algerian Girl"
Stone carvers created unique sculpture for the facade and gardens.

Unfortunately, there is not space here to do justice to the antiques of the Biltmore House or to adequately describe the gymnasium, tile swimming pool, kitchen areas, servants' quarters and common rooms, laundry, drying room, the gardens, conservatory, winery, or the stable. Hopefully, this hors d'oeuvre of an article will just whet your appetite for a visit to the incredible Biltmore Estate.

---

Our thanks to the Biltmore Estate for providing photos and the information for this article, especially that listed in A Guide To Biltmore Estate that was used extensively. To plan your visit to the Biltmore, visit http://www.biltmore.com/ or call 800-624-1575.

2002