The Celebrity Collector
Billy Dee Williams, suave and sexy movie star,
collects cookie jars!
By Ken Hall
Almost as eyebrow-raising as the fact that Billy Dee Williams collects cookie jars is the story of how he got into it. "Originally I planned on starting a teapot collection," the film star and sex symbol recalled. "I really like them. But I found out that my friend Peter Max (the pop artist) was already collecting teapots, so I thought, 'I can't be copying his collection -- I've got to find something else!'"
That something else turned up in a little store called The Opera Shop in West Hollywood, Calif., about ten years ago. "It's a little store with all kinds of opera-related stuff," Billy Dee said. "I'm a fan of the opera and I was in there looking around, and I saw this beautiful and colorful ceramic cookie jar, made to resemble an opera singer. I bought it on the spot. I think I paid about $125 for it."
On a return trip to the shop, Williams noticed there were more of the jars for sale, equally as colorful and alluring as the opera singer. "They had one of a Fats Waller-type singer at a piano, and one of Josephine Baker, the black performer from the '30s," he remembered. "I bought both of them. They were obviously done by the same person, so I did a little detective work to find out who it was."
His search led him to an artisan couple in Santa Fe, N.M., named Michael and Shelley Buonaiuto, transplants from New York who had been making the jars, as well as other ceramic and porcelain items, for years. They had about 18 cookie jars in their line, which they mass produced for individual customers and specialty shops across the country. Billy Dee became a regular buyer.
"I would say I've got 12 or 13 of their jars," Williams said. "They're all packed away right now. I had them in a studio, but I've been moving things around, so right now they're in storage. I plan on expanding the collection, probably to include more of Michael and Shelly's stuff but maybe other kinds as well. They've set the bar pretty high, though. They're beautiful, original, colorful pieces."
And, ironically enough, discontinued (except for one piece, a Mrs. Rosa Parks jar). "We stopped making them because they were just too labor intensive," said Michael Buonaiuto. "We may resurrect them someday, but for now we're making sculptures in clay, cast bronzes and cast resin pieces." Michael's and Shelley's creations can be seen on their web site at http://www.alittlecompany.net/.
The Buonaiutos got a quick lesson in the fiercely aggressive world of collectibles when they first began producing the cookie jars in the early 1980s. "We started out making them as functional items," Michael said. "We really believed people would put cookies in them. We found out pretty fast that nobody was using them for cookies. It's incredible how many people are collecting cookie jars."
No kidding. According to http://www.tias.com/, a web site that monitors trends in the antiques and collectibles industry, cookie jars were the #2 collectible in 2001, second only to china. After cookie jars, the list continues as follows: dolls, furniture, lamps, carnival glass, books, plates, Depression glass, Roseville, china dinnerware, McCoy, Avon, clocks, Noritake, teapots, figurines and Limoges.
Michael and Shelley rode the cookie jar wave for years, she as the artist and designer, he the one who cast the moulds. Shelley said she was drawn to black subjects for her art while living in Boston, where she hung out with jazz musicians. "There's a freedom to the jazz scene that attracts me," she said. "I try to put a quality of soul into the pieces I do. That's the thing people respond to."
To produce a cookie jar, from start to finish, Shelley would first come up with a design idea and sculpt a creation based on her vision. Michael would then "dissect" the sculpture and fashion a mould. Then the piece would be cast and colors decided on. The couple conferred with 5-10 different painters before they got the look they were searching for. There was little wiggle room after that.
""The market pushed us to get more elaborate and detailed," Michael said. "We painted the microphone gold for the jazz singer, for example. But what we discovered was that nobody wanted individual creations. Once a jar was put into mass production, that was it. If we got creative with the colors, we'd get negative feedback. The collectors wanted what came off the assembly line, period."
So, Billy Dee Williams, or any other fan of the Buonaiuto cookie jar line, is going to have to log onto eBay or somehow seek out other collectors to find the pieces they want. Billy Dee's comment about wanting more jars may, by necessity, force him to consider the talents of other artists. He won't be alone. As the #2 collectible, cookie jars will doubtless spawn new and talented creators.
Billy Dee Williams was born in 1937 and grew up in the Harlem section of New York City. His family actively encouraged his artistic abilities and his talents emerged early on. While still a boy, he earned a scholarship to the National Academy of Fine Arts and Design in New York. Ironically, it was the need to earn money to buy paints and canvas that led to his extensive credits in film and TV.
Over the objections of his art instructors, young Billy Dee developed his talents in acting. He made his Broadway debut in The Firebrand of Florence -- at age 7! In the years that followed, his life was dominated by the performing arts. He achieved star status for his movie roles and is remembered for his suave, romantic performances in movies such as Lady Sings the Blues and Mahogany.
He acted in one of the top-grossing motion pictures of all time, playing the character Lando Calrission in Star Wars: The Empire Strikes Back. He reprised the role in Return of the Jedi. On TV, Williams played a greedy record baron on the long-running series Dynasty. And he was nominated for an Emmy when he portrayed football star Gayle Sayers in the critically heralded Brian's Song.
In 1988, when Billy Dee returned to the New York stage to star in Fences, it marked a turning point in his life. He was given the chance to go back to his home and the center of the art scene. The experience reawakened the painter in him. When it was time to go back to California (where he was living then, and still does today), it was with a wealth of new ideas for his artistic expression.
In two years' time, Williams cranked out 120 original works of art. Since 1991, he has had numerous solo art exhibitions across the country. He's also donated his work to the National Portrait Gallery in Washington, D.C., and the Schomburg Museum in New York. His many influences include Edward Hopper, Thomas Hart Benton, MC Escher, Frida Kahlo and numerous African art forms.
Among his other interests, Williams has had a long fascination with psychic phenomena and psychic readings. He teamed with award-winning author Rob MacGregor to write PSI/Net, a novel based on an actual government program of psychic spying. His recent acting credits include the films Undercover Brother (Universal, produced by Ron Howard) and Constellation, with Chris Kattan.
Fans of Billy Dee Williams may visit the star online at his website: http://www.bdwworldart.com/.
2002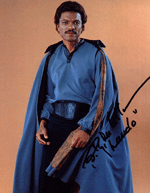 Billy Dee played Lando Calrissian in the Star Wars epics The Empire Strikes Back and Return of the Jedi.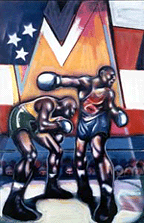 "The Boxer" is one of many Billy Dee paintings that carries a sports theme. His work is sold online.

Billy Dee discovered the cookie jars made by Michael and Shelley Buonaiuto while browsing at The Opera Shop in West Hollywood. He's got about a dozen of their jars, which have been discontinued. Above is "Fats."
Bella
Amos
Josephine Baker