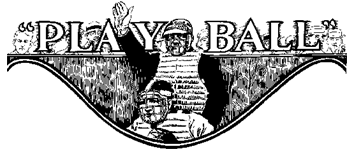 Collecting Baseball Memorabilia
A Great American Pastime
Story & Photos by Betsy Thigpen
It's Monday, July 27, 1998 Coopers town, New York. The day after the Annual induction to the Baseball Hall of Fame. The Baltimore Orioles and the Toronto Blue Jays were playing a regular season game there in Cooperstown. Fans found their seats inside the stadium readying for the game. Those without tickets gathered around Double Day Field in the heart of Cooperstown to watch the players arrive. Hands holding pieces of paper, baseballs, bats, caps, anything hoping for auto- graphs were outstretched from fans young and old, male and female. The crowd grows more intense when Cal Ripkin, third baseman for the Orioles makes his way through the crowd. While Cal is known in the memorabilia world as one who doesn't normally attend shows, etc., he is very well known for spending extra time with his fans before and after games. As he made his way around the roped off area, signing autographs along the way, it appeared one small fan caught his eye. He kneeled down eye to eye with Tom Whalen, a 7-year-old boy from New Britain, Connecticut. Star struck, the young boy couldn't answer Cat as he talked to him, signing his baseball and card. Later, as the local news stations honed in on the same incident, it appeared as if Tom had been waiting for quite some time. He was in the front of the crowd and was obviously getting cramped by the over zealous fans. Perhaps Cat noticed this and wanted to make the boy feel like his efforts might have been worth it. For whatever reason, the memory will never leave the young man. As far as Tom and his family are concerned, neither will the ball and card Cat signed. Imagine, as Tom passes them down to his children and grandchildren, what they will be worth to a collector in those years to come.
For most, it's the love of the game and the passion of collecting things which mean something to us that makes baseball memorabilia the multi-million dollar business every year.
Fans and collectors alike have been traveling to Cooperstown, New York to visit the Baseball Hall of Fame since its inception in 1939. The town, nestled in the farmlands of mid New York State, has grown with the influx of fans. Each year, in July, some 40,000 fans converge upon Cooperstown for the annual induction of new 'Hall of Famers.'
| | |
| --- | --- |
| | The display of the Evolution of Catchers' Equipment in the Baseball Hall of Fame and Museum draws a lot of attention. If these items were in Mint Condition, their values would be astronomical. |
Even someone who's not an avid fan of the sport could get caught in the excitement caused by the fans. Walking among the other people on the streets filled with 'baseball stores,' that feeling of Mom, Apple Pie and the American Flag is overwhelming.
The Baseball Hall of Fame and Museum are the epitome to the sport. Everything from past World Series rings to game worn jerseys, cleats, and equipment don the walls of this prestigious sanctum of the sport.
Among the displays are lockers of Babe Ruth, Mickey Mantle and Joe DiMaggio, larger than life showcases depicting the careers of such greats as Ty Cobb and Denton Young, visual chronicles of different positions' equipment and uniforms as well as 'how the baseball and mitt are and have been made. 'Memorabilia such as ticket stubs, programs and various baseball cards accessorize the larger displays.Murals of baseball parks all over the country and wall size photos of some of the best players from the sport surround you at every corner. Not withstanding are the histories of the different awards within the sport and their recipients. For most fans, a visit to the Hall of Fame and Museum is a life long dream. An avid fan could spend hours searching through everything and still want to look more.
Even a person who isn't a fan of the sport or a collector of the memorabilia could metamorphasize into one just being in Cooperstown. The buzz of excitement is in the air. Every shop is baseball oriented and the memorabilia is overflowing. If it's not here, they'll either find it or point you in the direction of where you can find it.
Just about anything in baseball can become collectors' item. "Buy it because you like it," says Bob Pressley of BP Sports Collectibles in Atlanta, Georgia. Bob's been in the business in one form or another for over 15 years and originally got in it because it was something he enjoyed. As well as his shop which some would say specializes more in the autographed collectibles, Bob also promotes and holds three, two to three day shows a year. Hosting between 70-80 dealer booths, Bob characterizes his shows as "small to medium in size." While most of the dealers he'll have at a show are from the southeast, he also draws dealers from Oklahoma, Kansas and Illinois.
Bob's 'small to medium' show cannot be compared to the recent 19th Annual Convention of Sports Collectors Convention held in Chicago this past summer which drew 1,000 dealer booths. The 20th annual convention is slotted for Atlanta, Georgia.
People collect everything from pins and pennants to banks and balls while others concentrate on autographed items - photographs, caps, balls, bats, even hand written letters and cancelled checks. It is reported that Jackie Robinson's widow has recently released some cancelled checks for availability to collectors.
Used tickets as well as unused tickets are also collectible. For example, tickets from the very first game at the Atlanta Fulton County Stadium are probably worth about $200, according to Pressley. Turner Field "first" tickets might bring between $75-$100 but a World Series ticket from the 50's could bring up to $500.
Like any other collection of anything, CONDITION is the key to VALUE and baseball memorabilia have a grading system much like you would find in coin collections or anything else worth keeping. Numbers from 1-10 (with 10 being the Bo Derek best) are applied to most items; baseball cards also have a 'grading' pricing guide. For example, a game used bat wouldn't have the same criteria as a bat purchased solely for display purposes. A signed baseball is judged on the condition on the ball and the quality of the signature. Assuming the autograph is authentic, the way in which it was signed is important also. Needless to say, the scarcity of the item also affects the price. For example, a baseball signed by a player still in the league won't bring what ball signed by a retired player would bring or for that matter by a deceased player would bring. "That's the morbid part of the hobby," says Pressley, "Once a player dies, especially a Hall of Famer, the value of that piece goes up."
Centering on a baseball card is also crucial. While it was more the 'luck of the draw' in the early years of printing baseball cards, an educated collector knows how to measure and rate the centering of the cards. Centering refers to the positioning the card was originally printed. A card with more white space on the bottom and/or sides than the top of the card is less desirable, and worth less, than a card which has approximately the same spacing on all sides.
An example of different centering on baseball cards. Notice the card on the left depicts centering which is way off (note difference of white border on top as opposed to bottom) compared to the Hank Aaron (borders are more similar in width) on the right. Neither is perfect, but it's easier to see when put side-by-side.
Gamed used equipment, autographed items and game used autographed equipment seem to be what's hot these days. Jerseys, uniforms, bats, gloves, caps and even shoes are commanding premium prices. For example a game used bat used by Cat Ripkin might bring upwards of $2,000 while a display bat autographed by Ripkin might only herald $250.
Other than dealers, how might someone come into possession of game used equipment? Some of the teams will hold auctions at the end of each season to sell jerseys, etc. The Atlanta Braves, for example held a silent auction the 23rd and 24th of August offering game used uniforms and equipment with the proceeds going to the Braves Foundation. Of course, there are other ways to obtain game used equipment but usually you have to "know someone."
Auctions are becoming very well known in the industry. Reputable dealers as well as individuals participate in silent auctions held all over the country. Mastro Fine Auctions based in Chicago hold auctions 2-3 times a year. They'll send out catalogs about 2 weeks before auction time (the last one was 8 1/2 x11 and a little over an inch thick). Collectors then can call in their bids until closing of those bids. A 15% buyer's premium is added to the total of the winning bid. Hundreds sometimes thousands of items are offered for every type of collector. Everything from pins and banks to autographed baseballs and game used equipment. Part of the July 17, 1998 auction, an autographed Lou Gehrig baseball rated an 8 out of a possible 10 and advertised a minimum bid of $5,000. The winning bid was $45,461!
A minimum bid of $9,000 was listed on a 1959 Mickey Mantle game worn jersey. This coveted jersey brought $24,000.
Even things one might not think would be as collectible turn out to be. A ceramic Braves bank from the late 40's sold at auction this past summer for $1,814.
Other than silent auctions, shows are always being held all over the country. More often than not, promoters, like Pressley, will contract players to sign autographs at these shows as an additional draw to the collector. "What used to cost $100 to get an athlete (to a show)," says Pressley, "now can cost $500-$1000. Muhammad Ali, probably the most recognizable person in the world, might cost $100,000. You'd probably pay that for Joe DiMaggio also," he added.
"Some ball players won't do shows," says Pressley. "They would rather stay home with their families." He added that a lot of the players who won't do shows spend time before games, etc., with their fans signing autographs. Pressley, like other reputable dealers, will contract players to come to his store, when it's closed, to sign autographs.
| | |
| --- | --- |
| These spikes worn by 1995 World Series MVP Tom Glavine of the Atlanta Braves are among the many items displayed at the Baseball Hall of Fame in Cooperstown, NY. Imagine what these "used shoes" would bring to a collector. | |
Spring training, traditionally a more casual atmosphere for players, is a good place to obtain autographs, says Pressley. Once into regular season, batting practice (when the gates first open to the ballpark) is another good time to try. "Once they go into the locker room and get dressed, their mind set changes," he added. "I've also found players will sign for kids and women before they will for men."
Beanie BabiesTM have also infiltrated the Great American Past time. Last year a Beanie BabyTM Cow was given away honoring Harry Carey. When a Beanie BabyTM is given this way, a registration card is given with it stating, for example, it was given in honor of Harry Carey, the date and game it was given. "This particular Beanie BabyTM with the registration card was selling at the convention this year for $400," says Pressley. Congruently, Glory was handed out at the All-Star Game and was selling at the convention for $200. Chip the Cat, was handed out at the Atlanta Braves game on August 10th to the first 12,000 children (under 12) in honor: of Andres Gallaraga. Wonder what this one will bring at the 1999 convention.
A year or so ago, one of the network nighttime news shows ran a segment on baseball memorabilia. To hear them talk, 80% of what's out there is bogus; letters of authenticity aren't worth any more than the paper on which they're written. Not true, say Pressley and other reputable dealers with whom this writer spoke. "If the dealer is bogus to start with, his letter isn't going be any good either." He provides his customers with letters of authenticity however, but cautions the item and the letter at some point might become separated. The best advice Pressley and others give - "Rely on a reputable dealer."
Bob Pressley is in the business because it's what he likes. He stays in the business because he likes what he does. Likewise, he advises both new and seasoned collectors, "Buy what you like." Some collectors are in it because of the love of baseball. Baby boomers seem to comprise a large percentage of the collectors. They say one of the reasons they collect baseball memorabilia is it brings back good memories of their youth. "If you're not a baseball fan," says Pressley, "you can't relate (to the enthusiasm)." It doesn't take thousands upon thousands of dollars to collect baseball memorabilia either. One can start with something small and almost count on it appreciating in value, if it's kept in good condition.
Whatever the reason, baseball is as American as Mom and Apple. Collectors of its memories are a part of that American heritage and will remain so for some time to come.
1999