The Celebrity Collector
Everything Adrienne Barbeau Collects
Gets Put To Good Use
By Ken Hall
"All of my collections are practical," Adrienne Barbeau says with pride. "You'll never catch me buying something just to stick in a hutch or curio cabinet. It has to be useful." And she's not kidding. The Fiestaware is used as everyday dinnerware at her home outside Los Angeles (a Spanish bungalow); same for the Ironstone in a second home on the New Jersey shore. American primitive furniture dots the California residence, antique quilts are used as throws and firkins as waste baskets.
Firkins, in case you didn't know, are old wooden sugar buckets. They're often banded, with handles and tops, and can command handsome prices among collectors. For Adrienne, though, utility is paramount. "They're ideal as low end tables, being about 15 inches high," she said. "I stack things on them, or use them for storage. I've also got them in my bathrooms, where they make good waste baskets. The tops are great -- they keep the dogs out" (Rain and Mertz, her cocker spaniels).
Collecting things probably would have become a passion for Adrienne anyway but, being in the entertainment industry, "it gives me something to do while on location. There's a certain amount of delight going to a new town and finding a piece that an unsuspecting owner ­ or even a sly proprietor ­ might not know the real value of." Actually, two collections were born in the'70s, while Barbeau was in Pittsburgh filming the movie Creepshow, directed by George Romero.
Fiesta was one, the riotously colorful dinnerware made popular by Homer Laughlin of Ohio during World War II. "I fell in love with it, but was hesitant to make it a collectible because I didn't think I'd be able to assemble matching sets," Barbeau remembered. But that fear was put to rest when she went into a Pittsburgh shop and the place was teeming with Fiesta. "I ended up shipping home complete place settings for twelve," she recalled, laughing. "I just about bought up the place."
Adrienne has Fiesta in the original colors (cobalt blue, red, aqua, cream, yellow and green), plus the grey, pink, dark green and chartreuse that were added in the 1950s. "When my son Cody was born (her only child from a marriage to director John Carpenter), I was worried about radiation in the red pieces. I knew they had uranium in them, because that's what made the ones made during World War II scarce. I had the fire department come out with a Geiger counter to take a reading."
The fire department gave her Fiesta a clean bill of health, but Barbeau still keeps the red items up in a cupboard, safely out of the reach of her identical twin sons, William and Walker, age 4 1/2 (from her marriage to current husband Billy Van Zandt, a Hollywood producer-director and the brother of E Street Band guitarist Stevie). Of having children so late in life, Barbeau remarked, "I was the only woman on the maternity ward who was a member of AARP!." She was over 50.
The antique quilt collection was the other one started in Pittsburgh. "I was at the home of a lady whose house, by the way, was decorated in oyster plates. I thought that was incredible. But she also collected and sold quilts out of her house, and I bought two Amish pieces. That got me started. I gave one to my mother-in-law and the other, which I still have, is signed 'Aunt Mary, 1915.' I have some appliques, a Lone Star, many from the '30s, and some dating as far back as the 1800s."
Barbeau said she collects quilts because they're colorful and she likes the designs in them. "I probably have about 30 quilts in about every style, except the crazy quilts. I just love textiles. And, like my other things, I use them. A few are on the wall, but the others are on the boys' beds, or used as throws, or whatever." As for storage, she leaves nothing to chance (or moths). The quilts are wrapped in acid-free paper, then put into pillow cases and finally a storage box. Triple protection.
Ironically, the only time a quilt ever showed signs of unusual wear wasn't due to the kids' roughhousing or a wine spill or mishap. "I had a piece that had been hanging on a wall for years," Barbeau remembers. "I began noticing these brown stains, and I couldn't figure out how they were getting there. It wasn't getting any direct sun. We never did solve the mystery." She added two of her favorites are American pieced cotton quilts, 84" long, with the 'Trip Around the World' pattern.
Adrienne's fascination with American primitive furniture began around the time she bought her current house in 1980 and had help decorating it from noted designer Karin Blake (named one of America's top 100 designers by Architectural Digest). "Karin wasn't known that much back then, so I was fortunate to have her work for me. We've become great friends over the years, and she knows about everything there is to know about American primitive. She helped me find the early pieces."
Some of her favorites from around the house include:
* A Rococo revival cast-iron bed (she paid $150 for it while filming Escape from New York.....in St. Louis!).
* An American country pine step-back cupboard from the mid-19th Century.
* An American country cupboard, 81"x56", painted orange/grey/mustard; she keeps it in a bathroom.
* A goat cart with original blue paint that has been converted to a coffee table.
* An English carved glider hobby horse, 19th Century., purchased in Ashland, Oregon ("the boys ride on it, my husband hates it").
* A sleigh-shaped bentwood and iron field cradle from the late 1800s.
* An American Federal style painted cupboard (87"Hx60"W) in a blue/grey color ("just gorgeous!").
* A step-back cupboard with original glass and original blue paint.
* Bentwood bow-back arm chairs, painted trunks, a painted buckboard seat and "lots of painted coffee bins."
Ironstone ­ the 19th Century white earthenware that is sometimes called Stone China or, in America, White Granite Ware -- is the last thing Barbeau has come to collect. "It started a couple of years ago," she said "I needed some dinnerware for the house in New Jersey, a 1910 farm house. The Ironstone just seemed like a good fit. I've got all these mismatched pieces, but it's all English and it's all antique, with the exception of some American-made pieces I picked up along the way."
Her collection includes dinner plates, serving pieces, salt and pepper shakers and more. "I buy primarily over eBay," Adrienne said. "I was heartbroken recently when I bought a sugar bowl, but the lady didn't wrap it properly and it arrived in pieces." Her intact items carry names like Adams, Johnson Bros. and Alfred Meakin, attesting to their authenticity. Ironstone is so-named because it can show brown marks over time that mimic iron stains. These can be bleached out with a chemical.
Adrienne Barbeau was born to a French-Canadian father and an Armenian mother. She grew up in northern California and the state's Central Valley and began taking dance lessons at age 3 and voice in the 5th grade. By age 15 she had been accepted into the prestigious San Jose Light Opera. She also acted in high school productions. After graduating, she enrolled at Foothill College in Menlo Park, Calif., but left at age 19 to participate in a USO Tour with the San Jose Light Opera.
"After I did that tour, I almost went right back to college, but I knew what I really wanted to do was study acting," she said. "I knew all the best teachers were in New York, so that's where I went." Her first break came when she was cast as the daughter "Hodel" in the Broadway play Fiddler on the Roof. After that, a Tony nomination for her work as the original "Rizzo" in the Broadway production of Grease. Then it was back to California, where she played "Carol" in the hit TV series Maude.
Film audiences know her best from The Fog, Escape From New York, Cannonball Run, Swamp Thing, Creepshow, Two Evil Eyes and Back to School. She just finished shooting No Place Like Home in Utah. It is due for theatrical release later this year and co-stars Judge Reinholdt, Joanna Pakula and Bruce Weitz. Three other film projects are also in the works: A Wake in Providence (a comedy); Across the Line (an action film); and The Convent (a horror picture).
Barbeau has done numerous made-for-television movies, including Doublecrossed: The Barry Seal Story, with Dennis Hopper (which won an Ace Award); Burden of Proof, with Hector Elizondo; and A Champion's Fight. Weekly audiences can see her in a recurring role on The Drew Carey Show as Oswald's mom. Off-camera, Adrienne is the voice of Catwoman in Batman: The Animated Series. She also just released a CD of country, blues, rock and folk tunes, titled adrienne barbeau.
2002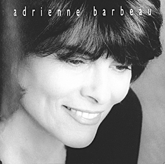 Adrienne has recently released a CD titled, simply, adrienne barbeau. On it, she sings country, blues, folk and rock. Her beauty and talent have sustained her in a career that has spanned four decades.
Adrienne purchased this blue goat cart and used it to make a coffee table.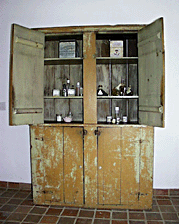 This American country cupboard is 81" high x 56" wide and is painted orange/grey/mustard. Barbeau keeps it in a bathroom.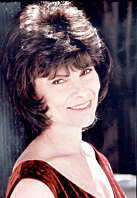 Barbeau took voice and dance as a child. Early in her career, she appeared in Fiddler on the Roof and Grease on Broadway.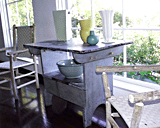 With imagination and creative arranging, Barbeau is able to enjoy her antiques and utilize them, too.