The Celebrity Collector

Al Bandiero, Star of the Fox TV Series "Desire,"
Collects Watches
By Ken Hall
Watch sales may be down because everybody's using their cell phones to tell the time, but that doesn't mean anything to Al Bandiero. The star of the new hit series, Desire (Fox's MyNetwork TV, Mon.-Fri., 8 pm), and nationally syndicated radio show personality has more than 30 watches in his collection. For Al, a watch is a fashion accessory, one that changes right along with his clothes. Having one watch would be like having one pair of shoes. It's just not enough.
In fact, it was his ex-wife's grandmother who awakened the watch lover in Al Bandiero when she remarked to him, "A woman of substance can tell a lot about a man by his watch and his shoes." The comment clicked, and it was reinforced sometime later when Bandiero was at an airport newsstand looking for something to read when he spotted not one, but four magazines dedicated to watches. Two were about today's watch trends; the other two were dedicated to vintage watches.
"Before then, I'd never really given any thought to the true beauty and history behind watches," Bandiero said. "Those magazines were a real eye-opener."
He didn't go out and buy a lot of watches right away. His budget, at least in those early years, wouldn't permit it. Instead, he set about learning all he could about watches, and at the same time, he looked at them in jewelry and department stores. He wanted to be informed (and better off financially) when he made his first serious purchase.
That came in the form of a Rolex. "It was about 20 years ago," Bandiero recalled. "It was a treat to myself after having made it in radio." The watch has a blue crystal and stainless steel band. Bandiero said he paid around $2,500 for it. "My most vivid memory of buying that watch was going home and telling my parents about it, and they were shocked. I don't think they were aware a watch could cost that much money. And I'm not sure they thought it was a wise investment on my part."
Speaking of Al's folks, one of the watches in his collection is the Elgin pocket watch (circa 1925) that had belonged to his father. "It's in absolute pristine condition, probably because he rarely used it," Bandiero said. "It's pink gold on the outside, and it has two other golds, too. It still has the original crystal, and even the chain is in perfect condition. I really have to get it appraised." Bandiero also has his dad's everyday wristwatch, a 50-year-old Bulova with a black leather band.
Bandiero said he's partial to "strong, powerful watches with thick or large faces." His wife of nine years, Marlyn, is aware of this and has bought several of Al's watches as presents. One he particularly likes is a Franchi Menotti, made in Italy. The face and band are all red, and on the tip of the outside there's a touch of gold. "It's very classy," Al said. Marlyn also gave him a German-made Breitling watch about ten years ago. It has a black face and brown leather band.
Another watch he loves (but rarely wears) is a Movado with a dark blue crystal. He bought it about 20 years ago. The watch he gets the most compliments on ­ even though it was one of the least expensive to buy, at around $200 ­ is a Fossil, with a beautiful blue crystal and stainless steel accenting and band. "The producers of Desire saw me wearing it on the set and were so impressed they asked me to wear it for an episode," he said. "They were astounded when I told them what I'd paid for it."
Fossil has since discontinued the watch, but that's not the end of the story. Bandiero began getting e-mail from fans wanting to know where he'd gotten the watch he was wearing. "It was one of the very first episodes of the show, and there's a scene where I cross my hands and you can see the watch very plainly," he said. "I've alerted the Fossil people to it, so who knows? They may reintroduce it as an 'Al Bandiero' limited edition timepiece!" He was kidding, but the idea had a nice ring, too.
Bandiero's watches are displayed in his Los Angeles home inside a three-tiered, polished wood grain case, another gift from Marlyn. "The watches are set in little pillows," he said, "but they don't just sit there gathering dust. I'm constantly going in and taking out and putting back the watches, depending on what I'm wearing that day. I wear every watch I own. In fact, I really need to get another case. This one's filled up, and I have no doubt I'll add to my collection, or be given more watches by Marlyn."
A section of the display case is set aside for what Bandiero called "fun watches." These include a watch with Elvis on the face (which he rarely wears) and an original Mickey Mouse watch from the '40s or '50s, with a leather band. Mickey's hands tell the time. Also, Bandiero, a huge New York Yankees fan, has two Yankee-themed watches. One was actually a present from the team: the case top pops out as a reclining chair, so it looks like the watch is "watching" a Yankee game.
Al Bandiero was born in Brooklyn, N.Y., and is proud to be Italian-American and a native New Yorker. His early goal was to be a professional baseball player, and it wasn't just a dream; he was scouted by the St. Louis Cardinals (this year's World Series winners). But a visit to a local radio station changed all that. Bandiero was enchanted by the medium and marveled that it wasn't anything like he thought it would be. "Radio is truly theatre of the mind," he said. "I just fell in love with it."
So, after graduating from Chelsea High School in Manhattan and spending a little time at Brooklyn College, Bandiero landed a job at a small radio station in upstate New York (Hudson), which was so tiny it signed off at 10 pm. "I think I had as many pigs and chickens listening to me as people, but it was helpful in getting my footing in the industry," he said. Eventually, he got a job hosting a Sunday night dance show on 103.5 WKTU-FM in New York City, called "Studio 54 Clubhouse."
"It was ­ and remains ­ a show dedicated to dance and disco music, mostly from the '70s and '80s," Bandiero said. One of the songs he "broke" while hosting the show was "Far From Over," the theme from the Saturday Night Fever movie sequel, sung by Frank Stallone, Sly's brother. Frank found out that Al had given the song airplay and made it a point to visit him in New York and thank him. That led to a meeting with Sly, who then cast Bandiero in the 1985 film, Rocky IV. He played an announcer.
That was Bandiero's first taste of acting, and he didn't mind it, but it would be 15 years between that role and the decision to relocate from New York to Los Angeles to pursue acting seriously and full-time. After he left, the producers at WKTU tried to make do with a new host for "Studio 54 Clubhouse," but without Al, the ratings plummeted. They approached him with the idea of continuing to host the show, remote from his house, on a time-delay feed. He agreed and continues to do the show today.
Since the move to Los Angeles, Bandiero has appeared in TV shows like The Practice, Dragnet, Mr. Sterling and Girls Behaving Badly. He also starred in two made-for-TV movies, Scene of the Crime and Reasonable Doubt. His film credits include a 20-minute, award-winning short titled, I Am Stamos, in which he played actor John Stamos' agent. He's also hosted or co-hosted shows like This Week's Music (with Courtney Cox), TV 2000 and Nightflight.
His big acting break came in early 2006, with the role of Peter Evans on Desire, a hit so far on Fox's fledgling cable channel MyNetwork TV. He also does voice-over work in commercials for companies like Revlon, Nestea, Volvo and SBC. Bandiero is also a physical fitness enthusiast, and he was featured not long ago in a four-page layout in Fitness Plus Magazine. He continues to follow his beloved Yankees and is also an avid boxing and basketball fan.
Fans of Al Bandiero may write to the star c/o Sharp & Associates Public Relations, 8721 Sunset Blvd., Suite 208, Los Angeles, CA 90069.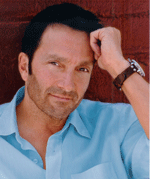 That's an Armani watch on Al Bandiero's wrist.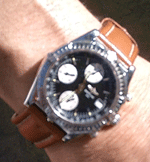 Bandiero loves this classic Breitling, because it has a
bold, manly face.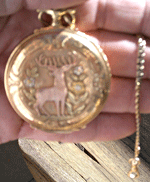 Front of the Elgin pocket watch (circa 1925) owned by his father and handed down to Al.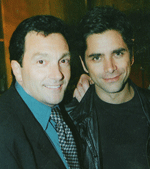 Bandiero and actor John Stamos (r.) worked together in the award-winning short film,
I Am Stamos.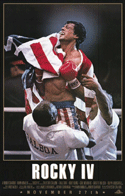 Sylvester Stallone hand-picked Bandiero to play an announcer in his 1985 film, "Rocky IV."